6 dead, dozens injured in I-35W pileup in Fort Worth involving 135 vehicles
FORT WORTH, Texas - At least six people are dead after 135 vehicles were involved in a massive ice-related wreck Thursday morning on Interstate 35W in Fort Worth, police said.
The scene stretched for nearly a mile in the southbound lanes of the interstate near Northside Drive, north of downtown.
MedStar transported 60 people were treated at area hospitals.
"The scene we saw today is really, probably, unlike anything any of us have seen, and we pray to God we never see it again. Our hearts, our thoughts, our prayers go out to everyone negatively affected by this tragic incident," Fort Worth Police Chief Neil Noakes said.
The pileup appeared to have started about 6:15 a.m. Thursday as motorists ventured onto slick roads coated in a thin sheet of ice from freezing rain that had fallen overnight and into the early morning hours.
"It appears, at this point in the investigation, ice was a factor," Chief Noakes said.
Multiple cell phone videos show cars traveling at a high rate of speed, then sliding and crashing into each other. Multiple 18-wheelers were involved in the pileup and crashed violently into other passenger vehicles.
First responders had to methodically work to reach the incident scene and then work their way from car to car to check on the condition of people inside. Several people had to be extricated and sanding trucks were brought in to assist with the removal of vehicles.
Rescuers also said they were concerned about people potentially developing hypothermia due to the long time they may have spent trapped or waiting outside their vehicle.
Fort Worth Police deployed more than 80 vehicles to block traffic and assist three wrecking companies removing cars from the pileup.
Chief Noakes says at least four police officers were injured.
There were subjects Chief Noakes seemed to steer clear of, including the question regarding whether that stretch of interstate was pretreated with a sand/salt mixture in advance of the crash or if it would've been among the roadways scouted for ice. He said he could not answer that at this time since that it is part of the investigation.
The agency that operates the lanes of I-35W, North Tarrant Express, did release a statement saying, in part: "NTE & NTE35W maintenance crews started pre-treating the corridors on Tuesday morning in anticipation of inclement weather, and have been treating continuously as they monitor the roadway."
The agency said it will continue treating the highways through the weekend and into next week, as long as the storm is active.
I-35 was transformed into a massive search and rescue operation. It was a daunting task for even the most seasoned first responder.
"An event like this is not something many of them will see again in their careers," said Mike Drivdahl, with the Fort Worth Police Department.
Temperatures made it challenging for first responders to rescue drivers. Some of them were slipping on ice while searching for survivors in the wreckage.
"We train for this kind of scenario, but never really expect it to happen," said Matt Zavadsky, with MedStar.
Heavy-duty wreckers with cranes lined the scene to lift vehicles stacked on top of others.
The interstate is expected to be closed for the rest of Thursday. Police urged people to stay home and off the roads if they do not need to be traveling Thursday.
Mayor Betsy Price said on Twitter that the city had activated its Emergency Operations Center because of the crash. She said she's been getting calls from people wanting to help the accident victims and first reponders. 
"We would just ask all of you to keep them in your thoughts and prayers," she said. "In the days ahead, we will be posting how you can help most and what that might look like."
A family reunification center was opened by Fort Worth officials at the Riverside Community Center at 3700 E. Belknap St. for those involved in the crash.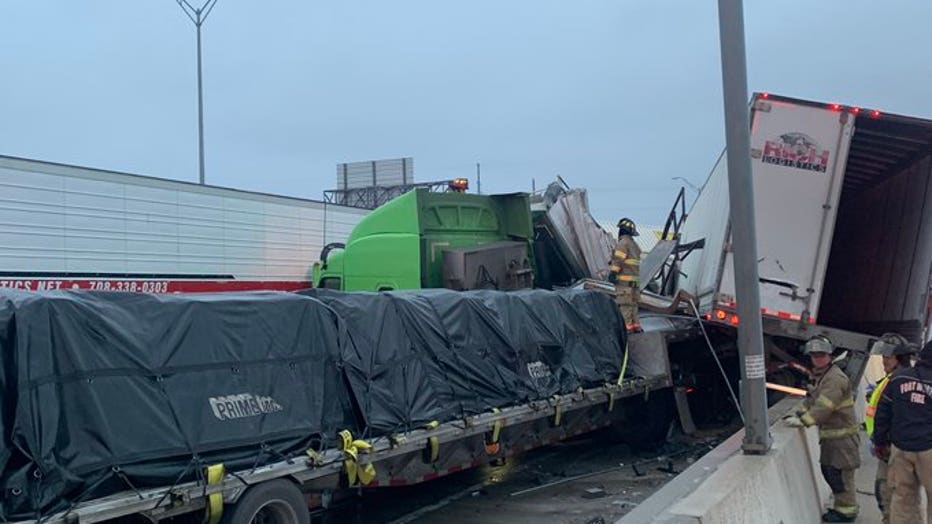 RELATED: Icy conditions, below freezing temperatures wreak havoc throughout North Texas
Caught up in the wreckage was the driver of a white Dodge Ram pickup truck. He spoke with FOX 4 but did not want his name released.
"We heard the crash way before we started getting hit, so that was kind of weird thing in and of itself, cause you're looking left and right on the highway wondering where the sound is coming from," he recalled. "There's no control of the vehicle. Once you start getting hit, you just hope for the best at that point."
Hypothermia became a concern for those trapped inside their cars, as well as first responders.
Tamara Porter's husband was on his way to work when his car was hit by three other vehicles. He sent his wife a picture of his totaled car. He suffered an arm injury and was taken to the hospital, but his wife is just grateful he's alive.
"It's hard, it's so hard. I just want to hold him. Like, I never thought we would be in a situation like this. Things happen, accidents happen every single day, but for this one, a 100 car pile-up, that's hard," Porter said. "We have two kids together, and I'm like, I can't replace my husband, I can replace the car. I can't replace my husband."
Porter says this is the second time her husband has been involved in a bad car crash in recent months. While she's worried about her husband, she knows so many families are grieving the loss of a loved one.
Stories have started to emerge of those who tried to help others.
Ryan Chaney was headed to work when he wrecked in the regular lanes right around the time the pileup started. After he was okay, he started to help. He even used part of a jack stand to try to break in and get people out of cars.
"After beating on it for what seemed like three minutes, I got a hole. I was able to get my hand through it. But it was still too tough, so I ended up just punching it until it finally gave out," he recalled. "I pulled her out got her over the barrier."
Chaney says he was trying to help another driver, but another semi hit the pile and it was too late.
"I jumped the barrier and I was talking to her. I was trying to figure out a way to get her out. And to my back was a semi-truck trailer," he recalled. "And right at that moment was when the FedEx truck came and jumped the pile, and I dove underneath the truck behind me, and that FedEx truck pushed cars up and over."