Nashville school shooting: Officers who took out suspected Covenant shooter identified
NASHVILLE, Tenn. - The two police officers who fatally shot the suspect of the Covenant School shooting in Nashville on Monday have been identified.
Metropolitan Nashville Police Chief John Drake said Officer Rex Englebert and Officer Michael Collazo fired at the 28-year-old Audrey Elizabeth Hale "and fatally wounded her," bringing an end to a shooting that left six victims, including three children, dead.
Officer Englebert is a four-year MNPD veteran and Officer Collazo is a nine-year MNPD veteran.
"Chief John Drake and the men and women of the MNPD join all of Nashville in mourning today's deaths of six innocent persons, three nine-year-olds and three adults, at the hands of an active shooter at Covenant Church/School on Burton Hills Drive," a statement from the Nashville Police read.
TENNESSEE SHOOTING: NASHVILLE POLICE RELEASE SECURITY CAMERA FOOTAGE OF COVENANT SCHOOL ATTACK THAT KILLED 6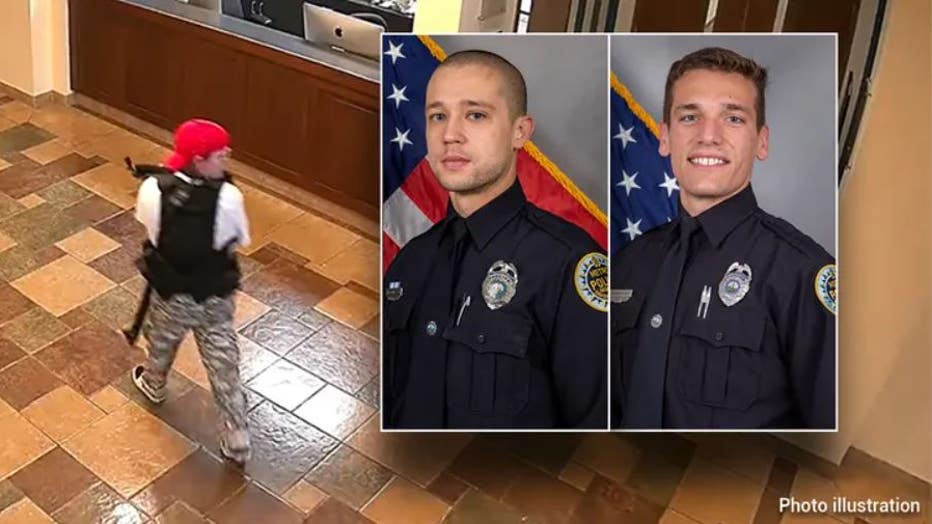 Metro Nashville Police Chief John Drake identified the two officers who fatally shot suspected school shooter Audrey Elizabeth Hale on March 27, 2023. (Metro Nashville Police Department)
According to the police chief, Hale fired at the officers who were arriving at the scene from windows on the second floor before they swept the building and found her in a common room.
"The first call to 911 about shots being fired in the building came in at 10:13 a.m. Officers rushed to the campus, made entry, and began clearing the building. Shots were heard coming from the second level. It was on the second floor, in a common area, that a team of officers encountered Hale shooting (she had been firing through a window at arriving police cars). Two members of an officer team fired on Hale and fatally wounded her," Chief Drake said.
NASHVILLE SCHOOL SHOOTER AUDREY HALE: WHO IS 28-YEAR-OLD TRANSGENDER WOMAN WHO OPENED FIRE AT COVENANT SCHOOL
The responding officers were on the scene and neutralized the shooter within 15 minutes of the initial shots being fired by Hale.
The victims were identified as Evelyn Dieckhaus, William Kinney, and Hallie Scruggs, all age nine, as well as Mike Hill, 61, Cynthia Peak, 61, and Katherine Koonce, 60.
According to the police, Hale, who attended the school years ago, arrived at campus in her Honda Fit and was heavily armed with three guns. They included two AR-style weapons and a pistol.
NASHVILLE SCHOOL SHOOTING: 6 KILLED INCLUDING 3 STUDENTS, SHOOTER DEAD
Surveillance video released by MNPD showed Hale shot her way into the church/school through a set of glass doors at a side entrance of the building.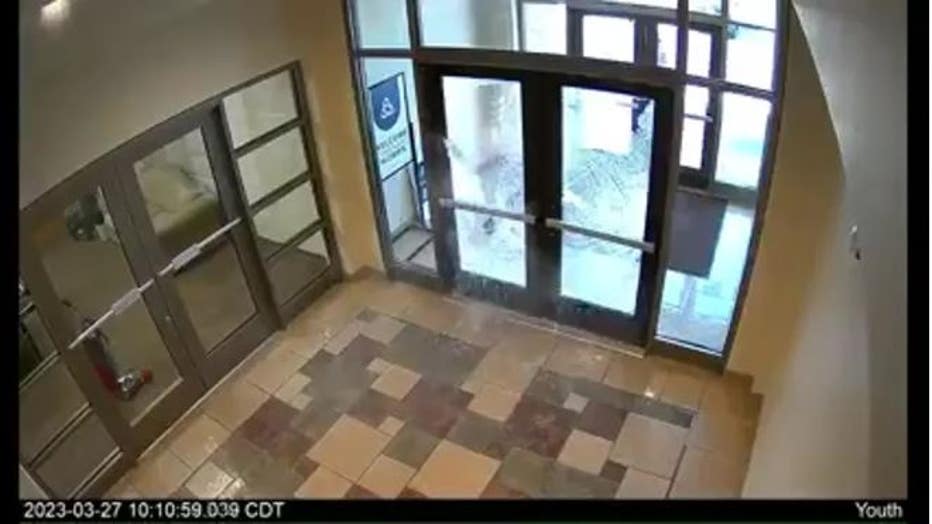 A photo taken from surveillance video showing the moment a glass double door was shot at during a shooting at The Covenant School in Nashville, Tenn.
The MNPD also found writings belonging to Hale in a nearby vehicle that revealed her attack was "calculated and planned."
Other evidence, including a sawed-off shotgun and a second shotgun, was seized when officers executed a search warrant at Hale's Brightwood Avenue home, police said.
The shooting remains under investigation and is being led by several MNPD components, with assistance from the Tennessee Bureau of Investigation, the Federal Bureau of Investigation, the ATF and Tennessee Highway Patrol.