National Guard welcomes new fleet of transport helicopters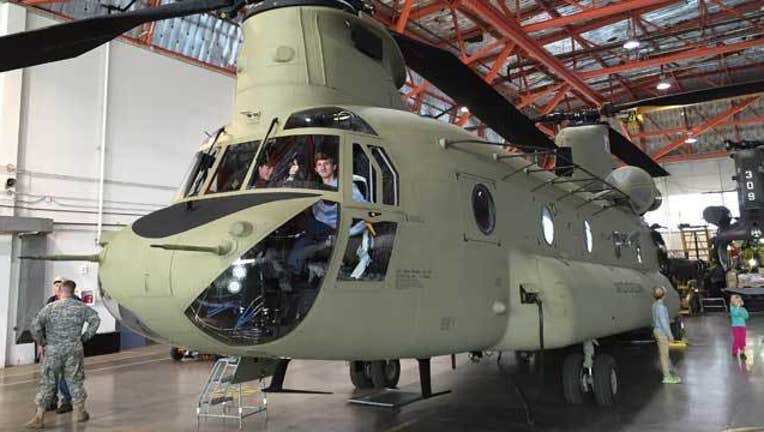 article
STOCKTON, Calif. (KTVU) —The California Army National Guard on Monday publicly unveiled ten new CH-47 Chinook helicopters at a ceremony in Stockton.
Chinooks are dual-rotor transport helicopters, used for moving large amounts of troops or cargo such as supplies, fuel or materials. The aircraft are also used for firefighting, disaster relief and medical evacuation.
The new aircraft, built by Boeing in Pennsylvania, are more efficient than those they replace and integrate state of the art technology throughout, including a digital cockpit management system.
"We'll be able to complete missions faster, safer and with more situational awareness than ever before," said Captain Benjamin Bowman.
The new helicopters represent a giant leap forward for Company B, 1-126th General Support Aviation Battalion, which will operate the helicopters from its Stockton facility. The new aircraft replace aging aircraft, first delivered in the 1960s and 1970s.
"Today marks the start of a new era in cargo helicopter transportation for the California National Guard," said LTC. Shiloh Briggs.
9th District Congressman Jerry McNerney, who gave the keynote address at the event, congratulated the men and women of Company B, for the months of training necessary to receive, fly and operate the new Chinooks. 
Rep. McNerney added: "The Stockton Aviation Support Facility brings jobs; it brings military readiness."
The new aircraft are among hundreds delivered to Army units across the country in recent years. Chinooks first entered U.S. Army service in 1962 and were deployed extensively during the Vietnam War and, more recently, to Iraq and Afghanistan.
Dozens of retirees and former pilots of the unit, as well as their families, attended the event.
As he looked across the hundreds of people assembled on the airfield, SSG. Benny Montiel said, "It's good to see everybody out here."