Northern California drought threatens salmon population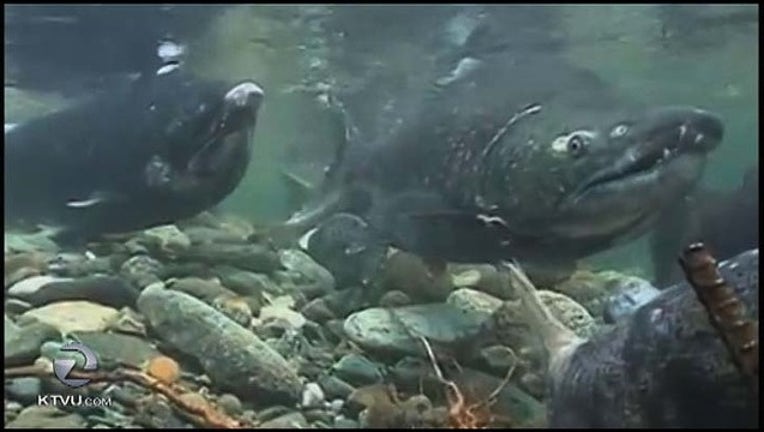 article
By William Martin, KTVU Chief meteorologist
SACRAMENTO, Calif. (KTVU) -- Professional guide Mike Bogue has fishing in his blood.
Born and raised in Northern California, Bogue has been fishing and providing guide services on the Northern Sacramento River for decades. He has seen the river go through good times and bad.
But he's seen nothing that compares to the continuing California drought and the major challenge it has become to the region's now endangered salmon population.
"This is a disaster," Bogue said of the drought. "If those eggs don't hatch and there's nothing coming back -- We won't be salmon fishing."
Doug Killam is a biologist with the Department of Fish and Wildlife. Like Bogue, he has spent years on the river tracking the salmon population.
"We could very easily loose these fish (the salmon) altogether," he said.
The problem is the water has become too shallow in the spawning areas of the river.
"This area is usually under water," said Killam pointing to an area of the river. "It's perfect for salmon to spawn…An area like this could normally accommodate a thousand spawning fish, but when its dry like this, it can't accommodate any fish."
It's not just the lack of water that is threatening the salmon, the water temperatures also have gotten warmer. Generally the runoff from the Sierra snowpack cools the river to 55 or 56 degrees – ideal condition for spawning salmon.
Last year, the river temperature was in the 60s. Killam said his agency has set up temperatures monitors along the river. The readings have biologists extremely concerned.
"As you move further downstream, it really heats up," he said. "It really limits spawning area. It pushes them far up stream to get to the cool water."
It's a delicate balance – too little water for man will cause problems for the state's multibillion dollar economy. Too little water for fish means exposed spawning grounds and warm water where eggs won't hatch.
"If we lost those salmon, it would be bad for everyone," Bogus said. "My kids and grandkids won't have the opportunity to fish for salmon in their back yard – They would have to go to Canada or Alaska."Professional guide Mike Bogue has fishing in his blood.