Oakland firefighter finds crib, fears worst - ends up 'babysitting' toddler on curb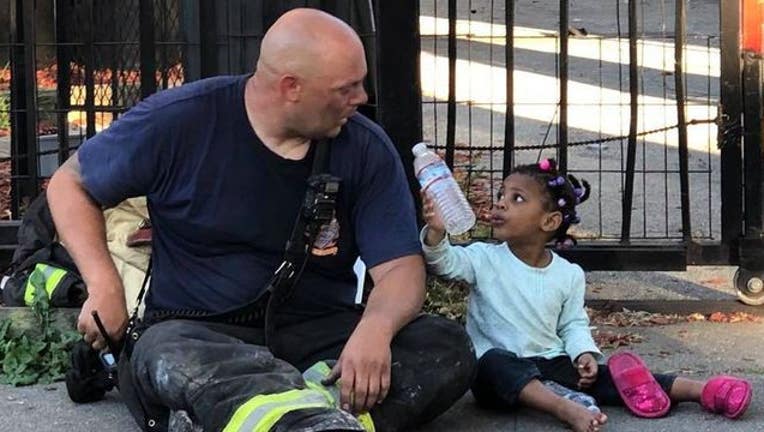 OAKLAND, Calif. (KTVU) - A photo shows the sweet moment between a little girl and an Oakland firefighter after he responded to a fire at her apartment unit. 
With temperatures in the 80s, it was a busy Saturday for fire crews as a call came in about an apartment fire in the 3100 block of High Street. 
Oakland firefighter Kevan Brown tells KTVU he was working as a "bird dog" that day which means his job was primary search. 
Brown says as he entered the burning apartment building, he didn't know if anyone was in the unit when the fire started.
As he entered Brown saw a crib, so everything kicked into high gear quickly. With the kitchen on fire and smoke throughout he quickly searched the unit. 
"I was searching, searching, searching... you see a crib and you start thinking the worst because little kids will hide. Adults would try to get out. But kids, especially if they are separated from their parents. They get scared and might hide in a closet. You have to look everywhere," he said. 
After a thorough search, Brown was able to give the all clear that no one had been in the unit. Crews were able to contain the fire, which destroyed the kitchen and living room. 
Brown says the worst calls are the calls that involve kids, so he was relieved when he walked out of the building and saw a woman and little girl rushing toward the building. The mother and daughter lived in the unit that burned. "I was like cool - she's safe. It's all good and I can take a breather," said Brown. 
The mom needed to go into the unit to see what she could salvage, but didn't have anyone to watch her daughter.
That's when Brown stepped in to babysit the little girl on the curb.
They were playing on the curb, and at one point she offered him water the fire crew had given her. 
The photo was posted on Oakland Firefighters Local 55 with the quote "'Every day may not be good, but there's something good in every day...' -unknown."
Brown says fires are scary with kids that young since it's too early to teach them about fire safety. He says as soon as a child can learn right from wrong, they are ready to learn the basics including escape routes and how to stop-drop-and-roll.