Oakland mother dies shielding child from deadly stray bullet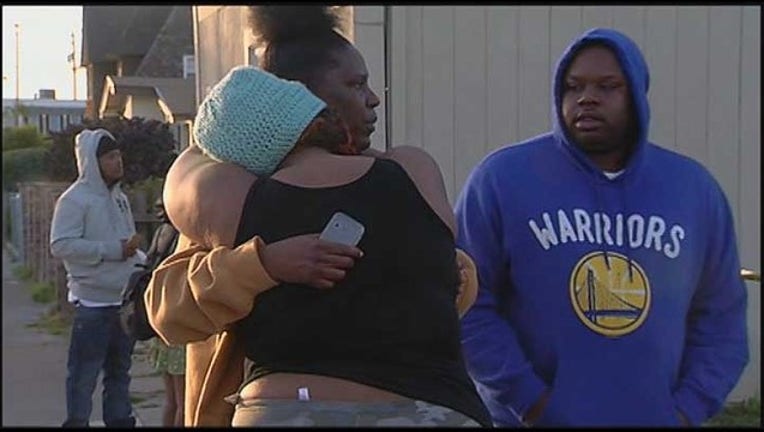 article
OAKLAND, Calif. (KTVU) -- Police told KTVU Tuesday that a mother killed late Monday afternoon while she was trying to protect her children from gunfire was just an innocent bystander.
The shooting started with a fight up the street and had nothing to do with the mother who was killed by a stray bullet just a few feet away from her front door.
Authorities have identified the slain woman as 30-year-old Chyemil Pierce, said Gibson McElhaney, whose district includes the area where the shooting occurred in the 2900 block of Chestnut Street at about 4:45 p.m. on Monday.
A car with its back window blown out still sat near the intersection of 30th and Chestnut streets in West Oakland on Tuesday. Police said this was where an argument turned violent.
"There was a group of females out there; they got into a fight," explained Oakland Police Lt. Roland Holmgren. "This physical altercation turned into a lot of people bringing firearms and shooting a lot of rounds."
One of the bullets traveled down the block toward 28th Street, hitting and killing pierce who police said was simply trying to get two of her children into the house and away from the gunfire.
"The children immediately started running, she was running with them," said Holmgren. "Unfortunately due to the senseless violence that was taken place up the street she was fatally struck just feet from her front door."
Two unidentified teens were also shot and taken to Highland Hospital. They are expected to survive.
At around 8 p.m. Monday night gunfire rang out yet again near the hospital. Authorities are trying to figure out if the two shootings are linked.
"We're looking at into it. We can't 100 percent confirm it right now, but there are some strong connections that we are currently exploring," said Holmgren.
Pierce's children, ages 7 and 9, attend the Vincent Academy charter school at 1911 Union St. and she had picked them up a short time earlier, Oakland City Council President Lynette Gibson McElhaney said.
Holmgren told KTVU that all available homicide detectives have been brought in to work on the case in the hopes of getting Pierce's killer off the streets and bringing justice to her family.
"Please come forward with some information," said Holmgren. "Please help us solve this."
The killing was the 19th homicide of the year in Oakland.
Police and Crime Stoppers of Oakland are offering up to $20,000 in reward money for information leading to the arrest of the shooter. Anyone with information may call police at 510-238-3821, the tip line at 238-7950 or Crime Stoppers at 510-777-8572.