Oakland Police Commission investigators find 2 officers not truthful, violated policies after deadly chase
OAKLAND, Calif. - The investigative arm of the Oakland Police Commission has found that two officers accused of starting an unauthorized deadly chase – and then didn't stay on scene to help -- were not truthful, compromised a criminal case and did not perform their duties, among other policy violations.
In all, the Community Review Police Agency, which conducts a civilian review of police misconduct cases, issued "sustained findings" in 10 categories related to officers Walid Abdelaziz and Jimmy Marin-Coronel. The other findings, released Thursday, related to general conduct, reporting violations of laws, and reports and bookings. (See pages 8-9).
A sustained finding is when an investigating agency determines the action of an officer violated the law or department policy.
The officers' names are not listed on the CPRA document. 
But the June 26, 2022, date of the event coincides with when both officers allegedly started a police chase that led to the ultimate death of 28-year-old Lolomanaia "Lolo" Soakai of Hayward.
A source also confirmed that the sustained findings relate to these two officers. There is a third officer who was also investigated, the civilian investigation shows, but that officer was exonerated.
About 15 months ago, KTVU first reported that the two officers – without authorization – decided to chase 19-year-old Arnold Linaldi, who police said was speeding away from a sideshow in a Nissan 350Z.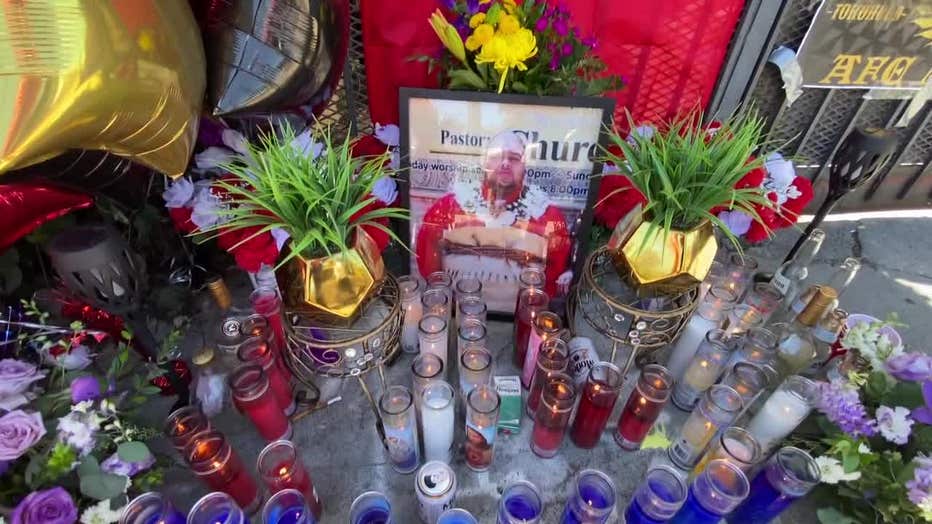 A memorial for Lolomanaia Soakai who died on International Boulevard. June 26, 2022
Linaldi then crashed into a row of vehicles on 54th Avenue and International Boulevard, and one of those vehicles landed on Soakai, killing him. He was standing at a taco truck after a friend's graduation with his mom. His mother and cousins witnessed the crash and were also injured. 
The officers did not stay to render medical aid, sources told KTVU at the time. 
One source said that the officers never came back to the scene. Another source said the pair showed up later to help, acting as if they didn't know about the crash.
One of the officers can be heard saying something to the effect of "I hope they die," after he and his partner left the crash scene, according to one of the sources. The officers were referring to Linaldi.
This information is also summarized in a federal civil lawsuit by Soakai's family members against the city of Oakland and the police department.
The officers' attorneys have not responded to KTVU's inquiries and are fighting allegations that the officers were responsible for the crash in civil court. 
The Oakland Police Department's Internal Affairs Department has not released any documentation regarding these two officers, despite multiple public records requests by KTVU. And there is no narrative or supporting documentation attached to the CPRA's sustained findings. 
The city of Oakland does not release final sustained findings under police transparency law SB 1421 until the cases are adjudicated at the highest level and determined to be "final." 
That means that even if the Internal Affairs department finds that the officers lied, which would have to be made public, the city will not release those documents until the officers have a chance to appeal that decision in a series of hearings. That means the documents could take months or even years to become public. 
KTVU reported in September that sources said the Oakland Police Department moved to fire Abelaziz and Marin-Colonel, although on Monday, OPD said in an email the two officers were still employed by the department on paid administrative leave.