Oakland stray bullet kills mother of 2 while she slept
OAKLAND, Calif. - It was another violent weekend in Oakland. 
An innocent mother was just one of the few latest victims of gun violence in the East Bay city. 
Friday night around 9:45 p.m. in the Laurel district, just off 38th Avenue and Masterson Street, a barrage of bullets echoed through the neighborhood. 
After the gunfire, a 42-year-old mother of two young children was discovered in her home by her family, dead. 
The mother of two was an innocent bystander, sleeping in her home. Reports online indicate a group of men congregating on Masterson just outside the Laurel Lounge before shots rang out in succession.  
Multiple cars were hit with bullets, reportedly from a car traveling from 39th Avenue towards 38th Avenue.
Neighbors shared they're frustrated with the gun violence that has plagued the neighborhood in the last several years. 
Many of those we spoke with were reluctant to show their faces or share their names. 
All acknowledged feeling sorrowful for the family who lost a mother of two children and a community member. 
One man shared, "She was my neighbor, I know she's a mother, I know her husband." 
As a resident down the block from where the violence happened, he said, "It's sad, it's very sad because she had nothing to do with it in the first place. She was in her own home. I mean how secure can you be in your own home? "
One small business owner, who's been operating for twenty years in the Laurel neighborhood, told KTVU he gets his windows broken almost every month. His business has been targeted several times in the last year.
He said, "I call the police, but police never show up. Five or six hours later - they show up. But they just give me a report, that's it." 
On Sunday morning, an Oakland mom showed up at the house where the woman died. She kneeled down to place colorful flowers and a handmade gold cross with a personal blessing written on it. 
After she left the vase of flowers, the woman who would only give her first name Shelby spoke about how she was feeling. 
"This is my city. Our city is in pain. I'm a mother, a small business owner, and I'm tired; this didn't have to happen," Shelby said. "Oakland owes this family an apology and this neighborhood an apology. It needs to do better."
Reached on a Zoom call, District 6 City Councilwoman Janani Ramachandran denounced the violence and spoke of her commitment to the community. 
Admitting she's upset about the rise in gun violence and crime throughout the city.
"These are more than numbers and statistics of people dying," said Ramachandran.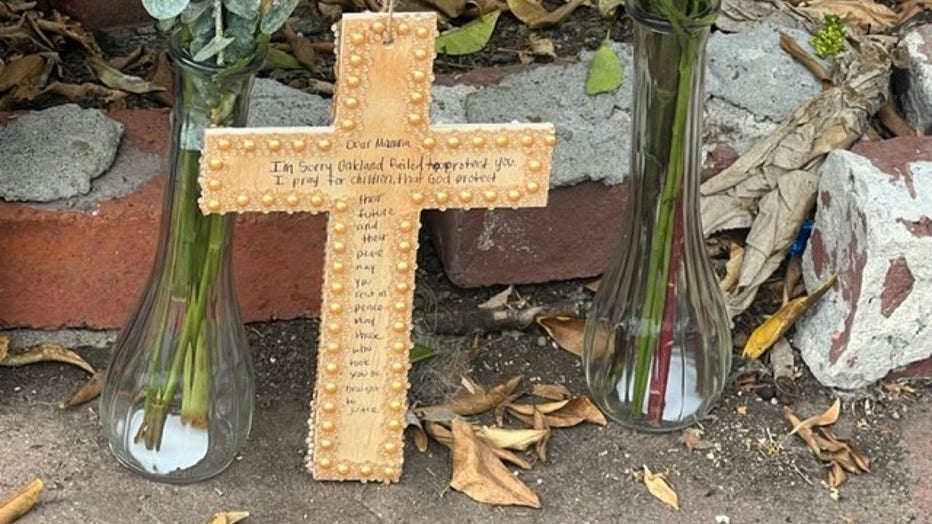 Memorial for Oakland Mother of two children, killed by stray bullet while sleeping 
Ramachandran intends to contact the family of this weekend's shooting to share her condolences. 
"I want the public to know that these are lives, these are stories, these are histories these are people who contribute to the fabric and culture of Oakland, and I'm not treating anyone as a number and a statistic," she said.
This is the 91st homicide in Oakland this year. Last month, the city saw 27 homicides in Oakland. 
Alice Wertz is a freelance reporter for KTVU Fox 2 News. She can be reached at Alice.Wertz@Fox.com X/Twitter: AlicesTake Instagram:WayIseesIt