Oakland votes to stop doing business with vendors that provide information to ICE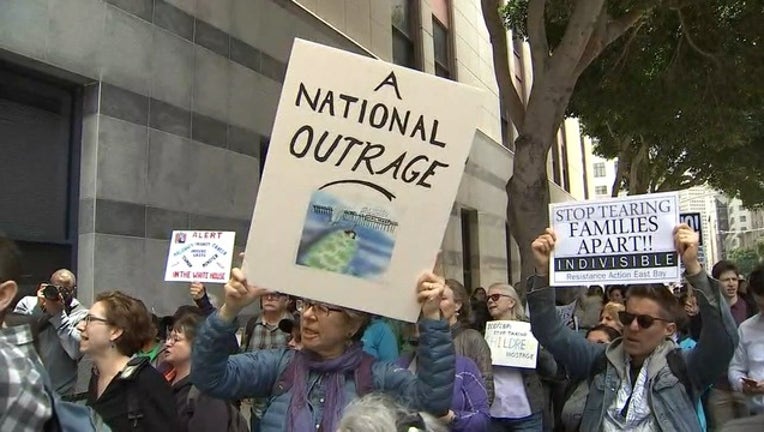 OAKLAND, Calif. (KTVU) - The Oakland City Council unanimously adopted an ordinance early Wednesday morning prohibiting future awards of city contracts to vendors that provide specific deportation services to federal immigration agencies like ICE.
The ordinance was supported by a large state-wide coalition of immigrants' rights and civil liberties organizations, and sponsored by Council President Rebecca Kaplan. There was no opposition to the ordinance at the meeting, where this issue was decided on just before 1:30 a.m.
"In a time where our president has declared war on our immigrant communities and diminished
our nation with hateful speech, the city of Oakland is proud to support our most vulnerable
communities, not just with words but with actions," Kaplan said in a statement. "This ordinance sends a resounding message that we will not engage vendors who are complicit in a xenophobic agenda."
The vendors that do business in Oakland and affected by this ordinance are Microsoft, Motorola because of its purchase of Vigilant Solutions, Thomson-Reuters and CenturyLink. Efforts to reach the companies for immediate response were unsuccessful. ICE also didn't respond for immediate comment. 
As future contracts expire, the city will need to issue a request for proposal for an alternative vendor, or if they believe there is no reasonable alternative a waiver can be granted. It's possible that Microsoft may be granted such a waiver, according to Brian Hofer, founder and executive director of Secure Justice.
Oakland is the third city in the Bay Area to sever ties with companies that do business with ICE.  Richmond and Berkeley also enacted such ordinances.
"Today's decision marks an important victory," said Sameena Usman, government relations
coordinator for the San Francisco office of the Council on American-Islamic Relations. "By prohibiting the award of city contracts to vendors supplying ICE, CBP, or HHS/ORR with data brokers, extreme vetting, or detention facility support, the Oakland City Council has demonstrated its commitment to protecting our communities under an administration that has been set on tracking and targeting them."