Oakland's Castlemont High football players head to LA; some board flight for 1st time
OAKLAND, Calif. - It's a big, eventful week ahead for a group of East Oakland high school football players who are scheduled to fly down to Los Angeles for a special game. 
For many in the group, it will be their first time on an airplane.
"I'm kind of scared," Trevaughn Bailey, a Castlemont High football player said early Wednesday morning at Oakland International Airport. "I've never been on a plane. I've never been in Southern California. I'm excited though."
He was one of 25 student athletes on the Castlemont Knights football team who traveled to SoCal to face Susan Miller Dorsey Senior High in Los Angeles for what's being called the "Oakland - Los Angeles Neighborhood Football Classic."
The trip was being funded by ticket revenue from last season's football games.
"I think it's the first time ever for the Oakland kids," said Castlemont parent and chaperon Spencer Su'a. "So the opportunity for them to travel to see something out of Oakland, I think, is a great experience for these kids. Hopefully, an experience they'll never forget."
The trip promises to be one that could be transformative for the young Oakland athletes.
In addition to the game itself, organizers have a packed itinerary planned for the students, including a college tour of the University of Southern California and a trip to see the famed Rose Bowl Stadium.
The Castlemont football players were also scheduled to take part in team building events like visiting an LA elementary school to work with young kids, alongside members of Dorsey's football team and staff from the Los Angeles Rams. 
"Anytime we see a way to give our students an experience that has the potential to dramatically change their view of the world and their place in it, we do everything we can to make it happen," said Oakland Unified School District Superintendent Kyla Johnson-Trammell.  "All of Oakland will be cheering on the Knights as they head to Los Angeles."
The game against Dorsey is Friday night.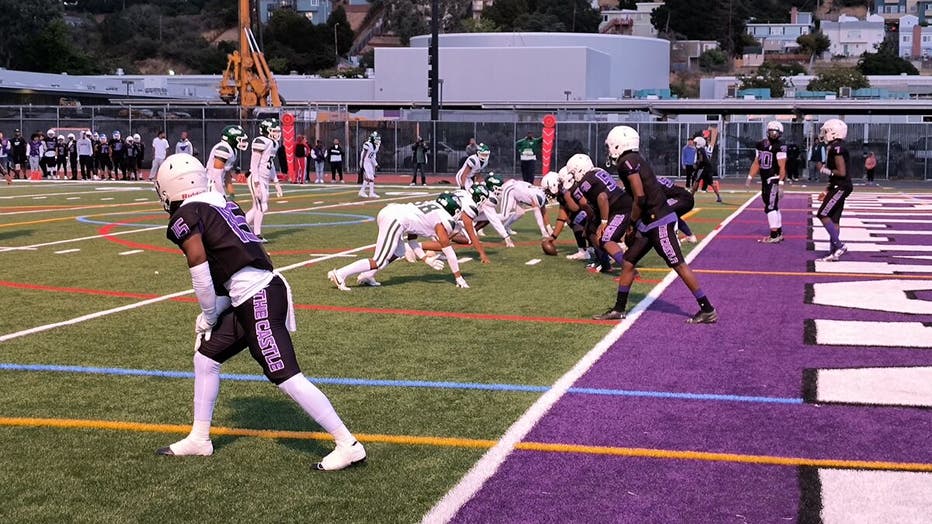 Castlemont High Knights playing first game of the season against Vallejos St. Patrick-St. Vincent at home in Oakland, Calif. on Friday, Sept. 1, 2023.  (Oakland Unified School District)