Obama to leave about 8,400 troops in Afghanistan at year-end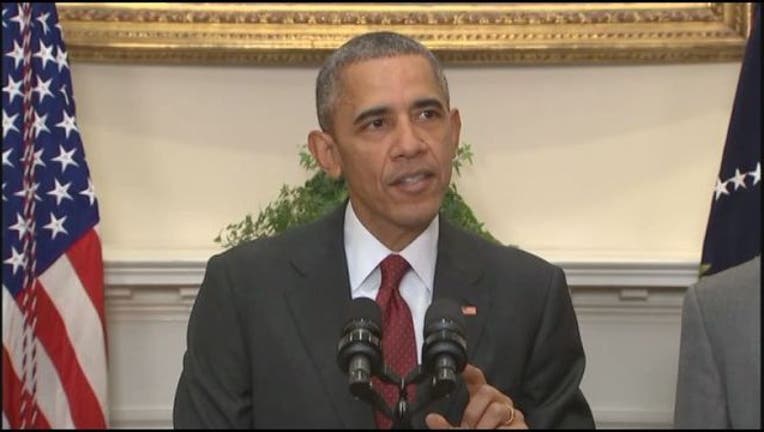 article
WASHINGTON (AP) — President Barack Obama said Wednesday the U.S. will leave 8,400 troops in Afghanistan when he completes his term, down slightly from the current number but well up from the 5,500 he announced previously, arguing America's interests depend on helping Afghanistan's struggling government fight continuing threats from the Taliban and others.
In a statement at the White House, Obama said he was acting after receiving recommendations from top military leaders who urged him to revise his earlier plan. He said boosting the planned troops levels from that planned level would help U.S. allies prepare their own contribution to the fight and would help the next president make good decisions about the future of U.S. involvement in the country where America has been fighting since 2001.
"The decision I'm making today ensures that my successor has a solid foundation for progress in Afghanistan, as well as the flexibility to address the threat of terrorism as it evolves," Obama said.
He added, "l firmly believe the decision I'm announcing is the right thing to do."
The numbers reflect a compromise between Obama's original plan and what many military commanders had recommended.
Obama had planned to drop troop levels from the current 9,800 to 5,500 by the end of 2016. But a Taliban resurgence has led Washington to rethink its exit strategy.
Obama said the U.S. mission would remain narrowly focused on "training and advising" Afghan forces and supporting counterterrorism operations against the remnants of al-Qaida, the group that attacked the U.S. on Sept. 11.
"We are no longer engaged in a major ground war in Afghanistan," he said. Still, he said, Americans serving in their more limited missions there still face serious dangers
Obama announced alongside Defense Secretary Ash Carter and the Joint Chiefs of Staff chairman, Gen. Joseph Dunford.
Last month a group of more than a dozen former U.S. ambassadors and former commanders of U.S. forces in Afghanistan wrote to Obama urging that he sustain the current level of U.S. troops through the remainder of his term in office. They included Gen. John F. Campbell, who had been the top U.S. commander in Kabul until four months ago, and retired Gen. David Petraeus.
"Unless emergency conditions require consideration of a modest increase, we would strongly favor a freeze at the level of roughly 10,000 U.S. troops through January 30," they wrote in a June 1 letter. "This approach would allow your successor to assess for herself or himself and make further adjustments accordingly."
Obama's announcement will help shape his legacy. A president who came into office promising to end the wars he inherited, has instead found himself wrestling with continued hostilities in both Iraq and Afghanistan and new conflicts in Syria and Libya.