Off-duty SFPD officer helps nab Bay Bridge carpool violator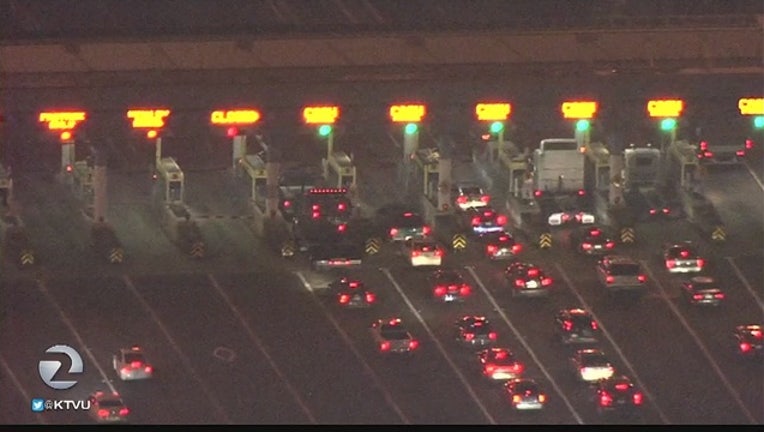 article
SAN FRANCISCO (KTVU) - An off-duty San Francisco police officer helped apprehend a man who violated the carpool requirement and led CHP on a short chase on the Bay Bridge Tuesday morning.

Sean Wilkenfeld with CHP said a CHP officer spotted a man driving a Chevy Monte Carlo in the carpool lane at the Bay Bridge Toll Plaza just before 8:00 a.m.

The man led the officer on a short chase across the eastern span on the Bay Bridge. The man's car spun out before the tunnel. 

"He got out of his vehicle and just started running away again," Wilkenfeld said.

The man ran through the tunnel and jumped a median on Treasure Island, which caught the attention of an off-duty San Francisco police officer. In video posted on social media, the officer can be seen with her weapon drawn while the CHP officer tried to apprehend the man.

CHP said the off-duty officer's backup helped because the officer had tried to use a Taser on the man, but only one of two darts hit the suspect.

"In this case we had an off duty officer who identified herself, helped us make the arrest for us," Wilkenfeld said. "We appreciate the cover."

A SFPD spokesman said the off-duty officer is a veteran at the Central Police Station and she has been with department since Feb. 1991.

Wilkenfeld said the suspect, identified as 36-year-old Marvin Gross of Oakland, told the officer he ran because he had a suspended license and he didn't want CHP to tow his car.

Gross's reasons for running now have his sitting in jail facing felony charges for evading, driving with a suspended license, and violating the carpool rules. The car was impounded for 30 days.

"He shouldn't have been on the road in the first place, better yet, in the carpool lane by himself," Wilkenfeld added.