Officials cite proper placement of fire engine as saving lives in crash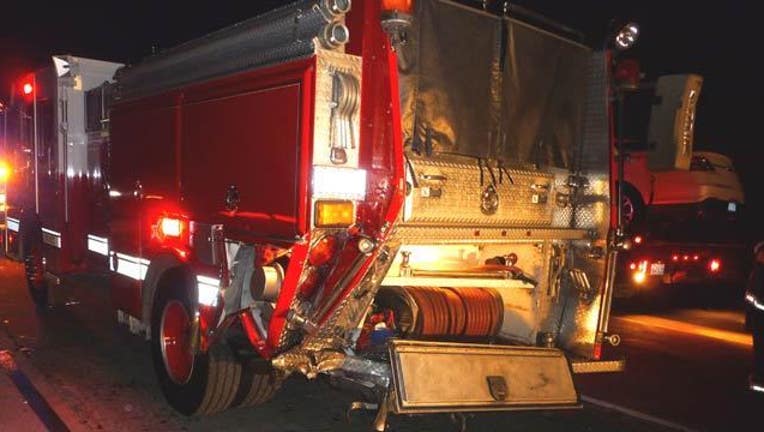 article
HERCULES, Calif. (KTVU) -- Officials with the Contra Costa County Fire Protection District said the proper placement of a fire engine at the scene of an overturned vehicle crash early Sunday morning saved firefighters' lives. 
California Highway Patrol officers and firefighters responded to a report of a 2002 Nissan Pathfinder that had overturned in the eastbound lanes of Interstate Highway 80 east of Willow Avenue near Hercules, CHP Officer Ron Simmons said. 
Fire officials said a fire engine was positioned some 200 feet away from the crash scene in the second right lane of a four-lane section of Highway 80. CHP had placed a flare pattern approximately 300 feet to the rear of the fire engine to warn approaching motorists about the closed lanes, fire officials said. 
Shortly before 2 a.m., a 2013 Ford Taurus crashed into the fire engine, Simmons said. The driver of the Taurus suffered major injuries and was airlifted to John Muir Medical Center in Walnut Creek, fire officials said. 
The driver of the fire engine was transported to Kaiser Permanente Vallejo Medical Center as a precaution. Fire officials said he was treated and released back to full duty. 
The fire engine sustained major damage and can no longer be used for service, fire officials said. Fire officials said highway incidents are some of the most dangerous and unpredictable events for emergency responders. 
Fire department personnel were employing industry standards in their response, but fire officials said an inattentive motorist threatened the lives of everyone at the scene. 
No one else was inside either the Pathfinder or the Taurus, Simmons said. The driver of the Pathfinder suffered minor injuries, Simmons said. No other injuries were reported. 
A Sig-alert was issued at 2:01 a.m. and was canceled shortly before 3 a.m., CHP officials said.