Officials: Two months to clear up port cargo backup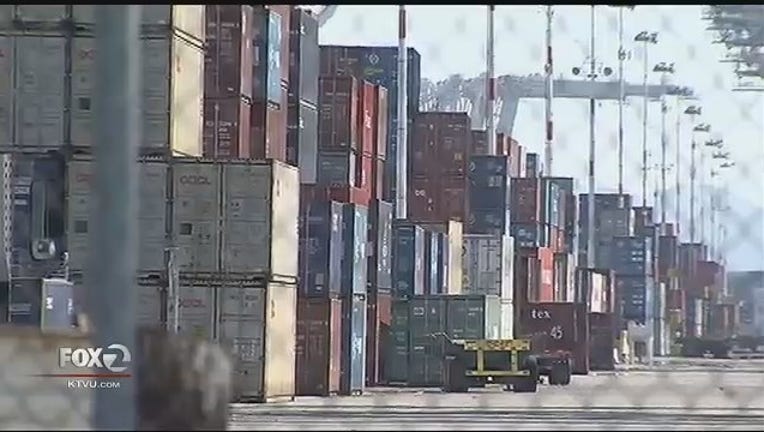 article
OAKLAND (BCN) -- The cargo backup at the Port of Oakland that resulted from a months-long labor dispute at West Coast ports should be cleared in two months, port officials said Friday.
Officials provided the information as part of an operational update, the first since dockworkers approved a new West Coast labor contract Feb. 20.
Oakland maritime director John Driscoll said labor, terminal operators and harbor truckers are collaborating well and customers should see the benefits of faster, smoother cargo flow soon. But Driscoll stopped short of saying everything is OK.
"This isn't victory -- there's still a great deal of work to do," Driscoll said in a statement.
Port officials said the signs of gains in container movement include a declining vessel backup, less congested terminals, improved transaction times and better productivity at the terminal.
Labor and management at West Coast ports fought over a contract for three months this winter and the fight created a logjam at ports all along the California coast. The fight caused delays in releasing containers of imports to customers and at Oakland delays in placing exports on ships.
Port officials said the buildup of import containers is now limited to ships waiting to dock and unload. But the officials said temporary yard delays could recur as workers speed up their efforts to unload ships now in the Bay or outside the Golden Gate.
According to the port, only five ships are waiting for berths, down from 20 in mid-February and officials said the logjam should be clear in 10 days.
Other improvements include the following, according to port officials.
Incoming imports are now available immediately after they're unloaded. Cargo owners were waiting for weeks to pickup containers during the labor dispute.
Exports are again leaving the port as Asia-bound ships return after bypassing Oakland to recapture time lost at southern California ports.
Port workers are unloading 10 ships on average each day, up from three to five before the work stoppage.
The time it takes to unload a ship has dropped during the past two weeks, but officials said loading and unloading is still taking several days rather than one day.
The times drivers are waiting at gates and inside the terminals has dropped.