Pair arrested at scene of officer-involved shooting Tuesday identified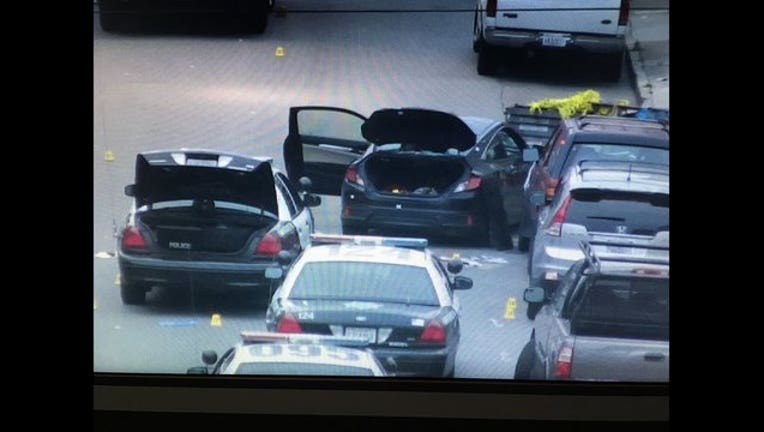 article
SAN FRANCISCO (BCN) Two people arrested at the scene of a fatal officer-involved shooting Tuesday in San Francisco's Mission District have been identified today by police.
Victor Navarro-Flores, 19, and Cristina Juarez, 18, were both arrested on suspicion of two counts of robbery and conspiracy. Each is being held in jail on $255,000 bail.
According to police, Navarro-Flores and Juarez were both in a black Honda Civic believed to have been connected to a robbery. Jesus Delgado-Duarte, 19, was allegedly hiding in the Honda's trunk and was fatally shot by officers as they tried to detain the trio, police said.
Events leading up to the shooting began around 10:35 p.m., near 20th and Capp streets, when two people flagged down officers and said they had been robbed by the occupants of a black Honda Civic.
Officers caught up with a vehicle matching that description on Capp Street between 21st and 22nd 
streets.
After detaining one of the Honda's occupants, officers noticed the trunk was open. Sometime after officers realized that a person was inside, later identified as Delgado-Duarte, an officer-involved shooting occurred, according to police.
Following the shooting, the third suspect was detained.
Police have not said exactly how the shooting occurred. A gun was found in the car's trunk, police said.
A handful of members of the group Justice For Luis Gongora Pat rallied outside the Mission police station at Valencia and 17th streets Wednesday to protest the shooting. 
A vigil and march was also held by Delgado-Duarte's family and friends Wednesday evening at the site of the shooting.
Several agencies are conducting separate investigations including the Police Department's homicide detail, the San Francisco District Attorney's Office, the city's Department of Police Accountability, the SFPD Internal Affairs Division and the medical examiner's office.
Per policy, police will hold a town hall meeting within 10 days of the shooting to inform the community about what happened.
Anyone with information is asked to call the San Francisco police tip line at (415) 575-4444. Callers can give anonymous tips.