Pelicans' Williams: Warriors' arena noise might be too loud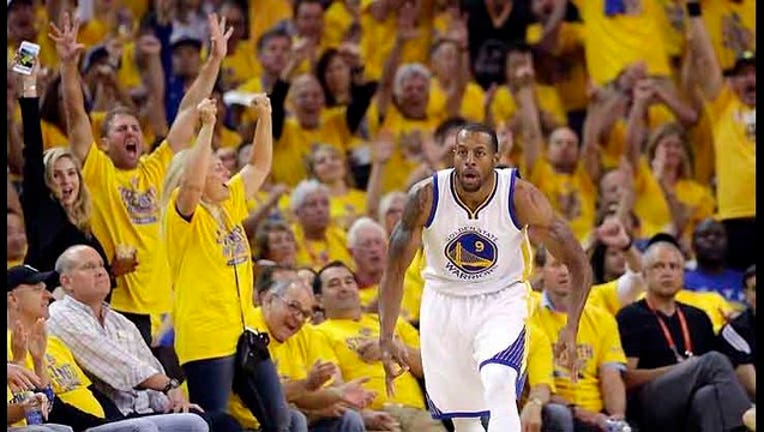 article
SAN FRANCISCO (KTVU-AP) — Oracle Arena, the rollicking home of the Golden State Warriors, has been considered one of the NBA's loudest arenas for a long time. New Orleans Pelicans coach Monty Williams believes it might be too loud.
"I'm not so sure that the decibel level is legal there, and I'm serious," Williams said before Game 2 of their first-round playoff series Monday. "They've done studies on that. Being on the competition committee, there's got to be something to that because it does get a little out of hand.
"I've talked about it for years, they've got some of the best fans in the league here, and they show up early," he continued. "The music before the game, they're playing old school music, and it's right above your locker room. And you're like, `These people are crazy, man. This is pretty cool.' So I'm sure it has an effect, but after a few minutes it's just basketball."
Williams' comments came before his team's morning shootaround at the University of San Francisco. The Warriors play across the bay in Oakland, where they've won 19 straight and 40 of 42 games this season.
Pelicans power forward Anthony Davis credited the crowd - an announced sellout of 19,596 wearing golden yellow shirts - for his team's slow start in Game 1. The Warriors went ahead by 15 after the first quarter, 18 at the half and 25 late in the third quarter before holding off New Orleans 106-99 on Saturday.
"My first playoff experience, it was pretty hectic. So much going on, it was so loud I couldn't hear my teammates, my coaches," Davis said after Sunday's practice. "We started off bad as a team and picked it up as a team when we all got calm."
Arena officials had some fun with Williams' remarks. The verified Twitter account of Oracle Arena posted, "Dear Monty Williams: (hashtag)SorryNotSorry for being loud," with a clip of rapper Kanye West shrugging his shoulders.
Warriors guard Klay Thompson and forward Andre Iguodala said at shootaround Monday that they've heard the arena louder than it was Saturday afternoon. They said it's typically louder for night games.
"It's something you got to get used to," Thompson said. "We all got to adjust, and that's not just them. That's why we have the best homecourt in the NBA is because our fans are great and they show up every night."
The sea of gold and blue was extra loud and proud Monday as the Warriors won Game 2 of the playoff series against the Pelicans.
Fans said they raised their voices several notches in response to the Pelicans coach's complaint.
"If yout want a silent game, you should go play golf," said Johnny Ballelos from Hayward.
When asked fans would like to say to the Pelicans' coach, Dave Rodriques of Union City said, "I wanted to bring a sign that says we sell earplugs."
Fans say strength in numbers translates to strength in noise.
"Isn't that the whole point of home court advantage? You want your fans behind you, blowing the opponents ears out," said Janet Ballelos from Hayward.
To help blow the opponents ears out, the Warriors gave free megaphones to the first 2000 fans who checked in on its Facebook page.
Before Monday night's game, Kerr joked about the noise complaint.
"I'm going to make an appeal to our fans to be as quiet as possible," said Warriors coach Steve Kerr.
KTVU asked him about the Pelicans coach questioning whether the noise level is legal.
"There's not any noise being pumped in. That's illegal, I know, said Kerr. I know the NBA likes to control a lot of things, but I don't think they can control how loud the fans yell."