Person of interest being questioned in Monday Oakland Hills grass fire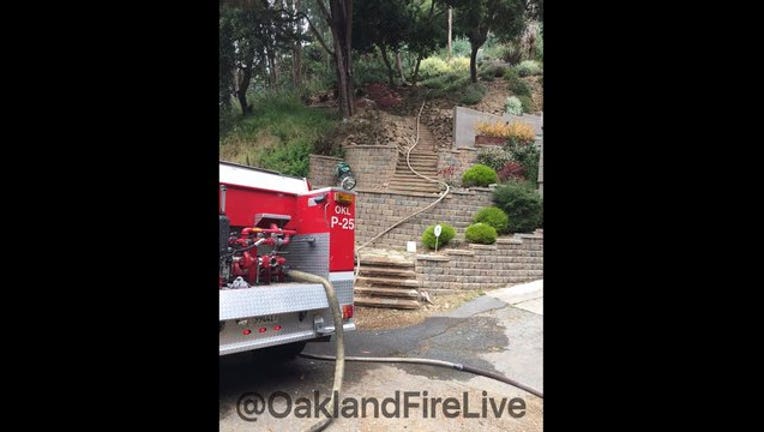 article
OAKLAND (BCN)-- A person of interest is being questioned in a 2-alarm Oakland Hills grass fire that firefighters quickly brought under control this morning, a battalion chief said.
A patrol doing vegetation management spotted the fire at 10:20 a.m. at Ascot and Mastlands drives, said Oakland Fire Battalion Chief Nick Luby. The neighborhood is in the Oakland Hills high-fire-risk zone.
Crews brought the fire under control at 11:02 a.m., Luby said. The firefighters did a progressive hoselay uphill behind hills on Ascot to fight the fire. No structures were damaged.
"While (firefighters) were making access up the hillside, they came across an individual who was stating that they had been stabbed," Luby said.
An ambulance was called in response. However, the person was not actually injured, Luby said.
"It turned out they were not stabbed, and that person is undergoing a psychological evaluation and the incident is being investigated by Oakland police and an Oakland Fire investigator," Luby said.
Asked if the person was an arsonist, Luby said that is "undetermined at this time."
Inspections are going on in the high-fire-risk Oakland Hills area to see if homeowners have created a safety zone, known as defensible space, around their homes to help prevent fires from spreading.
The inspections are part of a program developed to protect the city from a repeat of the deadly 1991 Oakland Hills fire.