Popular Oakland BBQ restaurant burglarized twice in two days
OAKLAND, Calif. - A popular Oakland barbecue restaurant was hit twice in two days in the middle of the night, and the owners believe the same crew is responsible.
The break-ins at Everett and Jones Barbecue in Oakland's Jack London Square happened early Monday and Tuesday.
 "Both windows were hit. They came through that window on Monday, and this window on Tuesday," said owner Nina Moore. "It was just anger that I couldn't hold in and sadness."
The first burglary happened at about 3:15 a.m. Monday. Surveillance video shows a man breaking into the restaurant office.
"Our office door was kicked in," she said.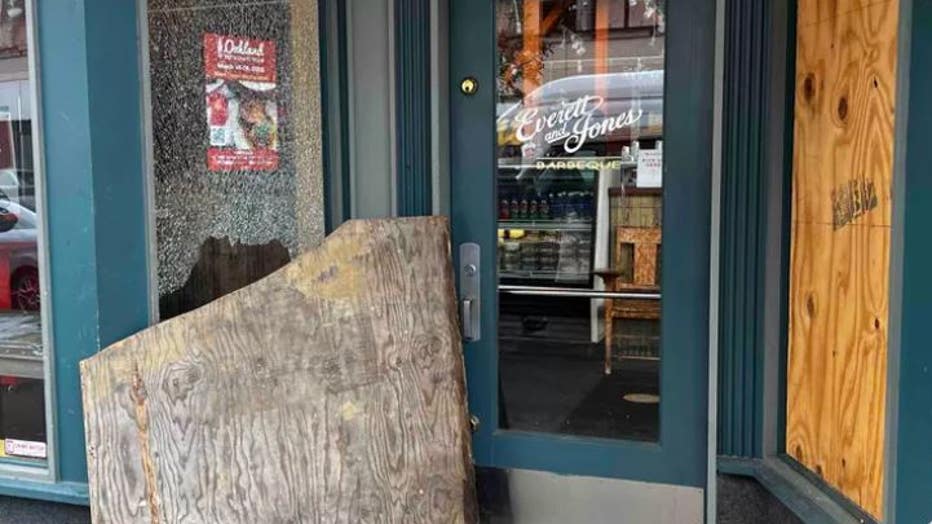 Black-owned business Everett & Jones Barbecue at Jack London Square was victimized by thieves twice in one week. 
The intruder went straight to a big safe inside.
"They first tried to saw the safe open. When that didn't work, they took our office chair and loaded up our smaller safe and rolled the chair out of the building," Moore said.
Moore said the same man came back at about 3:45 a.m. Tuesday and again broke into the office. This time, he was able to get into the big safe. In both cases, a second man stood watch outside. 
"They used a different kind of tool that they successfully opened up, got a hole in our safe and was able to reach in and get some money out," Moore said.
The restaurant, a proud Black-owned business celebrating its 50th anniversary, lost tens of thousands of dollars - and during Oakland Restaurant Week.
"It's very bad timing," Moore said.
Everett and Jones started in Oakland, and has become an East Bay institution. Customers flock to the restaurant for their famous smoked ribs, beef brisket and sides.
Moore and her three sisters took over the restaurant from their mother Dorothy King, who died in 2021 in the middle of the pandemic. 
"We made a pact to each other that we were going to keep this business going, and we just felt defeated. We felt we failed her," Moore said.
Through the years, the restaurant has hired people from all walks of life, including the homeless and former inmates. 
SEE ALSO: Dorothy King, owner of Everett and Jones BBQ, dies
"All you had to do was ask. We weren't going to give you the whole safe, but we would have helped you or send you in a direction to give you the help that you need," Moore said.
Customers are also in shock.
"It's a very sad situation, you know, i mean businesses are struggling everywhere, and something like this happens, it doesn't really help," said customer Luzbella Velasquez of Castro Valley. 
A gofundme has been organized for the loss and damage to the restaurant. 
Henry Lee is a KTVU crime reporter. E-mail him at Henry.Lee@fox.com and follow him on Twitter @henrykleektvu and facebook.com/henrykleefan