Public defender begins seeking case dismissals after San Jose officer's racist texts revealed
SAN JOSE, Calif. - Less than a week after the San Jose police chief revealed a former officer wrote a litany of racist texts, the Santa Clara County Public Defender's Office said they've started seeking cases to be dismissed if Mark McNamara was the arresting officer. 
Deputy Public Defender Karina Alvarez on Thursday said she asked to dismiss a case of a Black man who was charged with vandalism, although McNamara had arrested him on a greater robbery charge. 
So far, she has found one other case to request to be dismissed. She said she has no idea at this point how many other cases might fall under the Racial Justice Act, a new law that bans bias in charging or sentencing. Her office is working on active cases first and then will look backward.
"We at the public defender's office absolutely reject, denounce, and find former Officer McNamara's conduct repulsed, appalling, disgusting," she said. "The African-American community has already been oppressed and continues to be overpoliced. And the time is now to stop. What happened here is racism. There's no other euphemism for it. So we are asking that some cases be dismissed just in the interest of justice."
The Santa Clara District Attorney's Office and the San Jose Police Department said they are both reviewing cases tied to McNamara's work.
Alvarez spoke at a news conference organized by the NAACP, Black Leadership Kitchen Cabinet, and members of the African American Cultural Center in San Jose.
The civil rights leaders and community members all formally denounced the racist text messages McNamara is accused of sending to two unnamed friends; a former SJPD employee and a current one, who is on administrative leave. The texts were laden with the N-word and one of them read, "I hate black people." 
The texts came to light as the Internal Affairs unit investigated McNamara for an undisclosed criminal matter, the San Jose police chief said. McNamara resigned from the police department hours before Chief Anthony Mata released the messages.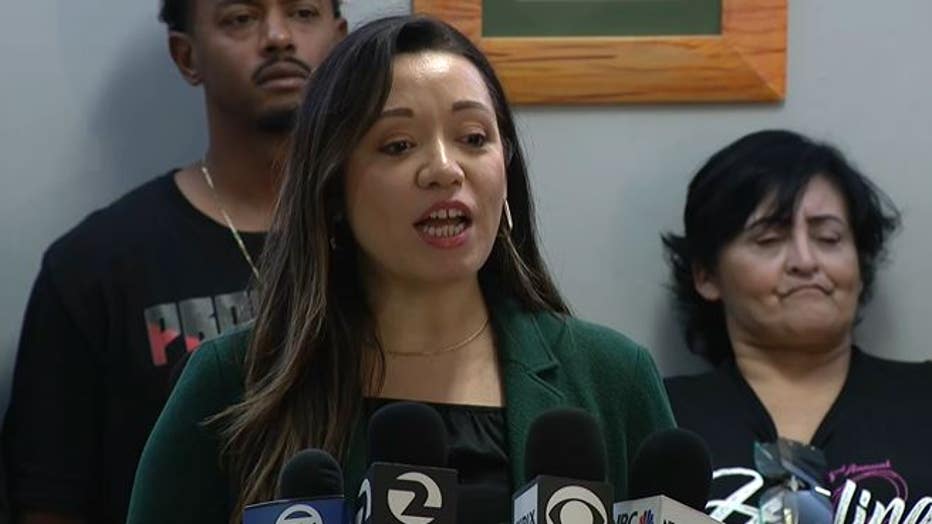 Santa Clara County Deputy Public Defender Karina Alvarez, 
Some of the texts were sent the day after McNamara shot K'aun Green, a young Black football player who wrestled a gun away from a drunk customer at La Victoria Taqueria in March 2022. Other texts were sent in June, on the day he was deposed for a federal excessive force suit filed against him for that shooting. KTVU obtained exclusive video of that deposition.
"If you really wanted to terminate him and show the community, the Black community, that we should have trust in not only the chief, our district attorney and the mayor, then [McNamara] should have been terminated," Green's attorney, Adante Pointer said. "And now we believe this is probably just a tip of the iceberg because he was not sending those text messages to himself. And yet the city wants to hide his enablers." 
In addition to dropping any case that McNamara touched, the civil rights leaders said they are demanding that San Jose initiate the decertification process of McNamara so that he can never be a law enforcement officer again. 
As of Thursday, McNamara's name was not on the state's list of decertified police officers. 
About two hours after the news conference ended, Mata released a statement saying his department has submitted documents to POST, the state agency in charge of the decertification process, and he's also working on including more anti-racism training for officers. 
He said the training will include McNamara as a case study for what not to do. 
On Wednesday, the attorney representing the city of San Jose recused himself from representing McNamara in his civil excessive force case, declining all comment.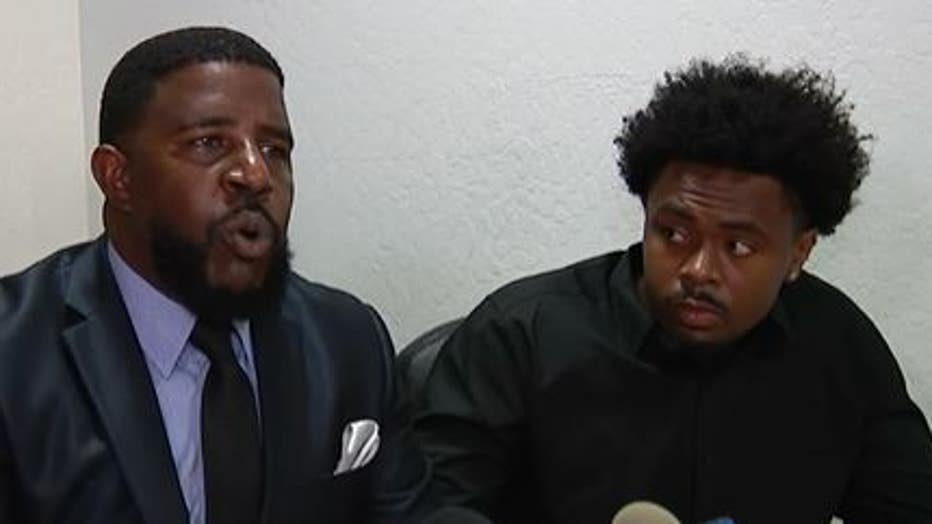 K'aun Green and his lawyer speak to reporters November 5, 2023 for the first time since the racist text scandal dropped.
In addition to talking about McNamara specifically, the news conference provided a chance for many Black leaders to decry the racism they have felt all their lives. 
"We're here again," said Rev. Reginald Swilley. "We're here again to talk about issues around policing in our community that have been since I was in college. I've been standing behind podiums like this, talking about issues around policing since then. We are paying for these people to protect us. And we've been saying, 'Oh, you got a racist cop.'  How long is it going to take before you believe us? Did it take these texts for you to believe this? No. You didn't even believe us then." 
Pointer added that many members of the Black community live in fear of police officers. 
"When we are driving down the street and we're approached by a police officer, we don't know what's in that officer's heart," Pointer said. "We don't know if they're pulling us over for a legitimate reason or they contrived a reason to make contact with this so that they can then play out their racial animus here on the streets behind a badge on a guy."
How the city, the DA and the police department handle the situation from now on is a "serious issue," Pointer said. 
"They must root this out before they can pat themselves on the back and say 'We did well by this community' by removing this officer," Pointer said. "You have to show us, not tell us, that you're serious about this problem and actually go deeper down into the wormhole to get to all the officers who carry this type of hatred in their heart."
 Lisa Fernandez is a reporter for KTVU. Email Lisa at lisa.fernandez@fox.com or call her at 510-874-0139. Or follow her on Twitter @ljfernandez