Quadruple amputee dog learning to use prosthetics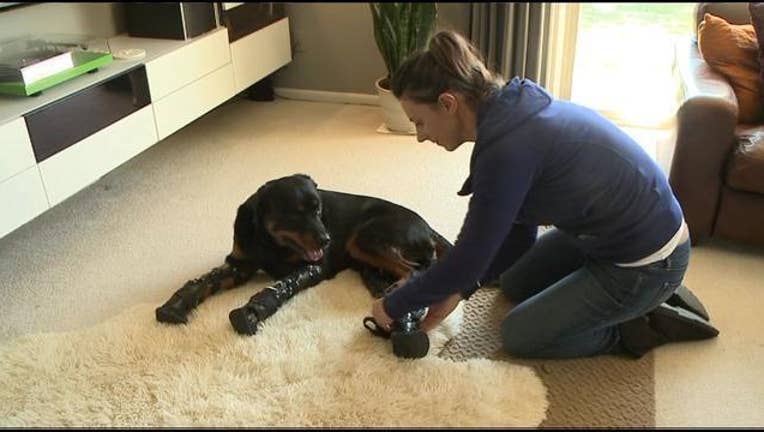 article
LOVELAND, CO (FOX) - Thanks to a team of vets, an orthotics manufacturer and a loving foster mom, a quadruple amputee in Colorado is learning how to get around in prosthetics.
But we're not talking about a human amputee. We're talking about a man's best friend.
Laura Aquilina taking Brutus for a walk around the block, wouldn't ordinarily sound like a challenge.
"He just has these little peg legs to get around on and he does a pretty good job inside the home," said foster mom Laura.
But outside, he's adjusting to wearing prosthetics on each leg.
"You can't explain to an animal why you are putting these contraptions on their feet. You can't explain to them, that it's to help them," Laura explained.
So his foster mom eases Brutus slowly into a life with artificial limbs.
The high-stepping hound sometimes resembles a bucking bronco.
These exercises and play help the 2-year-old learn balance.
But Laura wants much more for him.
"He's able walk in them. It's not always pretty, we want to be able to give him a higher functioning, where he can run and play with other dogs, go on hikes," Laura said.
Brutus needs the prosthetics because he got frostbite on all four paws and his breeder amputated the damage himself, maiming him. And that's where OrthoPets came in.
"Brutus is an amazing case of a beautiful dog who was dealt a short hand," said Martin Kaufmann.
Kaufmann is the founder of OrthoPets which makes prosthetics for about 250 animals worldwide a year.
"He can get out and do normal doggy things. And it just makes you feel so good," Kaufmann said.
It also makes Laura feel good that her furry friend is an inspiration for other animals with disabilities.
"If he ended up in a shelter they'd say he was unadoptable because he's missing his feet. I think it's good for people to know we can work with animals this," Laura said.