Raid busts massive Benicia pot warehouse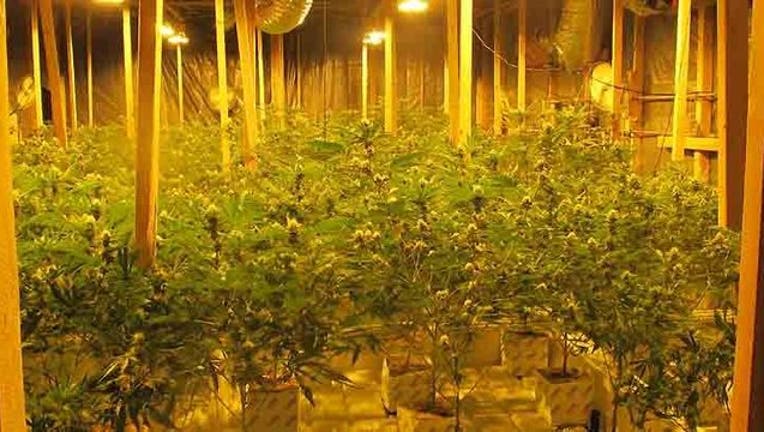 article
BENICIA, Calif. (KTVU) -- The city of Benicia has seen two major marijuana busts in the past three months with the latest and largest coming on Thursday morning.
The bust was something that is rare, to say the least, in the kind of business park where it happened. But as KTVU learned, it was related to another such bust about a half mile away.
A nondescript building on Stone Road in Benicia housed what was called Greenview Home Solution.
"It's an interesting name. Clearly not a legitimate business," said Deputy Daryl Snedeker of the Solano County Sheriff's Office.
Sheriff's deputies and FBI agents moved in on Thursday morning.
"I said 'Wow, it is something really going on.' After that a lot of vehicles pulled up, and a sheriff pulled up with a trailer, and I said 'Wow, that looks like a drug bust going on,'" said Detroy Moore, who witnessed the raid.
Moore was correct. Investigators found a huge marijuana growing operation with millions of dollars worth of product.
"There was over 4,800 plants, there was several pounds of processed marijuana, confiscated or seized during that search warrant. The street value of the marijuana was over $14.5 million," explained Snedeker.
Now in the window is a document from a law office in Oakland that orders the tenants out because of the cultivation of marijuana.
"I'm thinking this is the second one in six months, and I think something needs to be stepped up out here," said Josh Hatfield, another witness.
In fact, this bust came just three months after a similar raid of another warehouse on East Second Street half a mile away.
"Very similar to the same type of operation just on a smaller scale. So, you know, clearly it was related to it," said Snedeker.
Investigators said that previous bust came after a Benicia Police officer responding to some other issue noticed something suspicious. It netted more than 800 plants and $2.5 million in processed pot.
"I don't think it's an isolated incident to the city of Benicia, or the industrial area of Benicia, I think it's state wide, if not nationally that these grows that are grown outside are going inside," added Snedeker.
One man was arrested at the Stone Road location: 34-year old Thuy Dinh of Hayward.
Officials say they're looking for more people who were involved.
Dinh is scheduled to be arraigned Monday afternoon in Solano County Superior Court.