Report: Fremont police won't release video of fatal shooting; suspect ID'd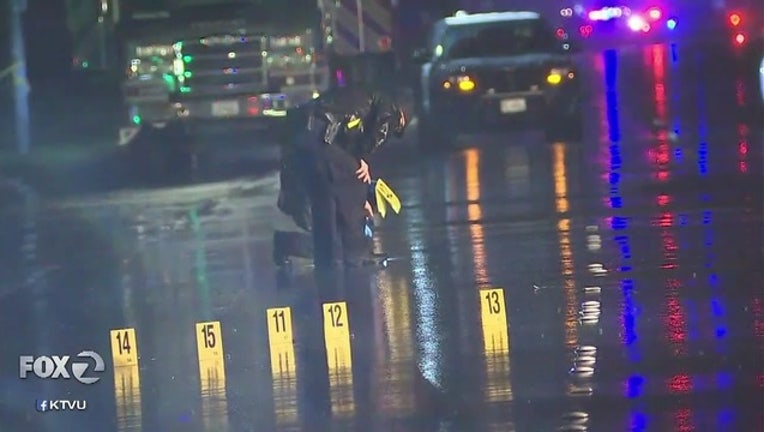 article
FREMONT (BCN) A suspect who was fatally shot in a shootout with Fremont police last Thursday night was identified by the Alameda County sheriff's office today as 18-year-old Nathaniel Prasad of Oakland.
Fremont police spokeswoman Geneva Bosques said a preliminary investigation indicates that seven officers, including three undercover officers, fired at Prasad after he allegedly pointed a gun at them near the intersection of Fremont Boulevard and Nicolet Avenue shortly before 7 p.m. on Thursday.
East Bay Times reports police have no plans to release video of the fatal shooting, despite having "a lot of video". 
Bosques said Prasad fired at officers twice but it hasn't yet been determined if he fired first or the officers fired first.
Bosques said undercover officers spotted Prasad as the passenger in a vehicle on Fremont Boulevard near Central Avenue at about 6:47 p.m. on Thursday and several marked patrol cars were called in to pull the car over on Fremont Boulevard just before Nicolet Avenue, according to Bosques.
The car stopped at the intersection and Prasad got out of the passenger side and started running so officers chased him, Bosques said.
Prasad pointed a gun and fired at the officers so the officers fired at him, according to Bosques.
Prasad was able to continue running and fired again so officers continued to shoot at him and he was struck and fell to the ground, Bosques said.
Prasad was pronounced dead at the scene but no officers or civilians were injured.
Police said they recovered a revolver from Prasad's side with expended casings.
Bosques said undercover officers were assigned to find Prasad after he fled from police earlier last week.
She said a uniformed officer who's a school security officer knew Prasad had a probation warrant so he tried to stop a car with Prasad inside it but the car sped off.
That officer didn't pursue the car but he alerted other officers about Prasad, Bosques said.
The warrant was issued for Prasad because had had removed an ankle monitor he was required to wear for a previous conviction, according to Bosques.
Prasad also didn't appear in court last Thursday for a felony weapons possession charge for an incident in a neighboring city, Bosques said.