Reputed gang associate sentenced for murder of muralist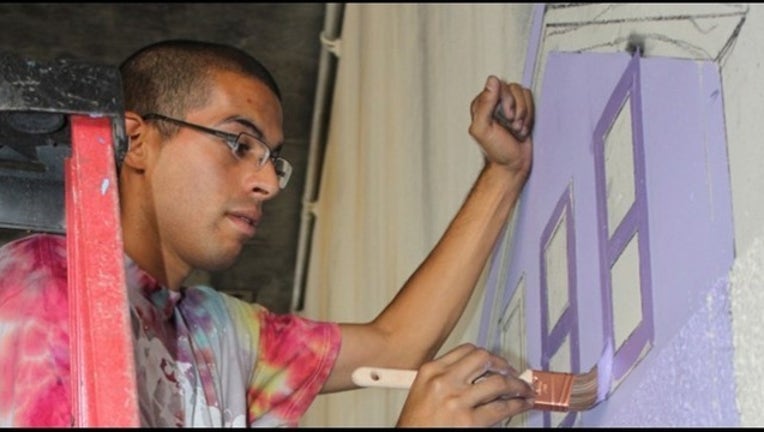 article
OAKLAND (BCN) A reputed gang associate who started a life of crime at the age of 13 was sentenced at an emotional hearing today to 25 years to life in state prison for fatally shooting a mural artist in Oakland three years ago.
Marquise Holloway, 23, pleaded no contest June 4 to first-degree murder for the shooting death of 27-year-old Antonio Ramos of Emeryville in the 3500 block of West Street in Oakland at about 10:30 a.m. on Sept. 29, 2015.
Ramos was shot while he was working on a mural underneath an Interstate Highway 580 overpass that was part of the Oakland Super Heroes Mural Project, collaboration between artists and students.
Oakland police said they believe the gun that Holloway used to kill Ramos was stolen earlier in September 2015 from a U.S. Immigration and Customs Enforcement agent in San Francisco.
After Holloway was arrested in November 2015, Oakland police Lt. Roland Holmgren said Holloway was associated with a West Oakland gang called Ghost Town and described him as "very much a threat to the community" because police believe he committed a number of bank robberies during the same period when Ramos was killed.
At Holloway's sentencing hearing today, prosecutor Matthew Golde said, "Antonio (Ramos) was an artist and a cherished member of our community who dedicated is life to beautifying our city and healing our community but at the same time Mr. Holloway was damaging our community."
Golde said although Holloway began committing robberies and other crimes when he was only 13, he rarely spent much time in jail and was "given every chance to rehabilitate" at group homes and other facilities.
In a sentencing memorandum, Golde wrote, "All types of people tried to help Holloway: teachers, probation officers, police officers, judges, psychologists, therapists, group home counselors, etc. No matter who tried to help or what was offered, Holloway rejected any help and actively pursued a life of non-stop crime."
Holloway's lawyer Annie Beles admitted that Holloway has made bad choices throughout his young life and failed to take advantage of the opportunities that were offered to him.
But Beles said, "Humans have the capacity to change" and she hopes that Holloway "can be a better man as he grows older" and have a chance of being paroled after he's been in prison for 25 years.
Alameda County Superior Court Judge Morris Jacobson told Holloway, "You have thrown your life away" but will "have a chance at redemption" because the law has changed and youthful offenders can now have a parole hearing after 25 years.
Jacobson said to Holloway, "It's up to you and how you perform in prison."
Jacobson, who appeared to be emotional at times, said he's handled a lot of homicide cases during his long career as a prosecutor and a judge but Ramos' death "is especially sad because he was such an addition to our community and our culture."
Ramos' sister Ilena Ramos said his death "has been very difficult for all of us and we will never be the same."
Fighting back tears, Ramos said her brother "enjoyed life to the fullest and made other people laugh" also was "a friend and feeder to the homeless."
Ramos said her brother's life "was taken so senselessly and so quickly" and that if Holloway had just asked him for some money instead of shooting him "he would have given him something from his pocket."
Oakland police said Antonio Ramos had taken a break from working on the mural and was taking pictures of his work to memorialize it to update the mural artists' website when Holloway came by and noticed his camera equipment, sparking a confrontation that ended in the fatal shooting.
After Ilena Ramos, who was accompanied in court by her parents and her brother, spoke, Holloway turned to them and said, "I apologize for my senselessness and selfishness."
At the end of the hearing, as deputies were leading Holloway away, his sister said to him, "I love you, brother."
In addition to murder, Holloway was charged with the special circumstance of committing a robbery during a murder, as well as three counts of second-degree robbery and two counts of attempted second-degree robbery for incidents on Sept. 29, 2015, the same day that Ramos was killed, and 
between Oct. 1 and Oct. 5 of 2015.
But as part of Holloway's plea agreement the Alameda County District Attorney's Office agreed to dismiss the special circumstance allegation and the robbery counts.
Holloway would have faced life in prison without the possibility of parole if he'd been convicted of murder with special circumstances.