Restaurant workers strike at SFO, fliers told to bring their own meal
SAN FRANCISCO - More than 1,000 restaurant employees at San Francisco International Airport walked off the job Monday morning.
The union workers started striking around 2 a.m. outside of terminal 3, saying their contracts were old and have been ignored for years.
Their message to anyone flying out of SFO Monday: make sure you bring your own food if you plan to eat before your flight.
Workers protesting said they haven't received a raise since 2019, but the straw that broke the camel's back was the pandemic lay-offs. When the workers came back to work, they said their wages and benefits were slashed.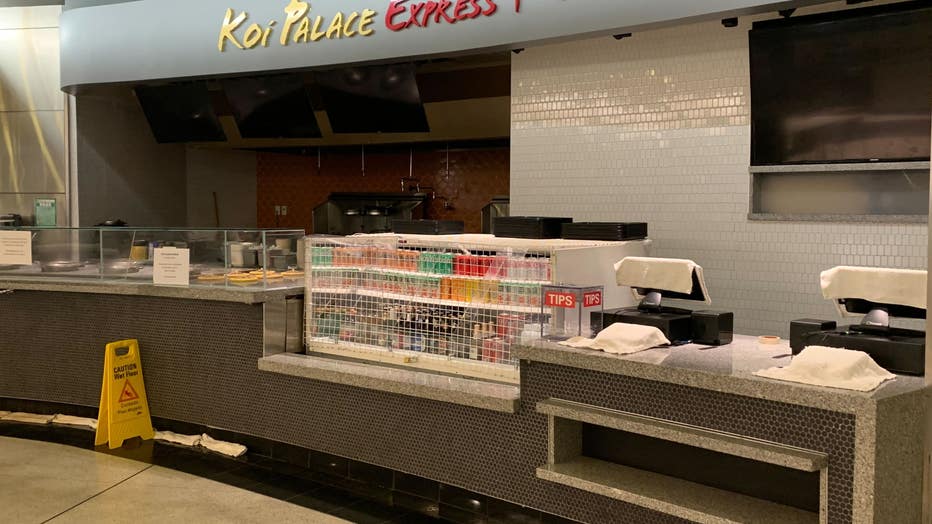 An empty food vendor at SFO airport as workers strike. 
ALSO: Video: burglars hit San Francisco home 3 times in night
Most employees said they earn about $17 an hour. In order to make ends meet, they said they have to work second and third jobs.
"Passengers should bring their own food and grab coffee before arriving at SFO," said Anand Singh, President of UNITE HERE Local 2. "After nine months of negotiations and three years without a raise, the airport's fast-food workers are on strike, and almost all of SFO's food and beverage outlets are closed. Workers are tired of jobs that aren't enough to live on, and we're prepared to strike for as long as it takes to win better wages and affordable health care."
A barista at two SFO coffee shops said she had to work two jobs to support her son. "I'm on strike because I want to quit my second job and have more time with my family," said barista Kristine Mauricio. 
The union also went to TikTok to share their demands, featuring airport workers comparing their pay to the cost of food they serve.  
Their most viral video - which has racked in over 500k views - features Vivian, who has worked at the airport for a decade, and holds two jobs. She said one pizza and one drink at Pie Five Pizza, where she works, costs $21.46, while her hourly pay is $17.65.  
"We deserve fair wages and more contribution to protect our medical insurance and improve our pension," Vivian said in the video. "We are ready to fight!"  
The airport responded to the strike, warning that passengers should expect to bring their own food as it won't be available at the airport. They apologized for the inconvenience. 
Travelers like Paul Hara arrived at the airport to find restaurants shuttered.
"I have been walking around the airport the entire time and sure enough, nothing's open and I just read the signs and there's a strike going on, so now I'm trying to find food for my pregnant wife to keep her happy," said Hara.
Singh said they want a wage increase and health care security. Employees have been without a contract since 2019.
"Most folks here make just north of $17 an hour. You can't raise a family, You can't pay rent, you can't make ends meet on $17 an hour," said Singh.
Gabriela Mitose is a bartender at Lark Creek Grill. "We're not being greedy," she said about wanting a raise. "It's literally inflation and everything is so expensive and we are the face of your company. And if you could just let us live here in the Bay Area without having to work 24 hours a day that would be wonderful."
Union leaders said they will continue to strike until a deal is reached. "We're on strike indefinitely. It's an open ended strike. We will be out here as long as it takes to have these employers come to their senses and put some more meaningful proposals before us."
Bay City News contributed to this report.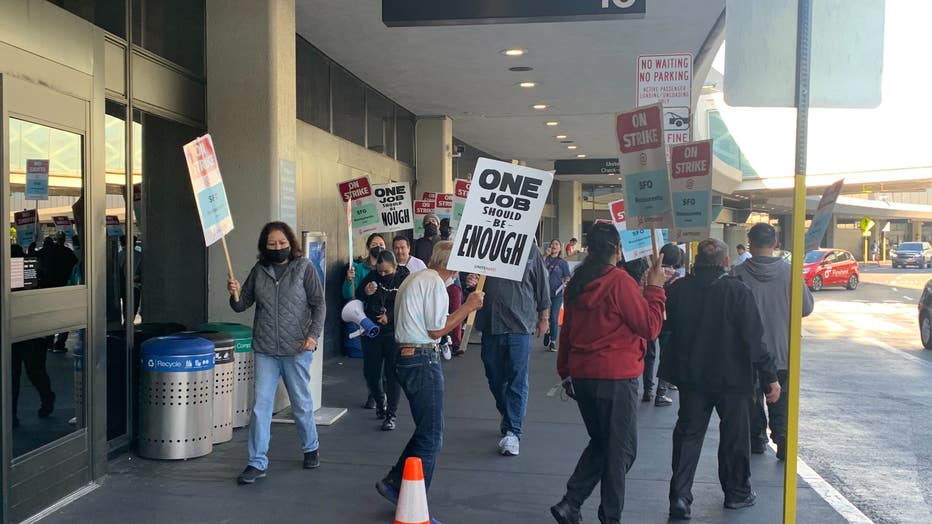 Unionized food workers strike at SFO airport. Sept. 26, 2022.