Reward for "Dreaded Bandit" bank robbery case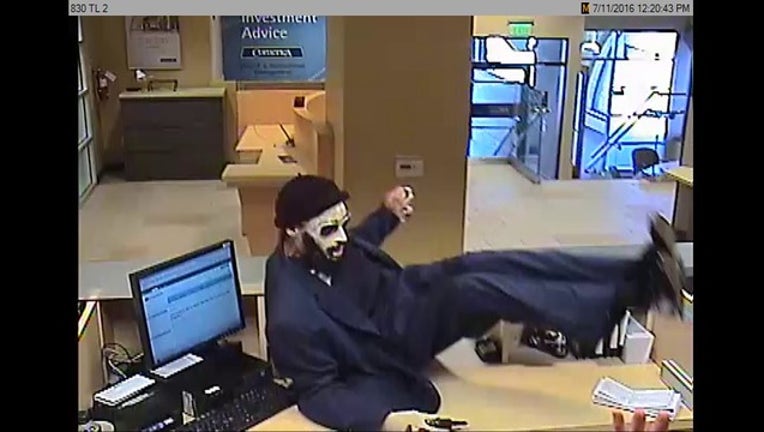 article
(KTVU) San Francisco, Calif - Here's KTVU crime reporter Henry Lee's Rap Sheet blog for July 25, 2016: 
REWARD IN 'DREADED BANDIT' BANK SPREE: The FBI announced a $10,000 reward today for information leading to the arrest of the so-called "Dreaded Bandit," responsible for four takeover-style bank holdups since April.
The man has worn a wig and fake long hair and has worn make up to disguise his identity.
His alleged crime spree began at the First Republic Bank at Van Ness Avenue and Jackson Street in San Francisco on April 22. He pulled out a revolver and forced five employees to go to the back of the bank. He stole money and fled.
Then, on May 12, he showed up at the Provident Credit Union on South El Camino Real in San Mateo. Once again, he was armed and was wearing tank makeup.
The FBI says it believes the same man then set his sights on a Comerica Bank at Union and Buchanan streets in San Francisco's Cow Hollow neighborhood.
The robber struck again on July 11, when witnesses said he wore white make-up resembling a clown's face. He jumped over the counter, took money from teller drawers and the bank's vault before escaping through a side door.
Anyone with information regarding the identity of the robber is asked to call FBI San Francisco at (415) 553-7400. Tips can also be submitted at tips.fbi.gov.
You can see Henry Lee daily on KTVU. If you have a tip for Henry, send an email to Henry.Lee@foxtv.com or contact him at https://twitter.com/@henrykleektvu