Roger Stone has a tattoo of Richard Nixon's face on his back, here's why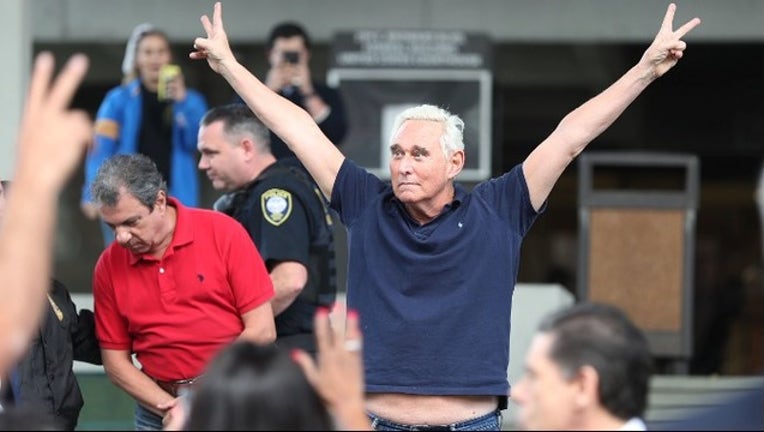 article
(KTVU) - Roger Stone, the self-proclaimed "dirty trickster" and confidant of President Trump, was arrested Friday morning for his involvment in the link between Trump's campaign and WikiLeaks' efforts to damage Hilary Clinton's 2016 election campaign by using information stolen by Russians. 
But social media erupted Friday with a detail that could help ease Stone's stay should he see prison time: He's tatted. 
Roger Stone, 66, has a tattoo of Richard Nixon's face on his upper back. Right in the center, under his neck, there's a smiling, black and white portrait of the 37th president known "Tricky Dick."
"The reason I'm a Nixonite is because of his indestructibility and resilience," Stone told The New Yorker. "He never quit. Stone added in the interview that he got the tattoo at the Ink Monkey tattoo shop in Venice Beach.
"Women love it," he said. 
Stone has been involved in national politics and hung around the Republican party for nearly 40 years and his love for Nixon was early on. He played a big part in the Watergate scandals when he was just 19 years old, according to The New Yorker. Stone took on the pseudonym Jason rainer and used it to make a contribution to Nixon's rival for the 1972 Republican nomination on behalf of the Young Socialist Alliance. 
Shortly before his facination with politics began, he dropped out of George Washington University—a long-shot for street cred ahead of potential prison time, but he's a dropout nonetheless.  
The seven-count indictment brought against Stone on Friday is the first criminal case in months from special counsel Robert Mueller. Stone did not enter a plea and was released on $250,000 bond.
While speaking to the media after exiting the Federal Courthouse in Fort Lauderdale, Florida, he mimicked the defiant "V for victory" pose Nixon struck after resigning the presidency in 1974.
The image of Stone's tattoo has been widely shared on Twitter.