San Francisco celebrates Pride with a parade and wedding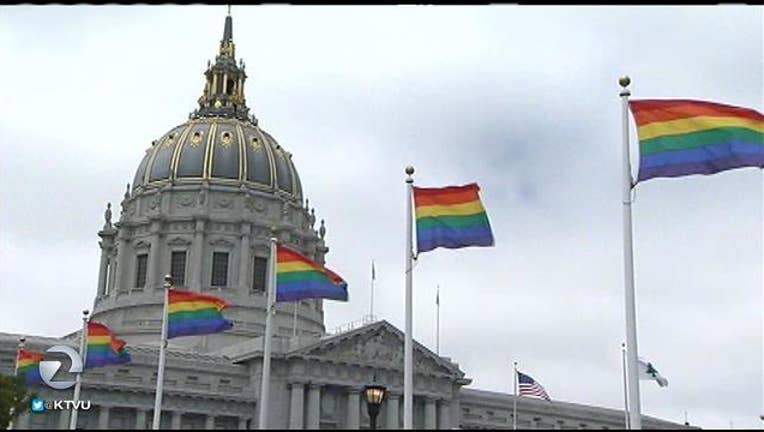 article
"I know there's a lot more love around," Emma Barnes as she watched the parade with her 2-year old daughter. "I see a lot more gay and lesbian couples, and I love it!"
The Pride crowds were bolstered by Friday's Supreme Court ruling on marriage equality.
"I can't believe it," Jack Dineen said. "I didn't think it would ever come about." The 90-year old walked in Sunday's Pride Parade wearing a sign that read, "Proud gay World War II veteran." "I'm absolutely ecstatic," he said smiling.
There were about 30 floats in this year's parade, more than in years past.
The dignitaries included Lt. Governor Gavin Newsom, San Francisco Mayor Ed Lee, Oakland Mayor Libby Schaaf, and celebrity Grand Marshal Rick Welts.
Welts, who is the President of the Warriors, is the first openly gay sports executive for a major sports team.
The celebration at Civic Center Plaza's main stage on Sunday also drew more people.
Organizers estimated the crowd at around 20,000.
Those who were there, ended up being guests at a long awaited wedding.
Hydie Downard and Beate Siedler have been a couple for 33-years.
Sunday they exchanged vows with the Reverend Cecil Williams of Glide Memorial United Methodist Church presiding.
"This is a great day for us to get married," Rev. Williams said.
The couple exchanged vows, "...you are my best friend," and sealed them with a kiss.
"You are now partners in equality," Williams proclaimed as the crowd of thousands cheered.