San Francisco Marathon runners enter race for a myriad of reasons
SAN FRANCISCO - The San Francisco Marathon got underway Sunday morning. It's an event that attracts thousands of runners as well as many spectators. 
For the runners, it's an exciting day to take on this big accomplishment, something they've likely been training for, for a long time.
There's a full marathon, half-marathon, 10K, 5K, and Ultra Distance events. It's more than 50 miles, happening around the city of San Francisco. 
Runners, all at different levels running for different reasons. 
Sidhant Burela, a 17-year-old Milpitas High School student, finished his first marathon in under three hours. He said that was three minutes under his lower usual time. He runs track and cross-country. He said it went faster than he expected. 
"I'm excited for next year too. Maybe going under. Maybe if I can. That would be good to do before college," said Burela. "Maybe a week off, see how my legs are feeling and then go into base building for cross-country. The lactic is starting to come in now, the adrenaline is sort of wearing off. I don't know if I'll be able to move in the next 30 minutes."
The event is causing some road closures. If you're in the city or thinking of coming out, be aware the Embarcadero is closed along King Street from 3rd Street to Broadway and from Broadway to Harrison Street. The area is closed until 3 p.m. Several other areas are closed until about 12:30 p.m. 
Marathon runners will start near the Ferry Building, go through Fisherman's Wharf, Crissy Field, onto the Golden Gate Bridge and back through the Presidio, Haight-Ashbury and towards South Beach
The full marathon started at 5:15 a.m. and the Ultra Marathon started Saturday night. There are a handful of races Sunday morning. 
We caught up with some of the participants and everyone said weather wise, it's a perfect day for running: not too hot and not too cold. Although there was still some fog that had to burn off this morning. 
A firefighter, fully dressed in his uniform and gear ran with a version of the American flag that commemorated Sept. 11, 2001.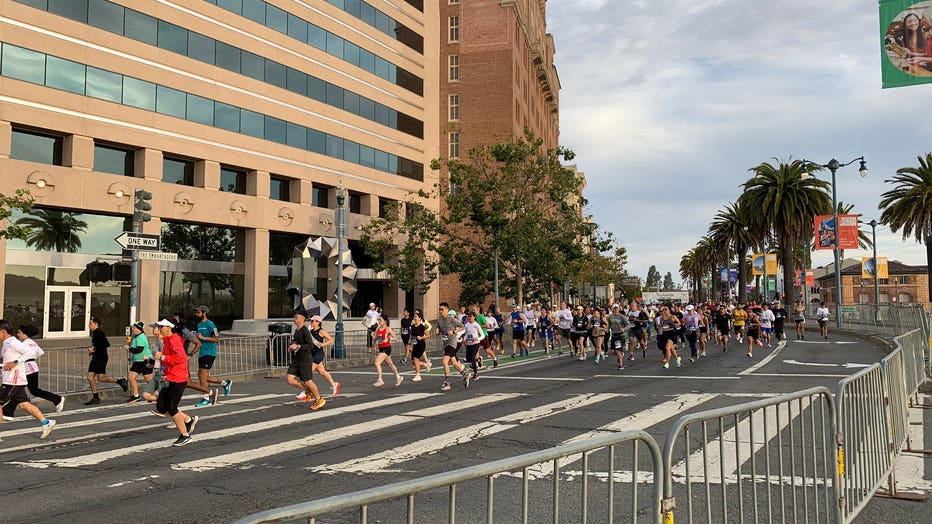 San Francisco Marathon 2023.
Many runners have different reasons for entering the race and they are all at different skill levels. 
A 21-year-old man who developed tachycardia, an irregular heart rhythm, said because of his condition, he had to start running, but now he's in love with it. 
"A year ago I weighed about 80 pounds heavier, I was 225. Right now I'm currently sitting at 150, so it's mainly for health reasons and just getting moving pretty much. Yeah," said James Paez of Antioch. "Essentially it's part of my daily life, I don't think I could live without it."
Radhika Phalla of Orinda is running the 5K with their dog Frisco. 
"My husband is running the 10K, so I had to keep up in some form or the other, but we are also running with our niece and nephew," Phalla said. "It's such a beautiful venue and it's something we've been enjoying…doing training for it. So I think the training was fun, hopefully the race is as fun. Worst case you walk. It's going to be fun. I'm not here to win anything." 
For Angie Banks of Morgan Hill, it's her 12th marathon and her first full marathon in San Francisco. "You start at dark and then you come over by the bridge at sunrise and you have the whole bay and the city behind you. It was unreal," said Banks.
She noted that the marathon is an international attraction that offers a great, iconic course and that there are plenty of hills to prepare for. 
For one runner, the marathon marked their first in San Francisco.
"The San Francisco marathon was said to be a scenic one and one of the most beautiful ones and so I said why not," said Elti Hoxha of Germany. 
He said the run was challenging with all the hills.  
"It was very beautiful, really. So like the sunrise at the beginning, the scenic views over the Golden Gate Bridge and Pacific Ocean. It was even better than I expected to be honest," Hoxha said. 
He said the sight seeing with his mom helped this race top all the other ones he's done in the U.S. 
Some of the Full Marathon runners started to wrap up the race at around 8 a.m. Their families and friends could be seen running to the finish line to cheer them on. 
Stream KTVU on your TV by downloading Fox Local on your Roku, Amazon Fire, AndroidTV or AppleTV device for free. More details here.