San Jose city audit shows police response times slipping
SAN JOSE, Calif. - In San Jose, a new city audit shows that police department response times are slipping.
The San Jose Police Department acknowledges the shortcoming and said it simply comes down to staffing issues.
The department said it continues to prioritize life-threatening emergency calls but the lower-priority calls are falling behind.
For the highest priority calls — referred to as 'priority one' calls — the response standard is six minutes. In the city's last fiscal year, a new audit finds the actual time was about seven minutes and 18 seconds.
Police said it all comes down to a matter of staffing.
"In 2022 we responded to about 1.3 million calls for service and that is for a department that is well documented we are short-staffed," said Officer Steven Aponte, a spokesperson for the department.
SEE ALSO: Suspect accused of shooting San Jose officer was on 'quest' to kill police, chief says
But as officers are tied up on the most significant calls response times for those below that level are taking a hit.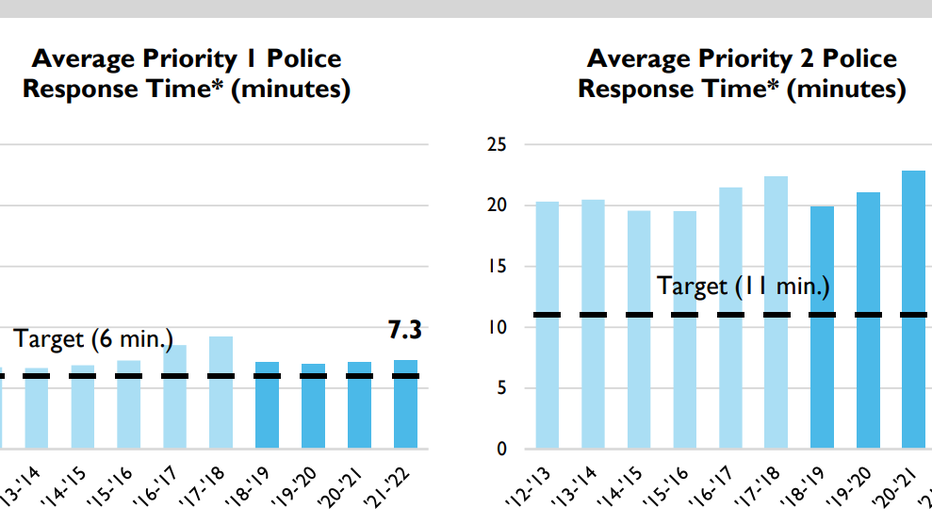 Infographic showing San Jose police response times over the last 10 years.
So-called "priority two" calls have a targeted response time of 11 minutes, but the city audit shows the actual time is more than double at nearly 24 minutes. Those lower-priority calls could still involve injury or property damage or possibly an outstanding suspect.
According to the audit, 5% of calls are considered "priority one" calls with 42% of calls considered "priority two." There were 9,900 priority one calls and 85,000 priority two responses during the 2021-2022 fiscal year for the city.
"Often times if we have a critical incident happening like a homicide or a stabbing, or even an officer-involved shooting as we have seen this past weekend, we are going to throw as many resources as possible to that," said Aponte. "If a second critical incident were to occur obviously our response times will be impacted."
MORE SJPD COVERAGE: San Jose police union calls for investigation into lack of mutual aid request over weekend
The San Jose Police Department currently has a little more than 1,100 officers, but the department would need to be at about 2,000 officers to be on par with the national staffing average.
"We keep on recruiting new officers. We keep on getting more funding and more availability from city council which is fully supporting our recruitment efforts. That being said it is very difficult to keep up with that as we lose folks to retirement and attrition.
In a written statement, San Jose Police Officers Association President Sean Pritchard said: "San Jose's chronic police officer understaffing is causing unacceptable delays in responding to 911 emergency calls for help with the average being over 22 minutes before an officer arrives to many serious crimes. SJPD is the lowest-staffed major city police department in the nation and it's only going to get worse as more officers retire and fewer enter the profession. Our residents deserve better."
San Jose Mayor Matt Mahan has made police department staffing a top issue for his new administration. He has indicated he wants to find funding to double the rate of officers hired each year and find new ways to recruit and retain, officers.