San Jose school district secures vaccines for 100% of staff
SAN JOSE, Calif. - San Jose Unified School District officials said they have enough appointments for all of their employees to receive the COVID vaccine. 
District officials said their employees have made use of Santa Clara County's "no wrong door" policy. It allows them to get vaccinations through the county, a private health care providers, or clinic.
 
"I got my first vaccination Tuesday (March 2), said Allison Medlin, a 4th-grade teacher at Graystone Elementary School. "I cried because I felt like we're going to make it out of this nightmare."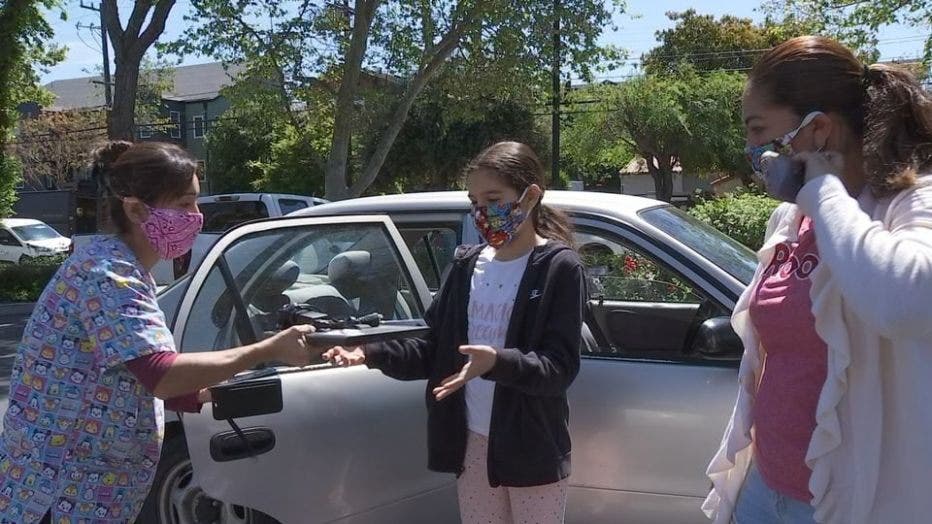 Kiara Garcia, 11, picks up a Chromebook in San Jose. April 23, 2020
She isn't alone in her emotional reaction to receiving the first vaccine dose. Medlin is one of 4,000 San Jose Unified School District employees who are signed up for the vaccine.
 "It includes teachers, substitutes, classified staff, contract staff. All of the education workers that support San Jose Unified," said Jacqueline Murphy, the district's human resources director.
 
She said the majority are slated to receive the vaccine or have already got the first shot. The move comes more than a month before this district resumes in-person learning on April 21.
 
Teachers union reps said vaccinations are a crucial layer of protection and critical in them agreeing on a return to normal. 
 
"We set up several different paths to getting to a full reopening of schools, all school campuses, all grade levels. Vaccines were one of those paths, and we're really happy it's the one we've gotten to the end of first," said Patrick Bernhardt, president of the San Jose Teachers Association. 
Vaccine shortages have bedeviled the inoculation effort locally and nationally. Some sites have had to turn people away, while others have had to share their supply.
SEE ALSO: California's largest mass vaccination site opens at Levi's Stadium in Santa Clara
 
District officials said such events haven't negatively impacted their efforts to vaccinate their employees.
 
"Because we acted so quickly and in partnership with others, we feel confident we've given everybody the opportunity who wants one, to receive the COVID vaccination," said Murphy. Added Bernhardt, "I am very optimistic this is going to move forward without a hitch."
 
The COVID shot in the arm is reassurance for employees such as Allison Medlin, who's eager for company inside her 4th-grade classroom.
 
"Can't wait to have the kids back because my empty classroom is just really sad," she said.
 
Education experts at San Jose State University said providing the medicine, even if employees chose not to take it, lowers the overall anxiety level, and that's better for educating kids.