San Jose standoff suspect arrested on outstanding warrant, explosive devices found in home
SAN JOSE, Calif. - San Jose police have arrested a man involved in an overnight standoff on a felony outstanding warrant, officials said Friday afternoon.
Andrew White, 36, was arrested on the 5000 block of Tyhurst Court at about 2:30 a.m. on Friday. Officers had served a search warrant at the suspect's home in connection to the Oak Grove High School explosive device earlier this week. Inside White's residence, police found what appeared to be several homemade explosive devices. Oak Grove High School is about a block away from the suspect's home.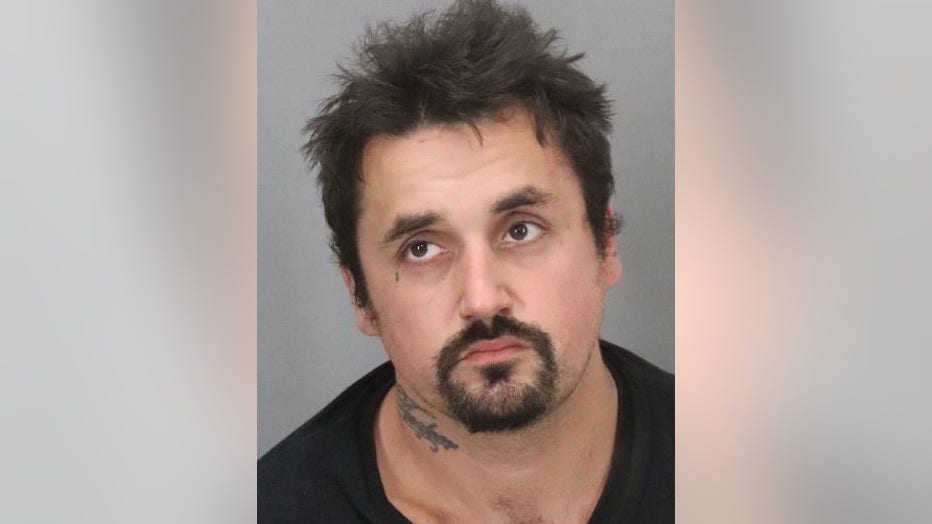 Suspect Andrew White was arrested on Friday for an outstanding felony warrant by SJPD.
The evacuation order was lifted Friday night just before 11 p.m., more than 28 hours after police and a bomb squad arrived at the scene Thursday evening.
Officials stayed in the area until it was rendered safe. The bomb squad and officials said they would be clearing out of the area shortly. 
One neighbor in the condominium complex said police found what they believe to be a possible pipe bomb outside her home nearby. Residents trying to come home near the intersection of Eagles Lane and Tradeswind Drive Friday night, found that their streets still remained blocked. Evidence sat in bags outside. 
Oak Grove High School was used as a shelter for evacuees. 
"It's just a scary sight to see, especially at 10 at night and all the neighbors are outside" said resident Anthony Diaz. 
Police and SWAT had been there since Thursday, shortly after 6 p.m. Gina Tepoorten said that officers had served a search warrant in that area. Residents said law enforcement swarmed the area but that White had barricaded himself inside the condo. 
Negotiators brought someone White knew to help coax him out. 
"She's like, 'We love you. You're only making things worse. Come outside,'" said neighbor Cliff Depuy.
At around 2 a.m., residents said they heard the loud bangs. 
"Yeah, I heard the bangs. Bang, bang! Yeah, so they were pretty loud," said Joel Gomez, a resident. 
One neighbor who did not want to be identified or shown on camera said police shot five rounds of "whatever they shot inside the house" and said White had no choice but to come out. "He couldn't breathe. He came running out and said, 'I'm burning. I'm burning. I'm burning.'"
Neighbors said they told condo management that the unit has been a problem for the past year. 
Neighbor Obed Flores said he saw and heard police tell a man to come out with his hands up. "He just wasn't coming out, I guess," he said. 
The school, located at 285 Blossom Hill Road, was evacuated during the bomb incident. The device was later rendered safe by the police department's bomb squad. 
A woman who said she was the man's wife, who identified herself only as Misty, said her husband "wasn't even around" the area at the time the explosive was found and "couldn't have been a part of it." 
"This is just ridiculous," she said. 
White has not been charged in connection to the high-school bomb incident. 
First responders at a San Jose standoff where a suspect appears to be barricaded inside a home.