San Jose will start clearing unhoused people from Coyote Creek Monday
SAN JOSE, Calif. - On Monday, hundreds of people living along Coyote Creek in San Jose will be told they have to leave the area. The evacuation is part of a partnership between the City of San Jose and Valley Water that will allow the company to make flood improvements.  
In April, Santa Clara Valley Water District agreed to contribute $4.8 million to help relocate unhoused people living along Coyote Creek.
"Some people moved from Columbus Park to Corie Court. Some people are original Corie Court people but what's going to happen is people are going to get swept to creek or another area, and then that area is going to get swept. So on and so on," said Shaun Cartwright, founder of Unhoused Response Group. 
Starting Monday, the City of San Jose plans to help rehouse 120–200 people living along the waterway. Valley Water says it will make flood improvements along the waterway, but advocates say with limited shelter space and housing, the people living there won't have any place to go.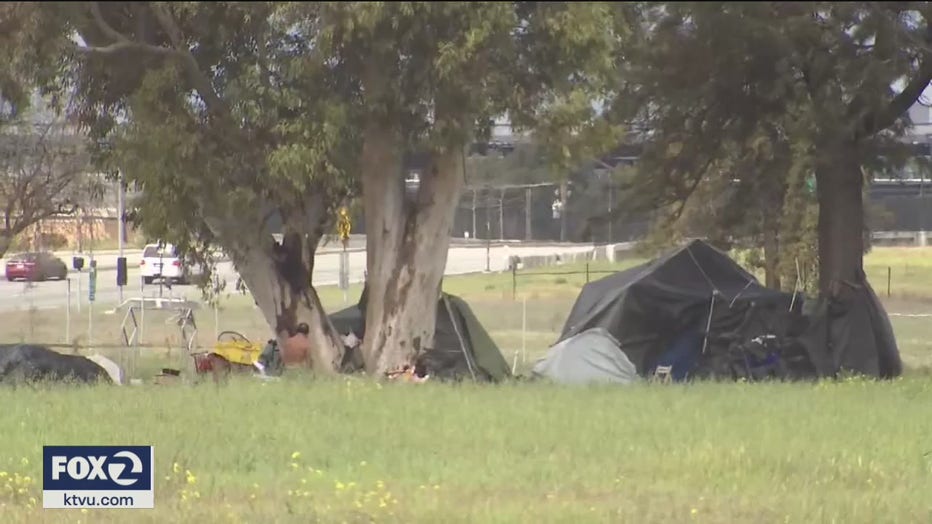 Homeless peoples tents in San Jose. 
"Some people may end up in tiny homes and for those people, it's just a revolving door. You go in for six months, and you come back out because there's no permanent housing. That's why so many people who are in tiny houses maintain a tent back at their camp because they know there's no permanent supportive housing, so they keep a backup plan," Cartwright said.  
Back in January, city officials issued a mandatory evacuation order and San Jose police worked to get people living along Coyote Creek to move to higher ground. Dozens of people were evacuated from the creek just as a heavy rainstorm moved into the area. 
Homeless advocates say they're concerned about where people will go when along the creek is no longer an option.  
"There's not enough tiny homes and there's not enough permanent supportive housing. Permanent housing is the key," Cartwright said.  
KTVU reached out to San Jose's Housing Department for comment, but they didn't respond in time for this report.