Sandwich saga: Health inspectors tell volunteers to toss improperly kept deli during teacher strike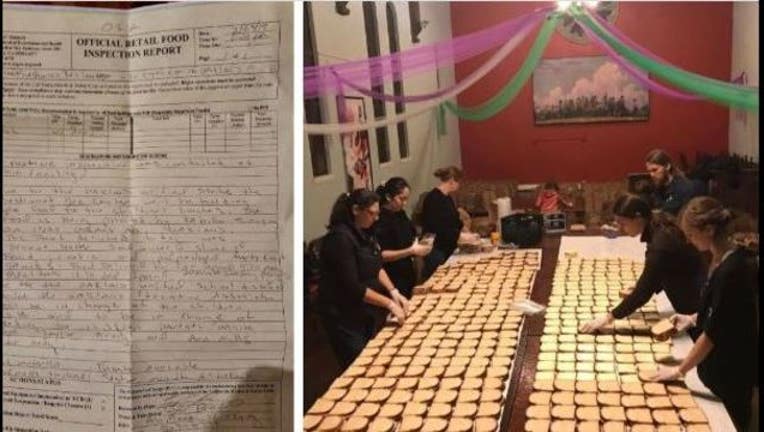 article
OAKLAND, Calif. (KTVU) - Health inspectors visited at least three recreation centers on Thursday during the first day of the Oakland teachers strike, making sure that the volunteer-made sandwiches distributed to out-of-school children were safe.
According to parent Pam Genio-Bates, inspections were conducted at Redwood Heights, Bushrod and Brookdale recreation centers. She provided the inspection reports to prove the inspectors were there. She said the inspector told the volunteers to throw away or remove the deli sandwiches that had not been refrigerated. 
Rec centers open during Oakland teachers strike
The sandwiches, made by the nonprofit Bread for Ed, were dropped off at 9 a.m., one of the inspection reports stated, and had not been chilled before being served by lunch.
Genio-Bates said that the peanut butter sandwiches that were made were cleared by the inspector, but because of a prevalence of peanut allergies, volunteers wanted an alternative sandwich. She said about 60 children showed up to Redwood Heights Rec Center on Thursday.  She understands that health inspectors are just doing their  jobs and that sandwiches should be kept cool, but she said she was also skeptical about why the inspections were occurring in the first place.
Oakland teachers strike: What you need to know
"It just seems suspicious," she said. "I mean, who tipped them off?" 
As for the deli sandwiches, she said she gave them to people living in a homeless encampment in Emeryville, and as for Friday's lunch plans? A nearby church has offered to lend the rec center a refrigerator.
A call to the inspector's office on Friday was not immediately returned.
The city of Oakland donated the space at 15 recreation centers to the Oakland Education Association during the strike so that students don't have to cross the picket line, but can be supervised by volunteers during normal school hours. 
Bread for Ed has been fundraising to offset sandwich costs. To date, the group has raised $115,000. There are 37,000 students in the Oakland Unified School District.