Santa Clara deputy fires at suspect who attempted to run him over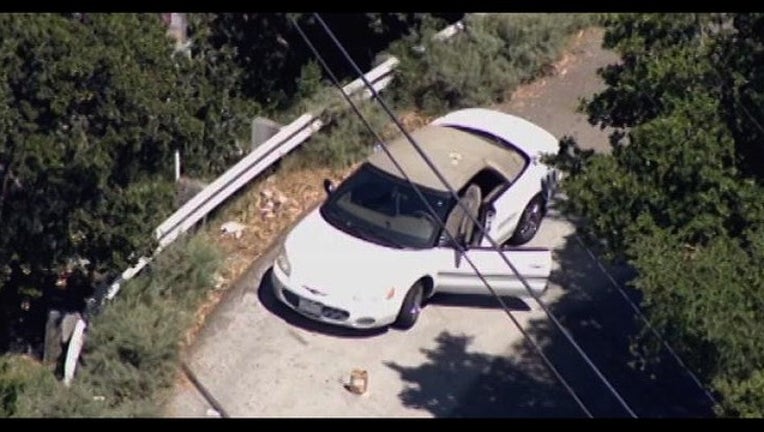 article
SANTA CLARA COUNTY (BCN) - A Santa Clara County sheriff's deputy fired shots at a fleeing suspect vehicle Wednesday morning after the driver struck a patrol car and then drove toward a deputy, sheriff's office officials said Wednesday evening.
Deputies have detained two female suspects in connection with the officer-involved shooting and a male suspect who checked himself into a hospital Wednesday, claiming to have shot himself.
Investigators believe he is the suspect who was driving the fleeing vehicle and was injured in the shooting.
The incident began just before 11 a.m. when a caller reported drug-related activity in the 3600 block of Sweigert Road in an unincorporated county area in the east foothills of San Jose, official said.
Arriving deputies found three people and two suspect vehicles parked in the no-parking zone on the side of the road.
One of the suspect vehicles, a green sedan, accelerated forward suddenly and struck a patrol car, and then drove toward a deputy who was approaching on foot, Jensen said
A deputy fired at the suspect vehicle, but did not know whether the bullets struck the suspect.
The suspect behind the wheel then drove away without striking either deputy. The deputies then detained the two female suspects.
Just after 11:45 a.m., San Jose Regional Medical Center notified investigators of a patient with a non-life threatening injury who said he had shot himself. Deputies detained the suspect and believe he was the driver in the earlier event.
Around 12:49 p.m., deputies found the suspect vehicle parked on
Pinnacle Drive, in San Jose, with the motor still running.
No deputies were injured in the incident. The deputy involved in the shooting has been with the sheriff's office for 13 years, officials said.
There are no other suspects thought to be outstanding in this case. Anyone who might have witnessed the incident is asked to call (408) 808-4431