Sea otter pup, mother reunited in Morro Bay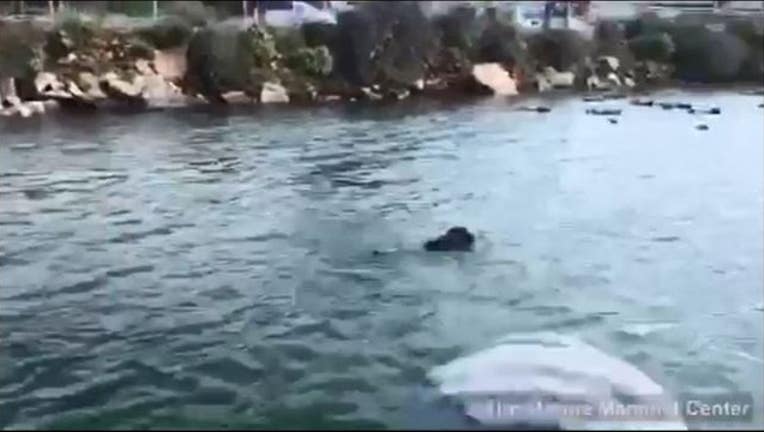 article
MORRO BAY, Calif. (KTVU) - A sea otter pup and its mother were reunited in Morro Bay on Monday thanks to a group of rescuers. 
A Good Samaritan spotted the sea otter pup alone earlier in the day Monday. 
It was clear the pup was very young and needed to be with its mother, so the Good Samaritan alerted authorities. 
According to the Marine Mammal Center, rescuers set out in a boat to search for the pup's mother. They were hoping to witness a response behavior from other otters in the area. 
The scientists recorded the pup crying and played the audio from the boat over a Bluetooth speaker in hopes the audio would draw the pup's mother forward so they could facilitate a rescue. 
As a female otter responded to the cries and approached the boat, a rescuer tossed the pup into the water. 
The pup landed in the water with a big splash. Initially, it seemed to take a moment for the mother to swim to its pup. The mother eventually cradled the pup and swam back to its group of otters. 
According to the Marine Mammal Center, sea otters are very buoyant, and tossing the otter pup into the water is the safest way crews can make reunions happen.
"Southern sea otters are a threatened species, and the opportunity to release these females back to the wild is a big boost to the future health of this population and surrounding ecosystems," says Dr. Shawn Johnson, Director of Veterinary Science at The Marine Mammal Center. "We are so grateful to our wonderful partners in Morro Bay for their quick assistance in making this rescue and reunification possible."
The young otter pup would not have been able to survive in the wild without its mother.