SF city attorney alleges plaintiffs reverse verbal statements in homeless encampment injunction case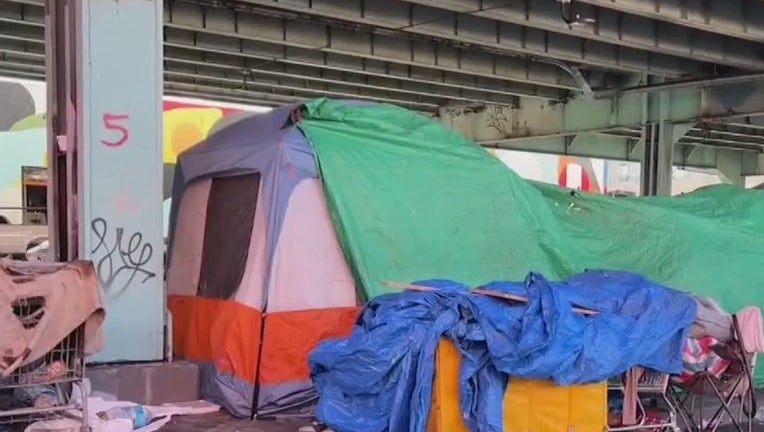 article
SAN FRANCISCO - A high-profile legal battle over homeless encampment sweeps in San Francisco took another turn after the plaintiffs took a step back from their earlier statements made during oral arguments, according to a notice filed to a federal appeals court by City Attorney David Chiu on Tuesday. 
Chiu alleges that the Coalition on Homelessness, a homeless advocacy group, has backtracked on their concessions regarding a preliminary injunction that bars the city from conducting homeless sweeps. 
Last week, both the City of San Francisco and the Coalition presented their sides in front of a panel of judges with the 9th U.S. Circuit Court of Appeals. 
In 2022, a federal judge ruled that the city could not enforce homeless sweeps against "involuntarily" homeless people while San Francisco still has a shortage of shelter beds available. Prohibiting sleeping on the streets when people do not have other options is "cruel and unusual" punishment under the Eighth Amendment, ruled U.S. Chief Magistrate Judge Donna Ryu.  
For Chiu, the heart of the case lies in the definition of "involuntarily homeless." He alleged that during oral arguments, the plaintiffs appeared to agree with the city that those who refuse shelter are not considered involuntarily homeless.
In his notice, he alleges that during an effort to memorialize these statements made during oral arguments, plaintiffs would not write them on paper.
"It is very difficult to resolve a dispute when you can't trust the statements Plaintiffs make in open court," Chiu said. "These games make litigation more time consuming and expensive, alienate our community, and distract from the overall goal of alleviating homelessness." 
Stream KTVU on your TV by downloading Fox Local on your Roku, Amazon Fire, AndroidTV or AppleTV device for free. More details here.
Zal Shroff, attorney for the Coalition and interim legal director of the Lawyers' Committee for Civil Rights of the San Francisco Bay Area, considered the filing to be "yet another attempt at political theatre."  
He said there has "never been any confusion" about the plaintiffs believing homeless people with "realistic access" to shelter are involuntary homeless. He said the plaintiffs were "perfectly willing to stipulate to that effect and remain willing to do so." 
"The City's misguided filing presents an improper factual argument. It insists on a charade that the City makes valid shelter 'offers' to unhoused individuals when the entire shelter system is at capacity, 400 individuals are waiting patiently on a waitlist to shelter to no avail, and the City itself doesn't know if any shelter will become available on a given day when it continues to threaten the enforcement of laws enjoined by the district court's injunction," Shroff said.
"We should expect better from our political leaders. San Francisco deserves better," he added.