SF city attorney seeks clarity on judge's ruling that temporarily bans clearing homeless encampments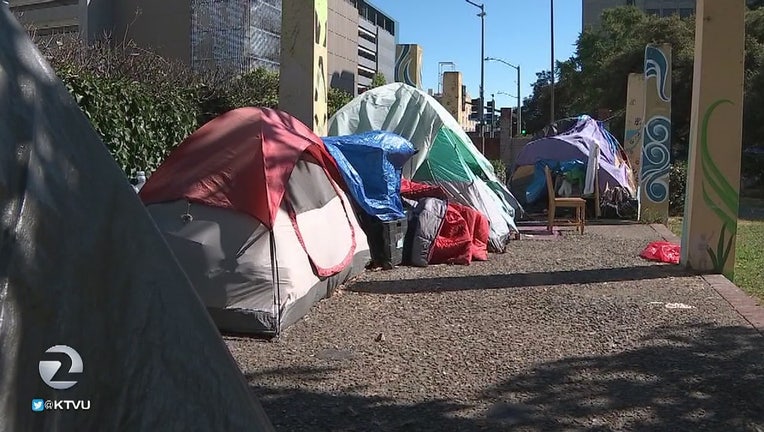 article
SAN FRANCISCO - Just days before Christmas, a federal judge temporarily banned San Francisco from clearing homeless encampments. Now the city attorney is seeking clarity on that order, arguing the order puts the city in an "impossible situation, practically and legally." 
Magistrate Judge Donna M. Ryu's order prohibits the city from enforcing laws against "involuntarily homeless individuals," San Francisco City Attorney David Chiu pointed out. On Tuesday, Chiu filed a motion in U.S. District Court for the Northern District of California seeking to define if those individuals should be interpreted as all people who are experiencing homelessness in the city. 
 "I am concerned that this order, if interpreted broadly, will lead to more people suffering on our City streets," Chiu's statement read in part.  
"It defies logic to require that San Francisco have shelter for all persons experiencing homelessness before San Francisco may enforce these laws against any one person, even after that individual has refused adequate shelter. It would take years and an additional $1.45 billion to build the required shelter beds and provide homeless services, and many beds would go unused as people refused shelter," Chiu said. 
The city attorney also referred to a previous federal court order from spring 2020 where the city was sued over the Tenderloin's squalid conditions at the onset of the pandemic. That order did not seek monetary damages, but did call for an immediate cleanup of encampments. Chiu points out Judge Ryu's order could potentially be in direct conflict with the order stemming from the Hastings College of the Law lawsuit. With that injunction, the court mandated the city conduct enhanced enforcement against individuals who refused shelter offers in the neighborhood. 
SEE ALSO: More on Bay Area homelessness
"As of now, one federal court order limits the City's enforcement and another federal court order mandates enhanced enforcement," Chiu argued. "These two orders cannot exist harmoniously without further clarification." 
Associated Press reported San Francisco has a homeless population of 7,800 and that the city has acknowledged they are short thousands of available temporary or permanent beds. 
Chiu said San Francisco has invested more in permanent supportive housing and homelessness than any other city in the Western United States.