SF videographer upset after police confiscate his equipment looking for leak after Adachi's death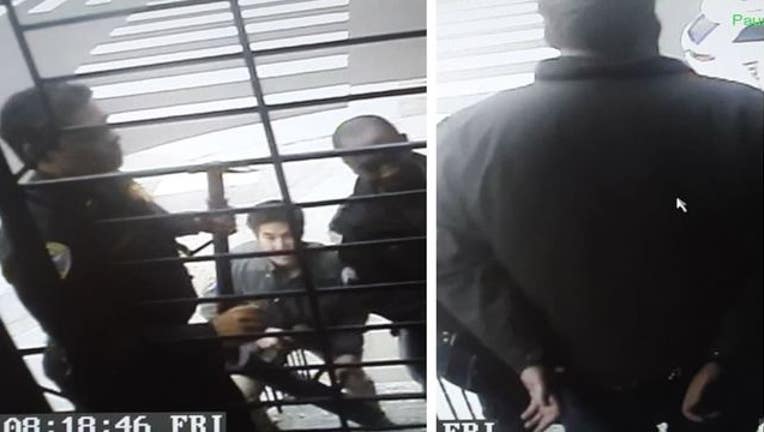 SAN FRANCISCO (KTVU) - A freelance videographer is upset that San Francisco police seized much of his electronics and work gear in trying to figure out who leaked him a suggestive report timed shortly after the death of The City's well-known public defender, Jeff Adachi.
And the search of Bryan Carmody's home and office on Friday also prompted the Society of Professional Journalists and a First Amendment lawyer to condemn the raid. In a statement on Sunday, the organization said it is is seeking more information as to why California's Shield Law was not adhered to when police officers – sledge hammers in hand -- searched and confiscated 55 items from Carmody, including cell phones, tablets, hard drives, lap tops, reporter's notebooks and other equipment he uses daily as a "stringer," where he sells video and information to news outlets, including KTVU. The Shield Law protects journalists from being held in contempt for refusing to disclose their sources' identities and other unpublished or unaired information obtained during the news gathering process.
WATCH: Police use sledgehammer on videographer's door
Adachi was a high-profile critic of the police department and the police report leaked to Carmody about 24 hours after his death in February contained photos showing an unmade bed, syringes and bottles of alcohol. Many of his supporters thought the images, along with the revelation that he was with a woman who was not his wife when he died, were released on purpose to smear Adachi's reputation.
In April, the San Francisco Board of Supervisors called for an investigation into the leak. At that hearing, Capt. William Braconi testified the release of the report was "totally inappropriate" and launched two internal investigations into the report's premature release — one of possible criminal misconduct, the other an internal administrative probe, the Chronicle reported.
KTVU purchased the police documents from Carmody and reported on some, but not all of the details. KTVU purposely did not air photos, such as the unmade bed, as there was not enough context about them at the time to understand what the images meant. Carmody said he also sold the report, video and information to two other TV stations, as well.
"That's pretty unusual," Carmody told KTVU on Monday. He said he gets leaked police reports and other documents regularly, but he added getting these type of photos were out of the ordinary. 
Carmody refuses to name his source.
"There's only two people on this planet who know who leaked this report," Carmody said, adding that he planned to keep in that way. "Nothing I have will give them that information." 
Later, a coroner's report released to the public concluded that Adachi died from a mixture of cocaine and alcohol, which caused his already damaged heart to stop.
Carmody said that the FBI accompanied San Francisco police on the search, which he assumed was because there is some concern that there is some sort of public corruption aspect to the search. But Carmody insisted that while he sold the report to outlets, he did not engage in a kickback scheme with the source.
"Not one shiny penny," he said. "Not even a courtesy cup of coffee." 
Carmody describes himself as a freelance videographer. He does not like the term "stringer," which he said is more derogatory.
For the last 29 years, he has sold video, tips and other bits of information to news organizations, including KTVU.  He is also the owner of North Bay Television. He said he was recently leaked Muni photos about how defects were discovered on light rail trains and he sold those and his own video with no question to outlets including KTVU. He also noted the San Francisco Chronicle was also leaked the Adachi police report, not by him, and there was no known raid at the newspaper.  
"God knows why this all happened," he said.
In a statement, the San Francisco Police Department said the search warrant was "granted by a judge and conducted as part of a criminal investigation into the illegal release of the confidential Adachi police report and subsequent sale to members of the media. The citizens and leaders of the City of San Francisco have demanded a complete and thorough investigation into this leak, and this action represents a step in the process of investigating a potential case of obstruction of justice along with the illegal distribution of confidential police material. We are committed to maintaining the public's trust, investigating any allegations of misconduct and holding those responsible for such acts accountable."
It's unclear if the judges who signed the search warrant knew Carmody is a news gatherer. The probable cause statement attached to the search warrant has been sealed. Carmody's attorney, Thomas Burke, told KTVU that as of Monday, he had not filed a motion to unseal the warrant. 
The judges who signed the warrant were Gail Dekreon and Victor Hwang, the latter of whom used to work in the Public Defender's Office. Court spokeswoman, Megan Filly, said the judges could not comment on pending cases, citing a judicial code of ethics. 
KQED reported on Monday, however, that Supervisor Sandra Lee Fewer said police and the judges were aware of Carmody's occupation, but she said she wasn't sure he met the threshold of journalist. 
Manohar Raju, the new San Francisco Public Defender, who had wanted a full investigation into the leak, issued a statement on Monday saying that he had "no information regarding the justifications for the search conducted by police." He stressed that nothing about his statement "should be interpreted as condoning specific police tactics in this matter." 
In an interview, Carmody also acknowledged that he has multiple guns in the house and he was handcuffed for about seven hours during the search. "I am a legal registered and sane firearms owner," he said, noting that he does not own more than "six or seven" guns.  KTVU reviewed a copy of the search warrant, which showed the list of what police were looking for. 
Carmody added that aside from having the police almost take a sledge hammer to his door, officers were very courteous to him. He was able to prevent them from damaging the door by shouting out that he was awake and would let them in. He simply wants his stuff back. A friend of his started a fundraiser for him, which by late Monday, had reached more than $10,000. 
"The police didn't injure me," he said. "They were nice. I offered them coffee. They asked me if I wanted food." He did note, however, that "I am sore from being in handcuffs." 
Treatment aside, First Amendment attorneys criticized the search.
"This raid is so plainly unlawful," First Amendment Coalition Executive Director David Snyder said.  "They are trying to root out the source, and that's the core of what California's journalist Shield Law protects. It's something you'd expect out of an authoritarian regime, not the city of San Francisco."
The fact that police want to find out who leaked the report is understandable, Snyder added.
"But they should start with themselves," he said. "Why are they breaking down journalist's doors?"