SFPD officer connected to racist texts pleads not guilty to robbing bank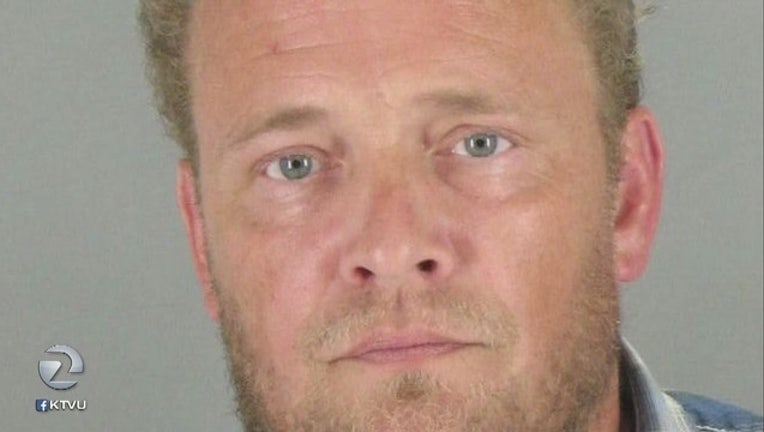 article
SAN FRANCISCO (BCN) - A suspended San Francisco Police Department officer accused of robbing a bank last month in the city's Sunset District pleaded not guilty to a bank robbery charge today in federal court in San Francisco.
Federal prosecutors allege that Rain Daugherty, 44, of San Francisco, approached a teller at an East West Bank branch on Nov. 29, with a note demanding $50 and $100 bills.
After allegedly ordering the bank teller to "calm down, just do it," he made off with $9,050 in cash. But with the help of surveillance images, officers arrested him Tuesday.
Daugherty's attorney, California Public Defender Elizabeth Faulk, said in court today that Daugherty's family was not willing to help him with bail money at this time, and U.S. Magistrate Sallie Kim remanded Daugherty back into custody until his next hearing on Jan 10.
Daugherty is also one of nine San Francisco police officers who in 2015 were accused of sending racist text messages back in 2011 and 2012.
The messages came to light during the federal prosecution of former Sgt. Ian Furminger on charges related to the theft of money and property from drug suspects.
The disciplinary proceedings against Daugherty and the eight others were delayed when they claimed in a lawsuit that the charges were filed after a one-year deadline. The proceedings were put back on track this year after a state appeals court ruled in May that the deadline was not violated, and the California Supreme Court turned down the officers' appeal in September.
At the time the disciplinary charges were filed, San Francisco police said Daugherty and the other officers were placed in positions in which they had no contact with the public. But, since an unrelated criminal investigation began in July in San Mateo County, he's been suspended without pay.
In that case, Daugherty is accused of stealing $13,095 from a 76-year-old man with Alzheimer's disease between Sept. 1 and Dec. 1, 2017.
Daugherty was charged July 24 in San Mateo County Superior Court with one felony count of elder abuse and four misdemeanor counts of drug possession.
Daugherty had allegedly been hired to do errands such as grocery shopping and driving for the victim. But he was allegedly caught on surveillance video using the man's ATM card while alone on 30 occasions to withdraw a total of $13,095, according to prosecutors.
A search of Daugherty's residence on Dec. 1 found small amounts of cocaine and three other drugs, prosecutors said.
Daugherty will have a preliminary hearing on those charges in San Mateo County Superior Court on Feb. 1. If convicted, he could be sentenced to up to five years in state prison.
The federal bank robbery charge carries a possible maximum sentence of 20 years in prison if convicted.
On Thursday, the San Francisco Police Officers Association issued a statement in response to the alleged robbery, saying that the group "is disgusted by the alleged criminal actions of one of our former members."
"We are sworn to uphold the law and are dedicated to honorably serving all San Franciscans.  This individual should be held accountable for this shameful act he is accused of, and if found guilty, through due process, he should face the appropriate consequences," the association said.
"There is a human component to this, and it's really heartbreaking to see a police officer in that position," police Chief William Scott said Thursday.
Scott added that the San Francisco Police Commission is moving forward with the disciplinary process in regard to the racist text messages. 
"There is still a process involved, and we can't just arbitrarily release people without a due process."