SFPD officer gets 9-month jail sentence for hit-and-run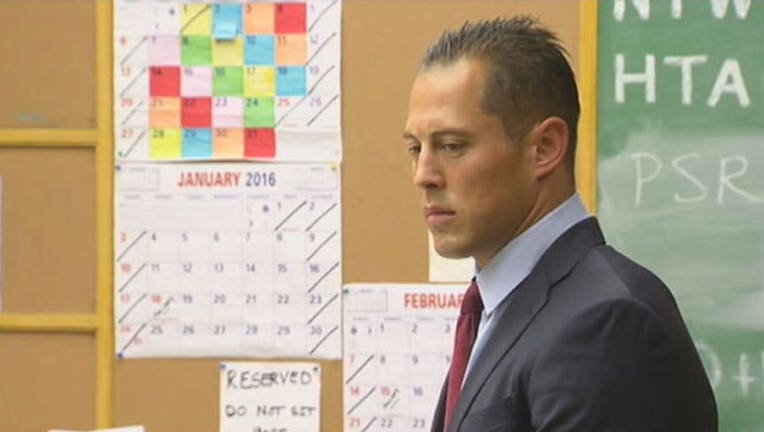 article
SAN FRANCISCO (BCN) A judge today sentenced a San Francisco police officer, known as the "Hot Cop of the Castro," to nine months in county jail for a hit-and-run that injured two men in 2015 in the city's North Beach neighborhood.
In addition to the nine-month sentence, Judge Carol Yaggy also sentenced Christopher Kohrs to three years' probation and various other conditions including paying restitution to the victims.
A jury found Kohrs guilty last month of two counts of felony hit-and-run for the collision at the corner of Broadway and Montgomery Street on Nov. 29, 2015.
After the verdict, Yaggy remanded Kohrs into custody without bail, explaining that her decision was partly based on the fact that Kohrs had fled from the collision and made himself unavailable to police for about eight hours afterward.
Before the collision, Kohrs had gained online fame as the "Hot Cop of the Castro" because of his time spent patrolling the Castro District and participating in events such as the San Francisco AIDS Foundation's Big Gay 10K race.
However, his fame apparently backfired on him on the night of the collision, as he drove an orange Dodge Charger along with his brother and a friend.
Immediately after striking the two victims as they crossed the street around 2:20 a.m., a crowd appeared and some recognized Kohrs and began yelling "hot cop," witnesses testified during the trial.
Kohr's defense attorney Peter Furst argued that some of the people in the crowd also shouted epithets and threatened Kohrs with physical violence, which prompted him to flee on foot from the scene, while his brother and friend stayed behind.
Prosecutor Rolando Mazariegos alleged during the trial that Kohrs fled in order to avoid a blood-alcohol test and left the two victims for dead.
Kohrs turned himself in at police headquarters around 10 a.m. that day, after he was identified by investigators as the registered owner and driver of the Dodge at the scene.
According to Mazariegos, one victim suffered a missing tooth, a broken jaw, a fractured ankle, and an injured shoulder ligament, while the other suffered a broken nose, a broken eye socket, a broken neck, a brain hemorrhage, a spinal fracture and memory impairment.
Kohrs settled a civil lawsuit filed against him by one of the victims in March 2017.