Sharks fall to Capitals in overtime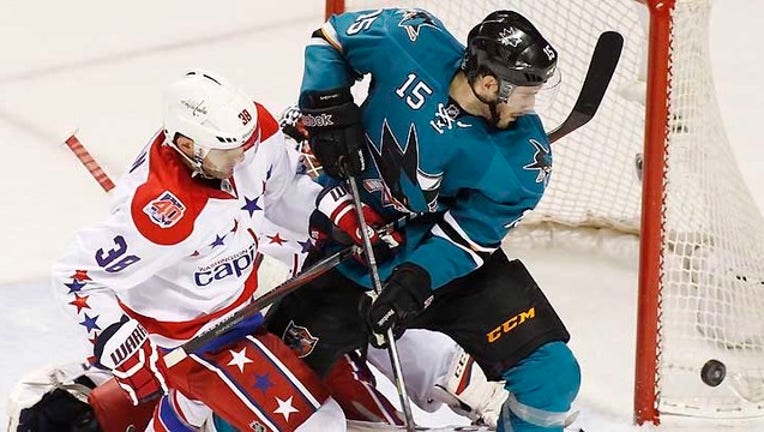 article
SAN JOSE, Calif. (AP) — Joel Ward was standing in his favorite spot on the ice, which meant good fortune for the Washington Capitals.
Ward scored with 2:18 remaining in overtime to lift the Capitals past the San Jose Sharks 5-4 on Wednesday night.
"As soon as the rebound popped out I knew that's Ward-o's house," Capitals forward Jay Beagle said. "He loves being in front and he banged it home."
Beagle, who scored twice, was part of the winning play. He was about to take a shot and then heard Mike Green call for the puck. Green's shot ricocheted off the pads of Sharks goalie Antti Niemi and Ward was in perfect position to end the game.
"Greenie shot it and I was fortunate enough to be there," Ward said. "We put in a pretty solid effort and fortunately we got the two points. That's the main thing."
John Carlson and Troy Brouwer also scored for the Capitals, who have won four of their last five.
Brent Burns scored twice, Logan Couture and Joe Thornton also got goals, and the Sharks lost their third straight and fifth in six games. Burns scored his goals within 22 seconds of the second period.
"It's a game you have to win," Couture said. "It seems like every game the other team is scoring easy goals. We're not making it hard enough. Nemo makes the first save and then they score. We need to get some sticks in there at least. It's too easy for them."
Braden Holtby, with a 0.88 GAA over his last five, saved 26 of 30 shots for Washington. Niemi stopped 28 of 33 shots.
Beagle connected on a breakaway, beating Niemi to the far post, and getting a little help from a linesman, who got tied up with a Sharks defender on the play. Carlson scored the go-ahead goal a few minutes later, with an assist from Marcus Johansson.
Thornton scored a minute later to tie the score at 4. He found an opening at the near post after taking a cross-ice pass from Joe Pavelski.
"It was good to get one back," Ward said. "I was upset giving up one to Thornton there. That was kind of my responsibility, so to get the game-winner is a bonus."
Burns, who has four goals and four assists in 10 career games against the Capitals, fired a shot past Holtby 21 seconds into the second period on a power play. Thornton won the puck off the boards and got it to Burns.
Patrick Marleau controlled the ensuing faceoff and got the puck to Burns, whose shot glanced of Holtby's shoulder pads and into the net.
Brouwer's power-play midway through the second period tied the game at 2. Alex Ovechkin, the NHL's co-leader in goals scored, passed to the far post and Brouwer redirected it in.
Ovechkin has 31 points over his past 28 games (21 goals, 10 assists), getting points in 20 of them.
Couture scored the go-ahead goal with just over five minutes left in the second, grabbing Matt Nieto's missed shot and scoring on a wraparound.
Washington had opened the scoring with just under five minutes to play in the first period. Michael Latta fished the puck out from behind the net and passed to Brooks Orpik, whose shot bounced off Matt Tennyson's skates and directly to Beagle.
The Capitals won a shootout in San Jose last year to end a 12-game losing streak here. They've won two straight on Sharks ice for the first time since 1993.