Sharks to let John Scott, Scott Hannan leave as free agents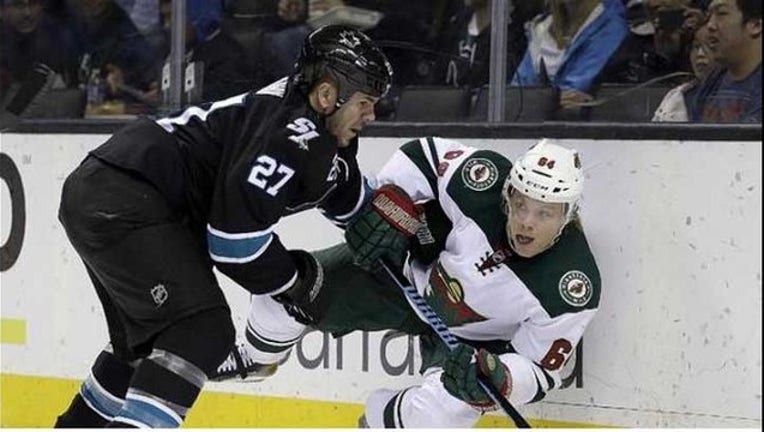 article
SAN JOSE, Calif. (AP) -- The San Jose Sharks will let forward John Scott and defenseman Scott Hannan leave as unrestricted free agents next month but have not made a final decision about the fate of Antti Niemi.
General manager Doug Wilson said Friday he has told Scott and Hannan that the Sharks will not look to sign them when the free agency period opens July 1.
The 36-year-old Hannan had two goals and five assists in 58 games. Scott had just three goals and one assist in 38 games last season as he was brought in to add a physical element. But Scott does not fit into what new coach Peter DeBoer wants on his fourth line.
"The decision is the style of play that we want to play probably precludes him from getting the opportunity to play," Wilson said.
Wilson said the team has not made a final decision on whether to bring back its other two potential unrestricted free agents in Niemi and defenseman Matt Irwin.
"They would like to be here, but unrestricted free agency is a two-way street," Wilson said. "It has to be a match for us."
Niemi has been the starter in goal the past five seasons in San Jose but is coming off his worst season as a Shark in terms of goals against as San Jose's poor defense led to the end of a 10-year playoff run this past season.
Niemi has a 163-92-35 record, a 2.40 goals against average and .917 save percentage in his five years with San Jose. He was tied with Carey Price for the second-most wins in the NHL in that span, 11 behind leader Marc-Andre Fleury of Pittsburgh.
Niemi was 31-23-7 last season with a 2.59 goals against average and .914 save percentage.
"He's a highly competitive guy that never points fingers," Wilson said. "Would he tell you that he wished he had some better games? Yeah, that's just his nature. But we did it collectively. It was not just this guy or that guy."
San Jose still has backup Alex Stalock under contract for next year. After allowing just 1.87 goals against per game in 24 appearances in 2013-14, Stalock struggled in intermittent playing time last year with an 8-9-2 record and 2.62 goals against average.
Troy Grosenick had a shutout in one of his two appearances last season but spent most of the year in the minors or recovering from a concussion.
The Sharks also could be active in the trade or free agency market as they look for a starting goaltender for next season as well as upgrades on defense and on the third and fourth lines.
"If you think you're going to go to unrestricted free agency and fill all those, it's highly unlikely because the pool of players is fairly specific," Wilson said. "That's where you enhance things, not necessarily prioritize."
Wilson said he was optimistic about re-signing restricted free agent defenseman Brenden Dillon and forward Melker Karlsson.
San Jose is in a transition period after their playoff streak was snapped. Coach Todd McLellan left after the season and was replaced by DeBoer.
The Sharks have eight picks in next week's draft including Nos. 9 and 39 overall. San Jose traded away its third-round pick for Tye McGinn but has extra picks in the fifth and seventh rounds.
The Sharks have also waived forward Adam Burish for the purpose of giving him a buyout. Burish spent most of last season in the minors and was not expected to be part of the team next season. Burish was owed $1.85 million in the final year of his contract and will now count for about $616,666 against the salary cap for the next two seasons.
Wilson also said he was hopeful that forward Raffi Torres will be healthy after missing most of the past two seasons with knee injuries. Wilson said Torres is expected to be back on the ice soon and could be fully healthy by training camp.
The Sharks also announced that longtime AHL coach Roy Sommer will coach the team's San Jose affiliate next season. Sommer has spent the past 17 seasons coaching the Sharks' AHL affiliates, most recently in Worcester. The team is moving the minor league franchise out West for the upcoming season.