San Jose mayor, others seek to ban homeless encampments near schools, daycares
SAN JOSE, Calif. - Citing security and safety concerns, San Jose Mayor Matt Mahan, Thursday, proposed a change in city law.
"We've got to create safe places. But people have to take advantage as well. We cannot have a free-for-all on our streets," he said.
Mahan had to talk above a non-stop car alarm, across the street, that the owner seemed to target against proceedings. The mayor and others unveiled a plan to ban unhoused encampments within 150-feet of all public and private schools and daycares.
"As we strive to address a serious public safety concern, affecting various schools within the city of San Jose," said Peter Ortiz, a member of the San Jose City Council representing Dist. 5.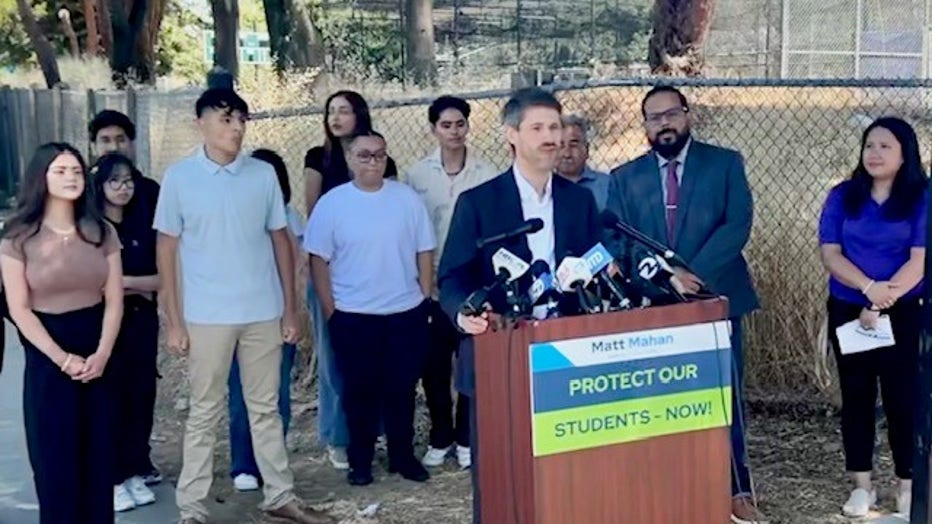 High school senior Fernanda Morales-Soto said an unhoused resident followed her home from school one day.
"I have to ensure I'm focusing on my surroundings at all times," she said.
Kim Vo, the Principal at KIPP San Jose Collegiate High School, said there's been a slew of incidents linked to the residents of 13 RVs permanently parked just off school grounds.
"Including incidents of the unhoused making their way onto the campus during the school day. And break-ins, captured on the school's security cameras. These incidents have cost our schools tens of thousands of dollars," said Vo.
Some advocates for the unhoused in San Jose said they believe this group is being scapegoated.
"I think this is just more criminalization of homelessness. They act as if all unhoused people are criminals," said Shaunn Cartwright. "Would you do that to any other minority group? You would not."
The mayor and others said this isn't about casting blame on one group, but making sure all school children feel safe pursuing an education.
Stream KTVU on your TV by downloading Fox Local on your Roku, Amazon Fire, AndroidTV or AppleTV device for free. More details here.
"There are a lot of places to camp that don't have to be right next to a school. And we've got to give our students that peace of mind of even having a modest buffer around their learning environment," said Mahan.
The mayor's office is asking city staff to research a possible new city ordinance. That will be presented to the city's Rules Cmte. Aug. 9. If approved, staffers would have three months to complete writing the ordinance, before submitting it to the full city council for two public readings, and then a vote.
Jesse Gary is a reporter based in the station's South Bay bureau. Follow him on Twitter, @JesseKTVU and on Instagram, @jessegontv