SJPD release new video, clues in hopes of solving homicides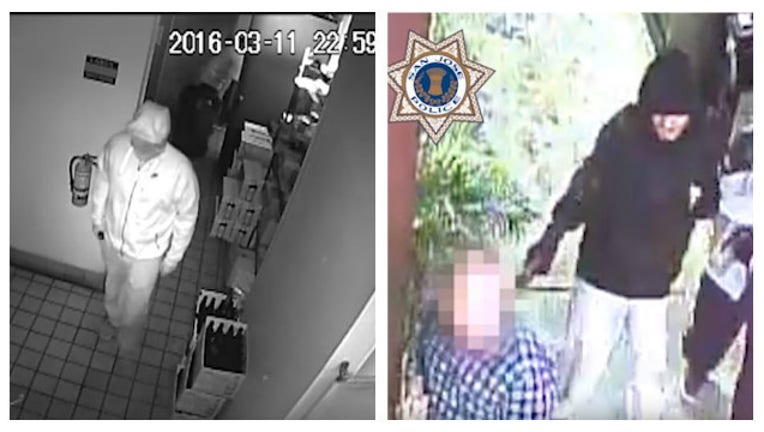 article
SAN JOSE, Calif. - The San Jose Police Department released two new startling videos and some new information in the hope of generating news leads for 4 unsolved homicides.
Officials say that they had no information connecting the unsolved cases, but said there were some similarities between the cases which occurred over a 3 year period from April 2013-until June 2016.
The most recent happened on Monday June 27th, 2016 at 9:20 PM on the 1700 block of Cape Aston Ct.
According to police, unknown suspects driving a black 2008-2013 4 door Lexus pulled in front of the victim's vehicle.
Police say, a suspect from the black Lexus walked up to the driver's side of the victim vehicle and shot the victim multiple times.
Police identified the victim as 26-year old Justin Tran and  are asking anyone with information to contact police.
The second case, took place on Friday, March 11, 2016, at 10:57 PM at the Bon Mua Cafe located at 1937 Tully Road.
Newly released video from that incident shows an unknown male suspect entering the Cafe and firing a handgun multiple times at the victims.
The suspect fled and has not been identified, but is described as 5-10, 165 lbs., wearing a hat, unknown colored sweatshirt and pants.   
In that case 2 men were shot and one, later identified as 43-year-old Brian Le, died at the hospital.
The third case happened on December 5, 2014 at approximately 7:55 P.M on the 2600 block of Alum Rock Avenue in San Jose.
In newly released video from that incident, two men can be seen walking up behind two men standing outside the Golden King Café, pulling a gun, and then firing at the man at nearly point blank range.
Police say that man, 41-year-old Thach Duong, died at the scene.
The unidentified suspect(s) have not been located and remain at large.
In the final case police say they received a report of a person shot in South San Jose on April 6 at 2:46 a.m. When they arrived they found Viet Tran, 37, on the street suffering from at least one gunshot wound. He was pronounced dead at the scene.
Investigators learned there had been a large party outside Elite Audio at 2010 Senter Road. Detectives believe the shooting may have been related to a disturbance at the party. Twenty five people were detained who were believed to be at the party. Detectives ID'd several Vietnamese street gangs associated to the party. The suspects have not been identified and investigators are working to identify a motive. Anyone with information on this case is asked to call 408-947-STOP. 
Click HERE for the SJPD's official release on these outstanding homicides.