Special Delivery: San Francisco Correspondence Co-op puts a stamp on artful 'snail mail'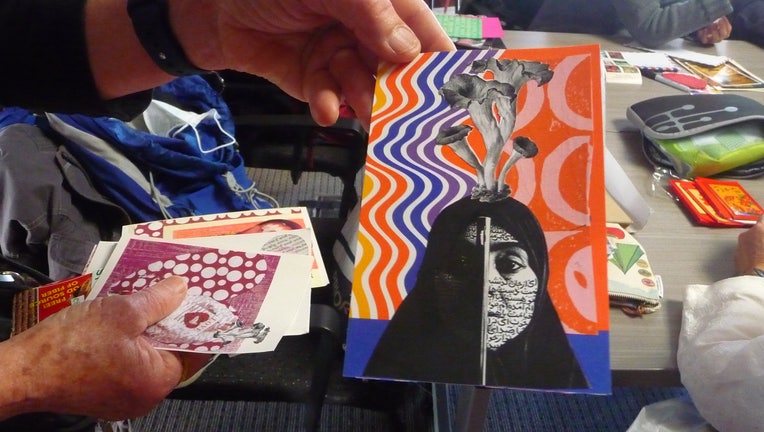 article
SAN FRANCISCO - You're supposed to be quiet at the public library and for the most part, those rules are respected. But a group of dedicated lovers of the U.S. Postal Service, who interact artfully with one another, are allowed to be quite rambunctious at the San Francisco Public Library's main branch at least once a month. 
Tucked away on an upper-floor in the library's Learning Lab on a Sunday early in January, was a bustling group called San Francisco Correspondence Co-op – a monthly social club. 
The group's founder, Jennie Hinchcliff, is leading the way, setting the meeting's tone for the group, which ranges in age from people in their teens, who come with their parents, to those in their 20s, and many seniors. 
"Our group is a dynamic, lively group," Hinchcliff says. On this occasion, they have 35 people in attendance. During the pandemic, they flexed in an online forum up to as many as 60 people. 
The group is a total throwback. The meeting is for mail artists, letter writers and USPS lovers. The meetings have everything to do with sharing one another's correspondence art. 
In September 2022, the club emerged from the pandemic and meetings went back to being in-person. "Our group had always met in person. When the pandemic happened, it became important to keep connected," says Hinchcliff. To say the pandemic was disruptive is an understatement. The co-op was planning its 10th anniversary when the world went into lockdown mode. 
Display of stamp art at SF Correspondence Co-op. 
"It was scary, isolating. Older members weren't able to go out and connect. We took the meetings online over Zoom." Hinchcliff says there was a learning curve at first. "Our first meeting was like everyone else's first meeting of Zoom. We talked about how anxious and uncertain we were, outside of the mail and work." 
But the co-op provided some consistency even in a virtual setting. "People were missing friends terribly. Seeing faces on screen became important," says Hinchcliff.  
Back inside the library during their first meeting of 2023, the group crowds around tables with scattered clippings and their creations. You can tell Valentine's Day is the next big holiday, but there's also plenty of red because of the Lunar New Year.
Even Santa Clara's former mayor, Judy Nadler, is among the group. She says what the group of "amazing artists" is sharing is generosity. The style of art she appreciates is collage, letterpress and photography. She talks about the missing art of letter writing. She proudly displays her business card – on it, an image of a typewriter. The front reads: "Write More Letters." On the back, she identifies as a member of the co-op and indicates it was established in 2011.  
Since her political career, Nadler has filled her time by both taking and teaching classes, including at Santa Clara University. She considers herself a life learner. 
She's also concerned with how underappreciated letter arts and cursive is, even in public schools. She's held on to items like her mother's written in cursive grocery list; something from a bygone era, and considers it a treasure. 
Nadler announces an upcoming event —a Postcard-Palooza, to the thrills and delight of the club members in attendance.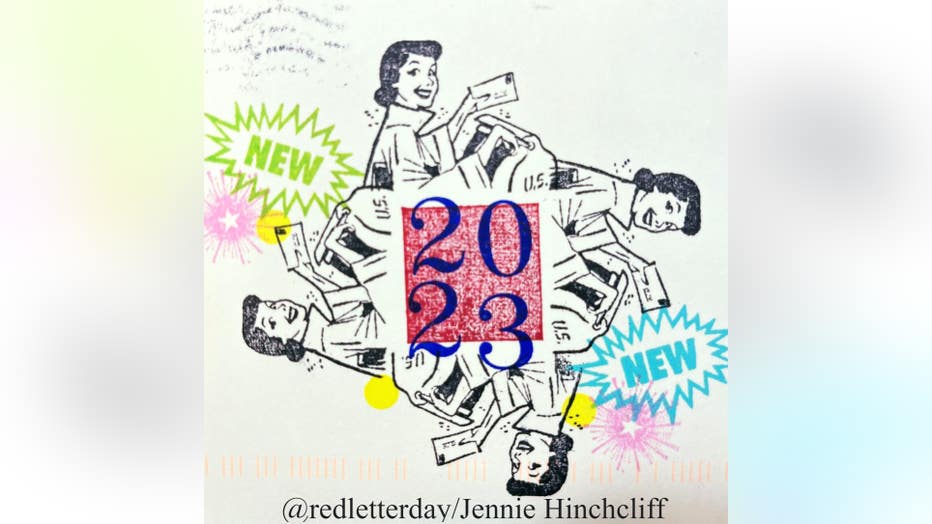 San Francisco Correspondence Co-Op flyer. 
The group has enthusiasm and momentum on their side. They're celebrating their 12th year and are part of San Francisco Public Library's Book Arts and Special Collections. Andrea Grimes is the program director of that department, one of the earliest members of the co-op, and was instrumental in getting the library to host the club. Previously, they've held meetings at the Mechanics Institute and the Women's Building in the Mission. There was a spell of meeting in cafés before they landed at the library around 2014. She sums up the club as "creative anarchy." 
"I am pleased that the Library could have a part in supporting a throwback that is meaningful, entertaining, community oriented, and open to everyone," Grimes says. She says the group has inspired new mail artists and groups who continue to flourish as part of the international network of mail art. 
So what is the appeal of retro correspondence through 'snail mail' in 2023 — a time of innovations in breakthrough technology?
To be clear, Hinchcliff doesn't see 'snail mail' as a term of disparagement. 
As far as she's concerned, the people she knows who use the term, use it positively. To her, it means, "moving slower and slowing down, doing things that are more thoughtful, like writing a letter. You have to think. You can't backspace." 
Hinchcliff says she gets asked all the time what the weirdest thing, or her favorite thing, she's been sent in the mail. She recalls checking on her P.O. Box at the Haight-Ashbury USPS, where she says she has a great relationship with the postal workers.
"One day, I go to the counter and the postal employee says, 'Wait here,' and disappears behind the counter. I'm 5'4"."
The postal worker returned with a three-and-a half-foot stuffed red and green teddy bear with a giant bow and the address tied around its neck. "It's really saying something to get attention on Haight Street," she says. 
SEE ALSO: Postal worker robbed twice on same route in Oakland neighborhood
The recurring theme here is building community and sharing. Tofu, a long time member, says the club is a way of connecting. "I never know what's in the mail," he says. The pandemic made him "incredibly productive." His attitude towards making art at the time was, "What else am I supposed to do?" The co-op gives him the opportunity to get his art into the world. "San Francisco galleries don't have our art," he says. 
At the meeting, club member Esther Kwan holds red envelopes and demonstrates how to present and accept the traditional Lunar New Year offering. Be sure to hold it with both hands and don't open its contents in front of the person who gave it to you, she says. Kwan also gives this bit of advice as part of her presentation: "If you wanna know a culture, learn its proverbs." The contents of her red envelopes contain some of her favorite proverbs. One of them reads "gratitude is an act of a good heart." 
And with this group there is much gratitude in sharing creations with one another. 
"Mail art is a gift-based economy. We make freely and give to each other," says Hinchcliff. There's no right or wrong way to correspond. The idea is everyone is an artist."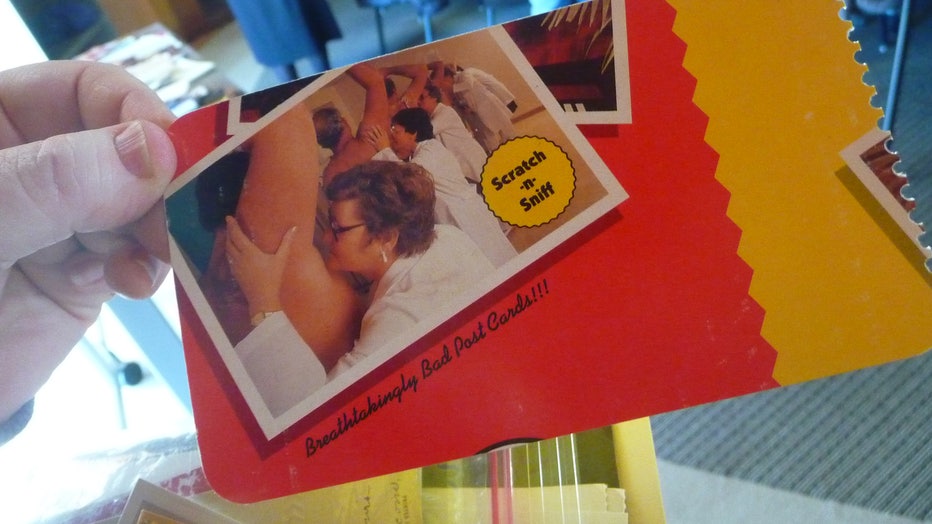 Scratch -n- Sniff postcard. San Francisco Correspondence Co-op.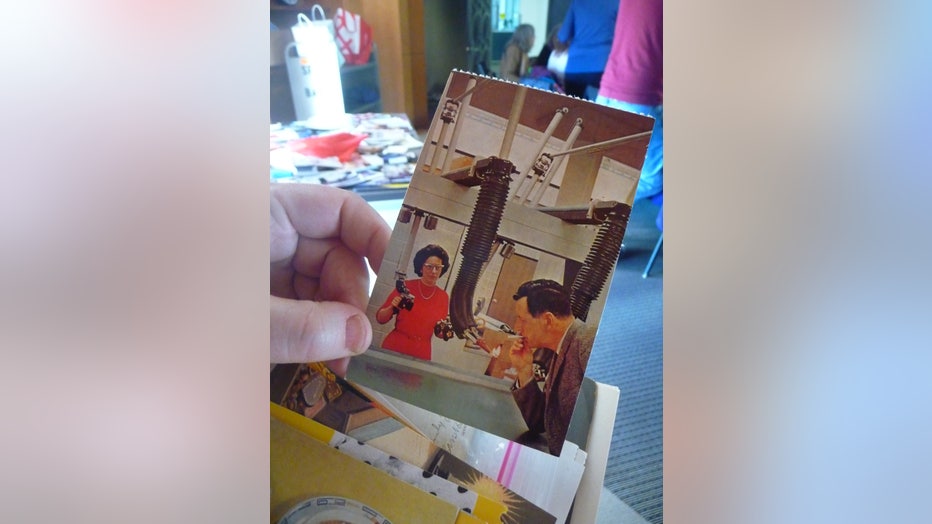 'Cigarette lighter.' San Francisco Correspondence Co-op.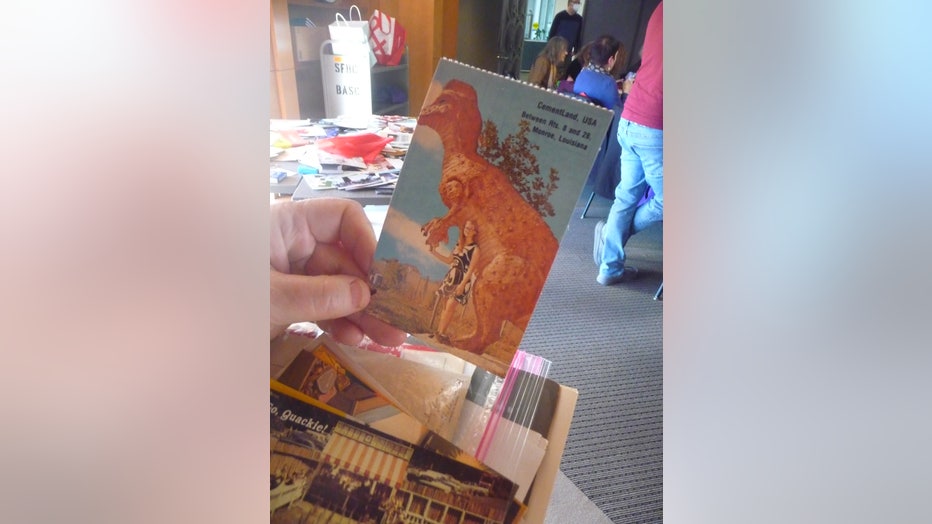 'CementLand USA'. San Francisco Correspondence Co-Op.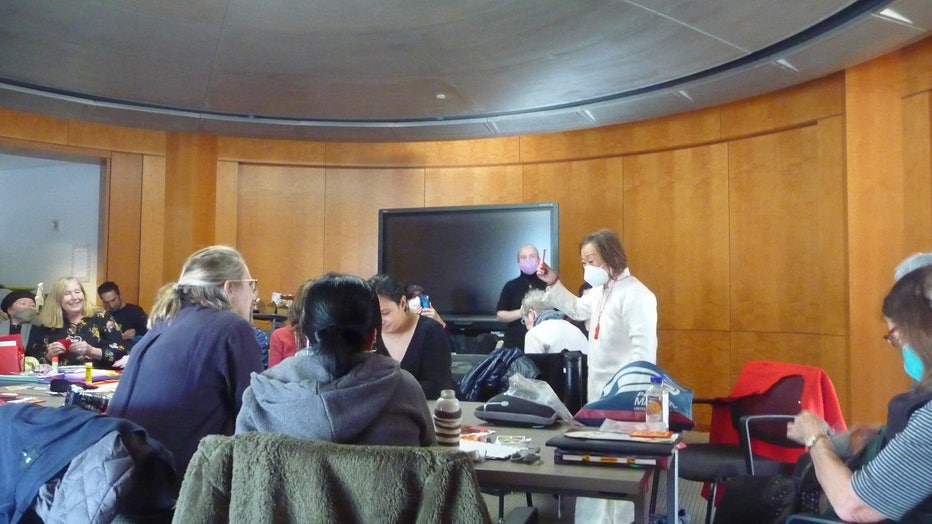 Esther Kwan, a member of the San Francisco Correspondence Co-Op.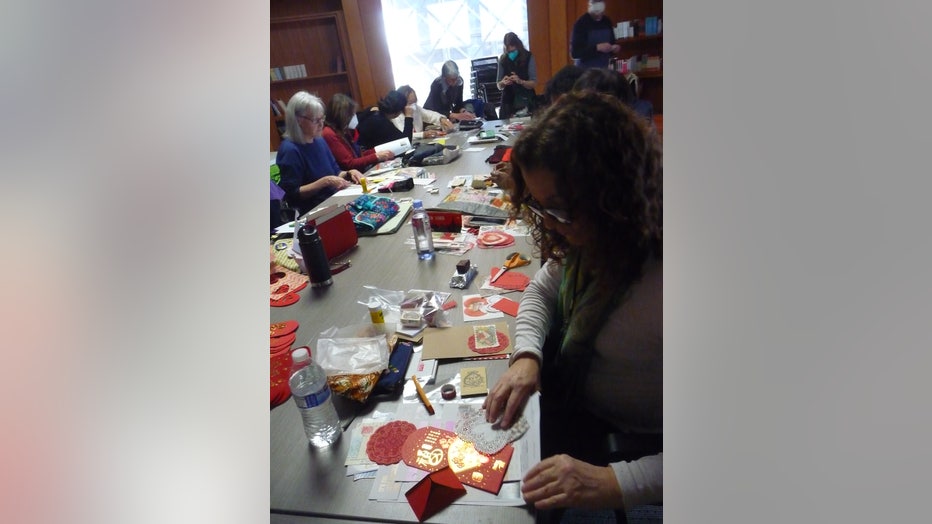 San Francisco Correspondence Co-Op meets at the San Francisco Public Library Main Branch.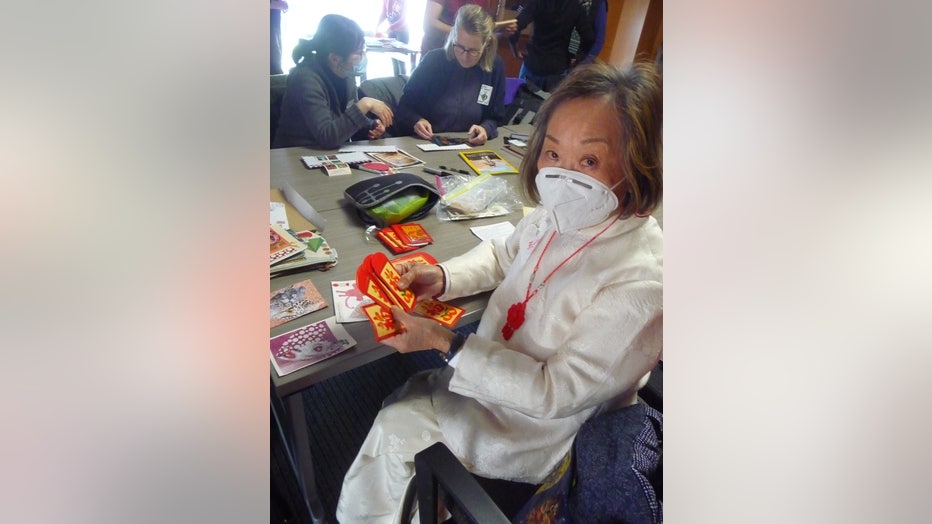 Esther Kwan displays red envelopes during the Lunar New Year holiday at the San Francisco Correspondence Co-op.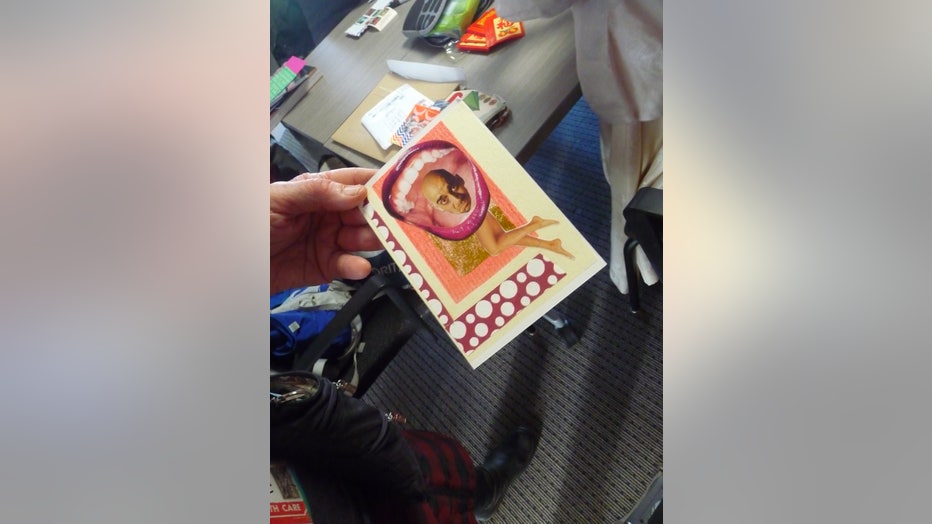 Collage from a member of SF Correspondence Co-Op.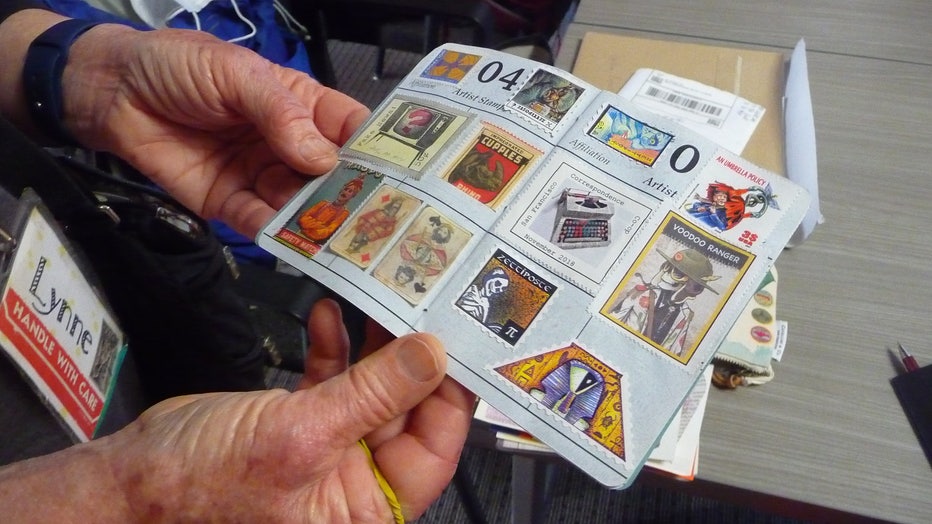 Display of stamp art at SF Correspondence Co-op.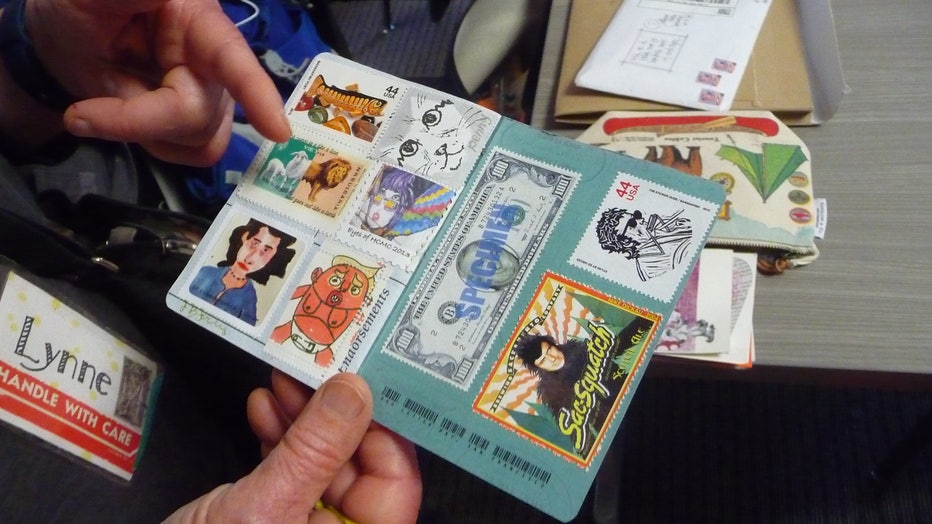 Postcard artwork from San Francisco Correspondence Co-Op. 
Jennie Hinchcliff is the co-author of 'Good Mail Day'. You can read the book's review here.