Starbucks workers union calls for walkouts at hundreds of stores ahead of holiday season
The holidays are just around the corner, and that means Starbucks is gearing up to offer free drinks for its Red Cup Day promotion. It also means workers at hundreds of the coffee chain's locations will be AWOL. 
In an echo of last year's strike, the Workers United union said on Monday that thousands of employees at hundreds of Starbucks locations will walk off the job on Thursday in a "Red Cup Rebellion."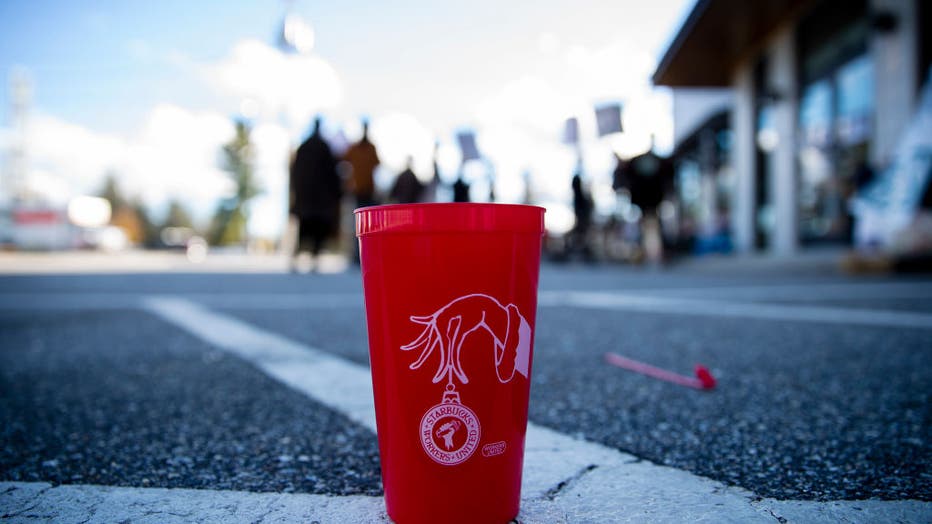 BIDDEFORD, ME - NOVEMBER 16: Starbucks workers in Biddeford participate in the Red Cup Rebellion, a nationwide strike demanding the company fully staff union stores and bargain in good faith. The one-day strike on Thursday was planned to coincide wit
The planned walkouts on Nov. 16 coincide with Starbucks' Red Cup Day, when retail stores give away free reusable holiday-themed cups with coffee purchases to welcome the holiday season.
"Red Cup Day (November 16th) is Starbucks's biggest sales event of the season – and also one of the most infamously hard, understaffed days for the baristas that work them," Starbucks Workers United said in a call to action.
RELATED: Starbucks increases US hourly wages and adds other benefits for non-union workers
"Last year, workers went on strike. This year, on the heels of victories won by striking workers across different industries nationwide, Starbucks workers are taking the rebellion to the next level," the labor union said.
The union had called for protests at more than 100 Starbucks stores on Red Cup Day last year, demanding better pay and benefits. According to a news release, the workers are demanding that Starbucks bargain over staffing and scheduling issues. 
The union also demands that Starbucks turn off mobile orders on future promotion days.
"Starbucks workers can't keep working with such short staffing," said Neha Cremin, a barista in Oklahoma City.
RELATED: 'Tis the season: Starbucks' holiday menu and red cups return Thursday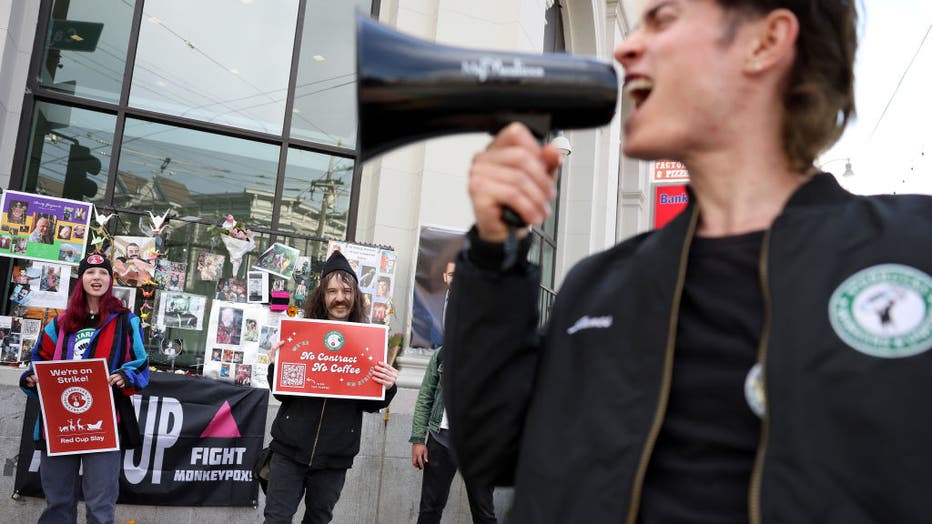 SAN FRANCISCO, CALIFORNIA - NOVEMBER 17: Striking Starbucks workers hold signs and chant outside of a Starbucks coffee shop during a national strike on November 17, 2022 in San Francisco, California. Thousands of members of the Starbucks Workers Unio
"At my store, we're expected to make drive-thru orders, walk-up orders, mobile orders, and delivery orders. This is difficult enough to manage with a fully-staffed floor, but we're often expected to manage all these things with only three workers," Cremin said in a statement. 
Starbucks told Reuters in a statement the company was aware of the planned walkouts. 
"We are aware that Workers United has publicized a day of action at a small subset of our U.S. stores next week ... Workers United hasn't agreed to meet to progress contract bargaining in more than four months and has yet to deliver on the campaign promises they've made," Starbucks told Reuters in a statement.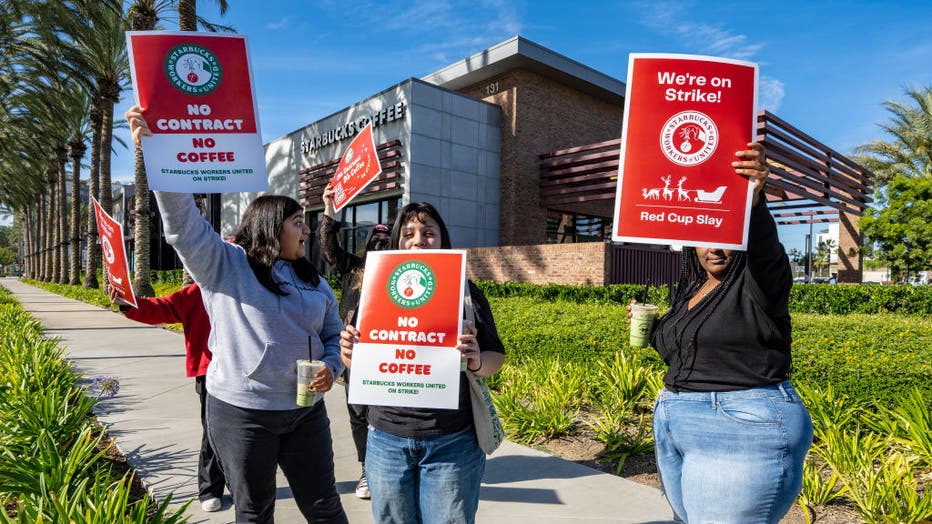 Anaheim, CA - November 17: Workers carry strike signs outside of a unionized Starbucks Coffee on Katella Avenue in Anaheim as they join fellow workers and those at more than 100 other unionized locations nationwide on Thursday, November 17, 2022, in
Starbucks Workers United represents over 9,000 employees at more than 360 Starbucks locations nationwide, according to the organization's website.
The walkouts come just a week after Starbucks announced increased pay and benefits for U.S. employees.
After raising the minimum wage for its employees to $15 per hour in 2022, the company announced that hourly workers will receive at least a 3% incremental raise, beginning Jan. 1.
RELATED: Starbucks, Workers United union sue each other in standoff over pro-Palestinian social media post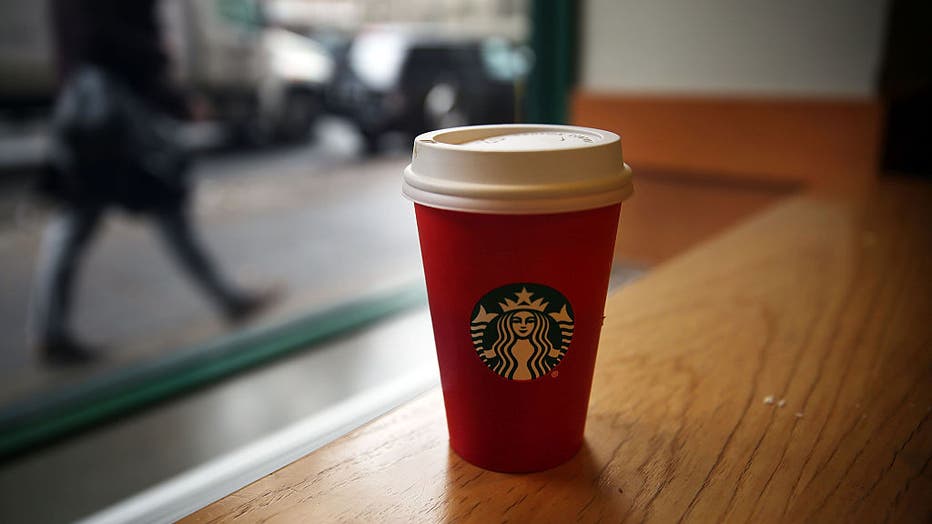 NEW YORK, NY - NOVEMBER 12: A new holiday Starbucks cup is viewed on November 12, 2015 in New York City. The coffee giant has come under criticism by some for leaving any Christmas or traditional holiday signage off of the red cup. While Starbucks ha
Eligile employees with at least 2–5 years of service will get at least 4%, and those with five or more years of service will receive at least 5%. 
However, Starbucks acknowledged the pay increases "may not be unilaterally implemented" in stores where unionization efforts are underway pending collective bargaining between the union and the stores. 
Fox Business' Greg Norman and Reuters contributed to this report.