Storm drenches Bay Area by zip codes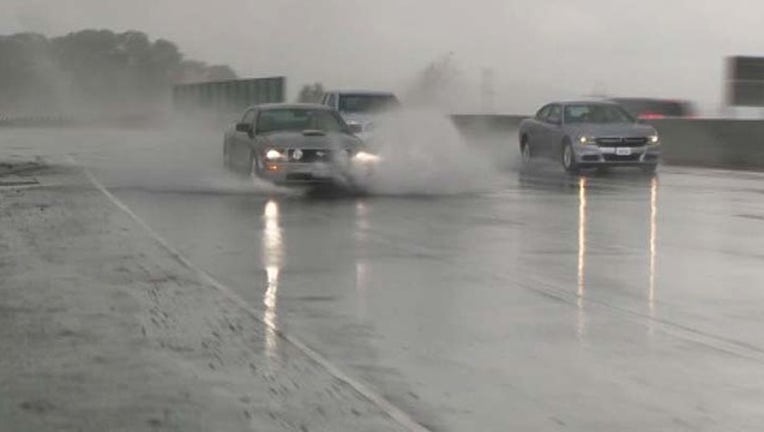 article
In San Diego, rain poured steadily a day after the regional water authority decided residents can water lawns no more than twice a week -- a measure aimed at achieving sweeping state-mandated cuts to water consumption during drought.
Mariana Dominguez, 41, said she wasn't bothered that her morning commute to a dry cleaning business in San Diego's Ocean Beach neighborhood doubled to 40 minutes.
  "It's nice because we need the rain with the drought and everything. It cleans up the air. In San Diego, you don't see this very often," she said.
   A small but determined number of surfers, swimmers and strollers went in the water at San Diego's Ocean Beach, including Erin Lale, 46, who was on vacation from Las Vegas.
   "The ocean is the ocean," she said after submerging her feet under water. "It's big, cold and full of sand and wildlife. That's going to be true if it's rainy or sunny."
   Drivers were urged to use caution on roads in the San Bernardino and San Gabriel mountains, where between 3 to 6 inches of snow was possible above 6,000 feet. Temperatures hovered around freezing at higher elevations. 
   In northern Arizona, a rare springtime snowstorm hit a small town just west of Flagstaff, dumping more than seven inches of snow. The area has seen more than three inches of snow on May 15 or later only a handful of times. 
   "It's always good to see rain and snow this late in the season," said Brian Klimowski of the National Weather Service. "Every storm we get like this helps push back the onset of our fire season."
   Firefighters rescued six motorists and a dog who became trapped in 3 feet of water on a San Diego street, and they pulled a man from the rushing water of a flood control channel in Northridge, about 25 miles north of Los Angeles, authorities said.
    "One minute it's a little bit of water and all of a sudden it got deeper and deeper really fast," Capt. Joe Amador of the San Diego Fire-Rescue Department said about the flooded street.
    Flooding and debris flows are possible if thunderstorms form over foothill areas stripped bare by wildfires.
    The downpour caused rare rain delays at the San Diego Padres' game against the Washington Nationals at Petco Park and the Los Angeles Dodgers' game against the Colorado Rockies at Dodgers Stadium. Meanwhile, snow in the forecast for Friday forced organizers to relocate the Amgen Tour of California bicycle race from Big Bear Lake in the San Bernardino Mountains to Santa Clarita.
    It also soaked the Hollywood Walk of Fame, where flowers were being laid on the star of blues legend B.B. King a day after his death. 
    An outdoor commencement ceremony at University of Southern California went on despite the wet weather, with attendees told to leave their umbrellas behind. Many people, including graduates, wore crimson and gold Trojan ponchos. 
    The drenching was a bit of a surprise to forecasters.
    "We don't see these kinds of storms this late in May," Stuart Seto with the National Weather Service in Oxnard said, "and not this cold."