Super Bowl LVII flyover features an all-female aviation team
PHOENIX - The Super Bowl will celebrate 50 years of women in naval aviation during the pregame flyover at State Farm Stadium in Glendale, Arizona this year with an all-female flight team.
The flyover features planes from three tactical aircraft squadrons, and ten women will be participating in the flight.
The flyover team consists of:
Lt. Arielle Ash of Abilene, Texas
Lt. Margaret Dente of North Salem, New York
Lt. Jacqueline Drew of Waltham, Massachusetts
Lt. Lyndsay Evans of Palmdale, California
Lt. Saree Moreno of Tampa, Florida
Lt. Naomi Ngalle and Lt. Kathryn Martinez, both of Springfield, Virginia
Lt. Caitie Perkowski of Albuquerque, New Mexico
Lt. Taylor Rudolph of Memphis, Tennessee
Lt. Suzelle Thomas of Birmingham, Alabama
Lt. Cmdr. Calli Zimmerman of San Jose, California
Lyndsay Evans is one of the servicewomen chosen to fly over the stadium, and she says they have one final test run this Friday to make sure everything is ready for the big game.
"This one is going to be just getting the lay of the land, getting visual sight references that we can use for Sunday, just making sure we can iron out the timing and the form," Evans said.
Once they're in formation, the aircraft are only 5 to 10 feet from each other while traveling at speeds of around 300 knots. That's equal to over 340 miles per hour.
The formation will include two F/A-18F Super Hornets from the "Flying Eagles" of VFA-122, a F-35C Lightning II from the "Argonauts" of Strike Fighter Squadron (VFA) 147, and an EA-18G Growler from the "Vikings" of Electronic Attack Squadron (VAQ) 129.
50 years ago, the first eight women began flight school in Pensacola, Florida, and one year later, "The First Six" of that group earned their Wings of Gold in the U.S. Navy.
"Since then, women have served, operated and led at every level of Naval Aviation," read a statement from the Naval Air Forces.
"It's not a feeling I can even put into words," said naval flight officer Lt. Katie Martinez in a statement. "It doesn't get bigger than the Super Bowl, and I am humbled and honored to be able to participate with my friends and fellow Naval Aviators as part of this once-in-a-lifetime opportunity."
LUKE AIR FORCE BASE, Arizona (Feb. 7, 2023) Lt. Lyndsey Evans and Lt. Margaret Dente, both Naval Aviators attached to Electronic Attack Squadron (VAQ) 129, exit an EA-18G Growler after arriving at Luke Air Force Base, Arizona, Feb. 7, 2023, in preparation for their flyover of Super Bowl LVII at State Farm Stadium in Glendale on Feb. 12. (U.S. Navy photo by Mass Communication Specialist 2nd Class Aron Montano)
Here's what the Navy says about the featured aircraft:
F/A-18 Super Hornet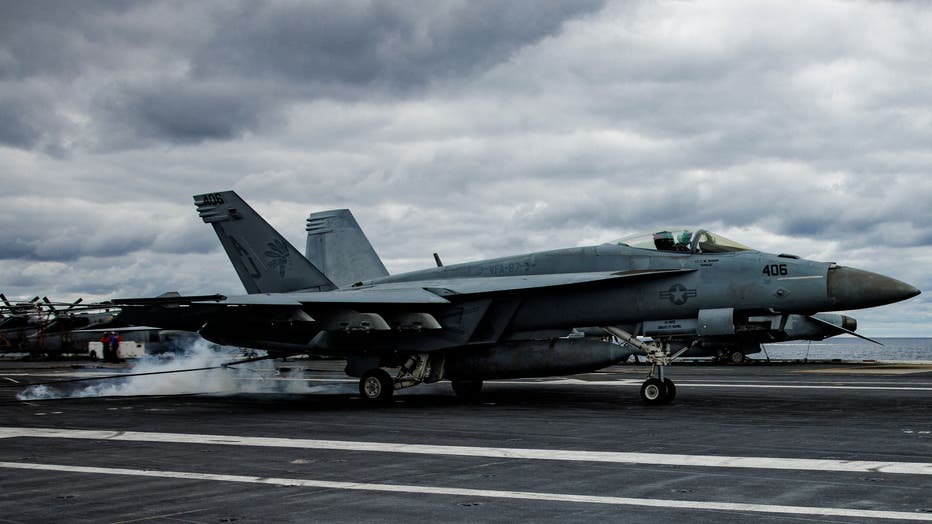 A F/A-18E Super Hornet from Strike Fighter Squadron 87 is caught by the Advance Arresting Gear as it lands on the flight deck of the USS Gerald Ford in the Atlantic Ocean off the coast of the US on October 6, 2022. (Photo by SAMUEL CORUM/AFP via Gett
"Entering fleet service in 1999, The F/A-18 Super Hornet, has earned a reputation as the backbone of the Navy's carrier air wing and a workhorse within the fleet, continuing its key strike fighter role against the advanced threats of the 21st century. Designed to meet current Navy fighter escort and interdiction mission requirements, the Super Hornet maintains fleet air defense and close air support roles, as well as an increasing range of missions, including in-air refueling."
F-35 Lightning II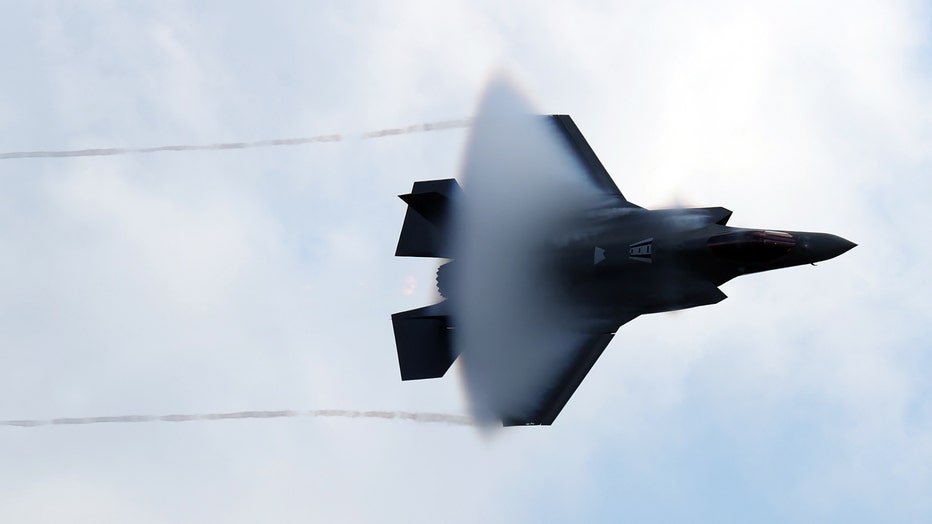 BRUSSELS, BELGIUM - SEPTEMBER 11: US Air Force's F-35 Lightning II team perform during the International Sanicole Airshow in Belgium, Brussels on September 11, 2022. (Photo by Dursun Aydemir/Anadolu Agency via Getty Images)
"The fifth-generation strike fighter F-35C Lightning II integrates advanced stealth technology into a highly agile, supersonic aircraft that provides unprecedented battlespace awareness, versatility and survivability. The F-35C, which is the Navy variant of the F-35 Joint Strike Fighter, sets new standards in weapon system integration, maintainability, combat radius and payload that bring formidable multimission power projection capability from the sea."
EA-18G Growler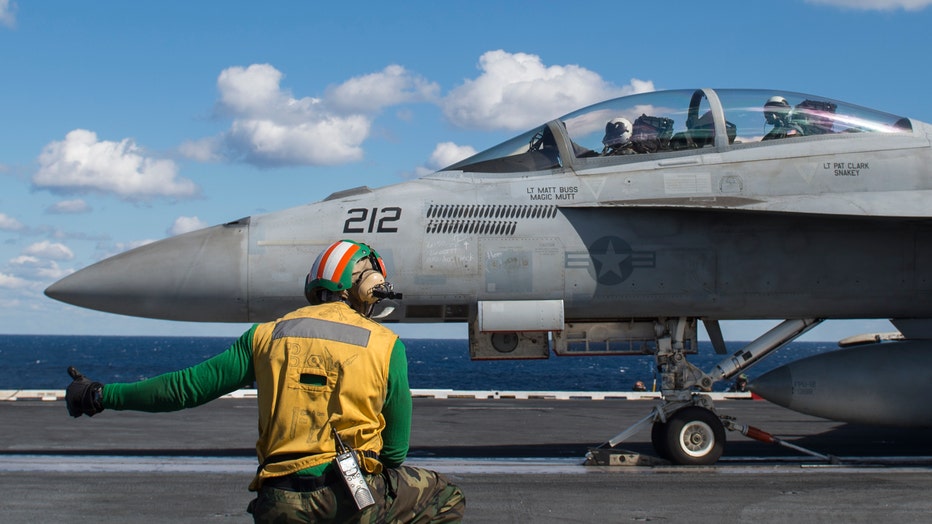 A catapult officer gestures just before a Boeing EA-18G Growler takes off from the USS George H.W. Bush aircraft carrier in the Atlantic Ocean on October 26, 2017. (ANDREW CABALLERO-REYNOLDS/AFP via Getty Images)
"The EA-18G Growler is a variant in the F/A-18 family of aircraft that combines the proven Super Hornet platform with a sophisticated electronic warfare suite that performs a variety of functions including communications jamming and countermeasures."
They will be supported by a full aviation team with mechanics and others including: Tabitha Bledsoe, Caitlin Hillygus, Mackenzie Andrews-Griswold, Natalie Garcia, Ashley Clifford, Nicole Lardizabal, Kiani Howard, Mikayla Martin, Jalayla Malloy, Rosa Mejia, Maria Quejada, Lizvette Montiel, Rhiannon Sellinger, Ariana Scott, Reanell Smythe, Stacy Wedemeyer, Daniel Armenteros, William Frank III, Lenue Gilchrist III, Slawomir Glownia, Ryan Turner, Nathaneal Afriyie, Brandon Baumann, Joshua Castillo, Cesar Change, Jorge Duron, Jason Ferrell, Gervin Flores, Kevin Frey, Ronald Gorman, Jesse Irwin, Alexander Miranda, Joshua Mohr, Brandon Ohannesian, Joseph Parry, Jamie Pringle, Zachary Ray, John Rodgers, Eder Salazarduenas, Jared Sharp, Nicholas Squires, Jeddryan Tabladillo, and Lorenzo Toscano.
More Super Bowl coverage