Suspect arrested after brazen San Francisco BMW dealership smash-and-grab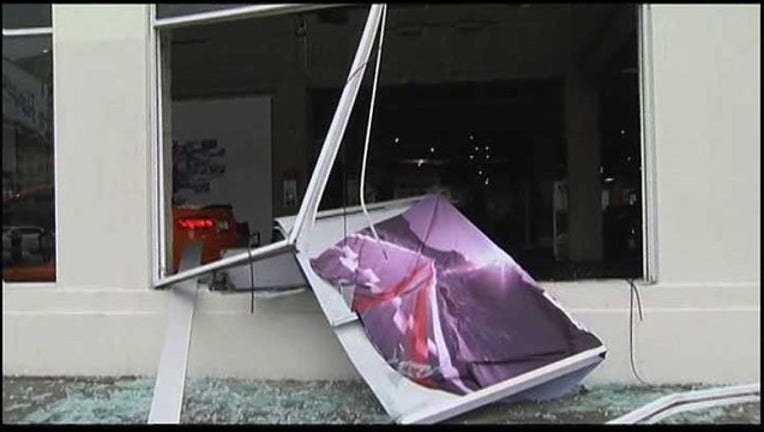 article
SAN FRANCISCO (KTVU and wires) -- A suspected car thief was in custody early Monday after he allegedly broke into a San Francisco BMW dealership and then brazenly drove a $100,000 M3 sports car through the showroom picture window, authorities said. 
The male suspect allegedly broke into the BMW of San Francisco dealership at 1675 Howard St. near South Van Ness Avenue, according to San Francisco police spokesman Albie Esparza.
Police responded to a report of a stolen vehicle and burglary at the BMW dealership shortly after 5:15 a.m.
Upon arrival at the dealership, officers found a large floor to ceiling window of the dealership smashed and discovered cars had been moved around.
The suspect apparently broke into the dealership, located a locked box where the vehicles' keys were stored and then unsuccessfully attempted to steal a black vehicle before successfully stealing another vehicle, police said.
 It appears that once the suspect had gained access to the vehicle, he drove it through the window of the dealership and onto the street. 
At 5:23 a.m., police responded to a call of an injury hit-and-run crash at Mason and Post streets near Union Square involving a new BMW, Esparza said.
Authorities said the suspwect lost control of the vehicle several blocks away, slamming into a parked taxicab near Union Square.
The driver of the cab suffered minor injuries and the suspect fled the scene.
At about 6:30 a.m., an officer responded to a domestic dispute between a male and a female at a separate location in the city. The officer spoke with the male and detained him.
Officers determined that the male was the same suspect wanted in connection with the burglary and hit-and-run.