Suspect arrested in deadly shooting of Hayward police sergeant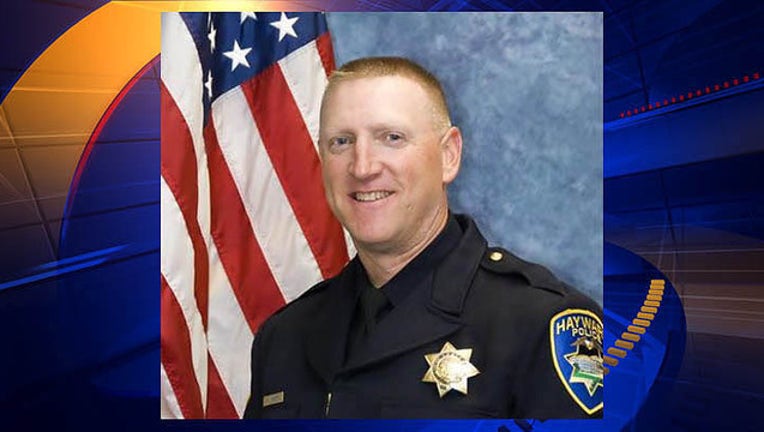 HAYWARD, Calif. (KTVU and wires) -- A 21-year-old Oakland man is in custody for the fatal shooting of Hayward police Sgt. Scott Lunger during a traffic stop early Wednesday morning, Hayward Police Chief Diane Urban said.
Mark Anthony Estrada suffered a gunshot wound in the incident with Lunger and another Hayward officer near Myrtle and Lion streets at about 3:15 a.m. Wednesday and was treated while under guard at Highland Hospital in Oakland, Urban said.
Lunger, a 15-year veteran of the department who lived in Brentwood, and another officer pulled over Estrada's vehicle because Estrada was driving erratically, according to Urban.
Capt. Mark Koller said Lunger was shot "without warning" as he approached the driver's side of the vehicle.
The other officer returned fire at Estrada, who was struck by a shot but managed to flee the scene, Urban said. The vehicle was later found abandoned in Oakland, according to Koller.
The second officer involved in the traffic stop was not injured.
Lunger was taken to Eden Medical Center, where he was pronounced dead.
Lunger, who is the father of two daughters, was promoted to sergeant in 2009 and has worked as a member of the department's SWAT and gang units, Koller said.
The fatal shooting of Lunger was "absolutely senseless," Urban said.
"He was a great leader here in our organization. He inspired people every day," added Urban. "An incredible friend, a great father, a brother, a husband, a partner. We have really suffered a tremendous loss today and the world is a little bit worse for him being gone."
She said that although Estrada lives in Oakland, his father owns a company in Hayward. He worked there and is familiar with the Hayward area.
Hayward police aren't aware of Estrada having any prior criminal record but believe he's associated with a gang, although he's not a validated gang member, Urban said.
Investigators have recovered a gun, clothing and blood connected to the crime scene, according to Urban.
But she said, "We're still putting the bits and parts and pieces together at this time."
Urban said Lunger wasn't wearing a body camera at the time of the incident because not everyone in the department has been equipped with them yet.
California Lt. Gov. Gavin Newsom, who currently is acting governor because Gov. Jerry Brown is out of the country said, in a statement, "It is with profound sadness that Jennifer and I offer our condolences to Sgt. Lunger's family, his friends, and his colleagues on their heartbreaking loss. We join all Californians in mourning his sacrifice, and honor his service to the people and communities of Hayward."
Newsom said that in honor of Sgt. Lunger, flags at the state capitol in Sacramento will be flown at half-staff.
California Attorney General Kamala Harris said, "My heartfelt sympathies are with the family, friends, and colleagues of Sgt. Scott Lunger, a brave member of the Hayward Police Department who gave his life this morning in the line of duty. His service and his sacrifice will be forever remembered by the people of California."
Harris said, "We offer our condolences to all those who served with Sgt. Lunger and our gratitude to all the men and women in law enforcement who face extraordinary risks and make tremendous sacrifices every day while serving and protecting our communities."
A candlelight vigil is planned Wednesday night in the memory of  Sgt. Lunger. The Day Labor Center in Hayward is organizing the vigil at 8 p.m. at City Hall, 777 B St., Hayward.